Airlie Beach Queensland 4802
Where is Airlie Beach? It's on the east coast of Queensland, Australia and is a small thriving tourism town with a big personality. Data from the 2021 census has our population at 10,646, this includes from Cannonvale through to Jubilee Pocket.
Airlie Beach is known as the Gateway to the Whitsunday Islands and Whitehaven Beach, the town has this nickname as over 80% of all tours leave from one of the 3 marinas in the region, which are, Coral Sea Marina, Port of Airlie and Shute Harbour. See our map of Airlie Beach below.
There are a few different options on how to get to Airlie Beach including 2 airports, cars trains etc
When is the best time to Visit Airlie Beach?
April to November is the best time to visit to avoid the humidity, temperatures are normally around 25 to 30 deg and winds generally are from the south
December To March is the wet season (some years) generally the humidity is very high, with some good rain periods, and winds tend more northerly during this time.
Being a tourist town there is a rich history as a party town and plenty of things to do in Airlie Beach and here are our top 10 things to do below
1. Take a day tour of Whitehaven Beach
2. Visit the Airlie Beach Lagoon (a large outdoor swimming pool complex beside the coral sea)
3. Join a Tuk Tuk tour of the town and marinas
4. Scenic Flight over the Whitsunday Whitehaven Beach and Heart Reef.
5. Enjoy the culinary delights of the local restaurants and cafes
6. Visit the Airlie esplanade and 2 beaches (large children's playground as well)
7. Saturday morning markets by the beach
8. Visit Cape Glouster and Hydeaway Bay
9. Cedar Creek Waterfall (best during wet session)
10. Take a jetski tour around the close islands
11. Visit Hamilton Island, Daydream Island and Long Island
12. Visit the Great Barrier
Are you looking for more information? see our Airlie Beach Activities page
If you staying in the middle of town or on the fringes everything is within walking distance as the Airlie Beach main street is only 400 meters long , however, if you hate walking the below transports are available
Public Buses between Shute Harbour and Proserpine
Taxis
Avis Car Hire
Electric Scooter from Leshack
Bringing your own boat to discover the Whitsundays? there are 4 boat ramps in Airlie Beach, these do get very busy during school holidays and low wind days.
Coral Sea Marina
Port Of Airlie 
Vmr
Shute Harbour 
Places To Stay On Holiday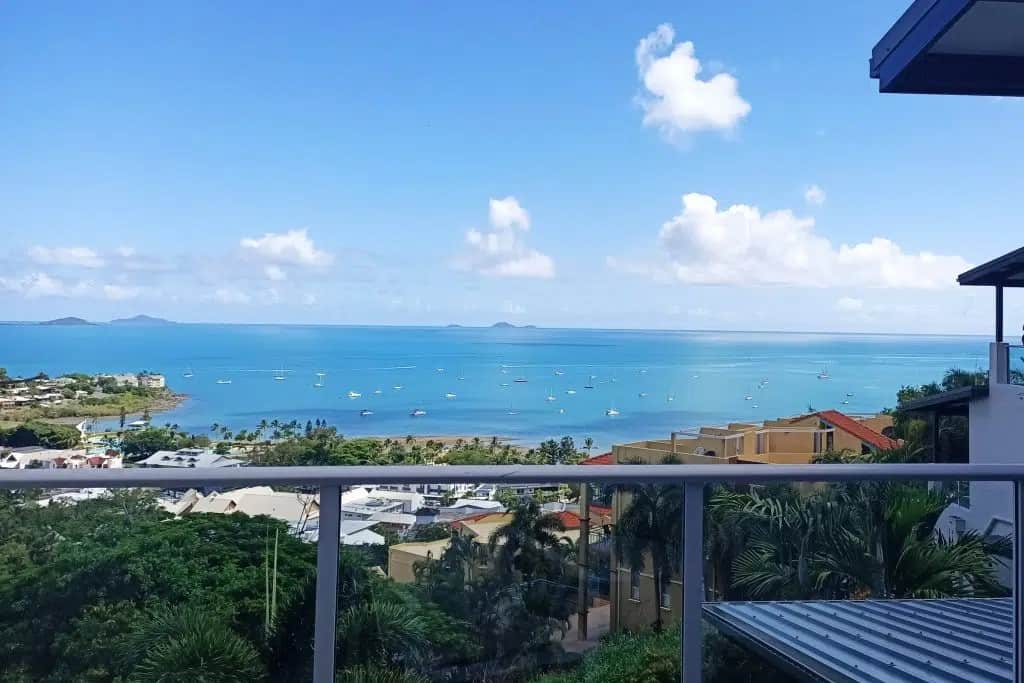 Airlie Beach has every kind of accommodation you can think of, from holiday apartments, hotels, motels, and backpackers to 5-star luxury and holiday homes. The below map will help you search for the best accommodation in Airlie Beach, just enter your dates and hit the search button.
3 of the major car rental agencies have pick-up and drop-off locations and offices in the Airlie Beach main street on Shute Harbour Road and at Proserpine Airport (Whitsunday Coast). These are
 Avis
Europcar
Hertz
We use Avis as the local team is friendly with a wide range of cars at each location. Jay and his team at Avis take car rental to the next level.
It's important to note here that any deals normally run in the period between school holidays. There are 2 major websites to find deals, they are
Book Me Australia for activity and experience deals. Their website is here
Booking.com for accommodation (deal finder below )
The nightlife scene is a vibrant list of pubs, hotels, clubs and restaurants in Airlie Beach that are all situated within 400 metres of each other. With international tourists back every night of the week is a party at Airlie Beach! The weekends however are busier with locals hitting the party strip and tearing up the dancefloors. The 6 biggest nightlife places to check out in town are
Magnums Bar
Beaches
Paddy Shenanigans
The Pub
Boom Nightclub
Mama Africas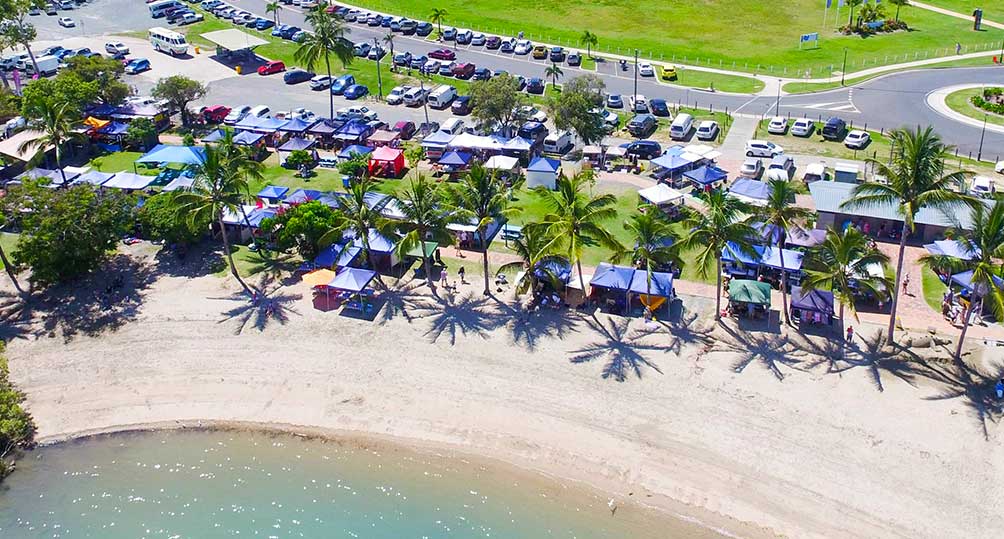 The foreshore markets operate every Saturday Morning from 8 am to 1 pm. the markets are located on the esplanade right on the beachfront. Here you will find fresh produce, tasty local food, Airlie Pies plus a range of clothing, art and trinket stalls, see their Facebook page for all the details.
The Airlie Beach Lagoon is a free swimming pool located next to the main street and next to the foreshore. Totalling 4300 sqm swimming area (pool) loaded with 4.5 million litres of fresh self-chlorinated water, this is a safe swimming area perfect for cooling off in the tropical heat. The facilities at the lagoon complete include 
Bathrooms
Changing Rooms
Infant Pool
Children's playground
Free Gas Bbqs
Undercover Shelters
Trees with shade
Onsite Lifeguards from 6 am to 6:30 pm every day of the year
Airlie Beach FAQ Written By A Local
Is Airlie Beach on the Great Barrier Reef?
Yes! Airlie Beach is on the Queensland coast with the coastal waters and Islands part of the Great Barrier Marine Park.
Can you swim at the beaches?
Yes, you can swim at beaches, although you should be careful and read any warning signs. The best places to swim are boat haven beach where there is a stinger nett and the Airlie Beach Lagoon. if you want to swim in the ocean wear a stinger suit between November to April
Can you drive from Airlie Beach to the Whitsundays?
No sorry, the only way to get to the Whitsunday Islands is by boat, plane or helicopter.
How to get from Airlie Beach to Hamilton Island?
Cruise Whitsundays at Port Of Airlie has ferries than operate between Airlie Beach and Hamilton Island see their timetable here 
Is the region safe?
Airlie is a very safe place to live, with a nice friendly community. In this region, humans are the least of your worries as the rivers have crocodiles and the ocean has dangerous jellyfish but if you have common sense and follow instructions you will be safe as you can be. I chose to raise kids here as it's one of the safest places for families.
Is there a beach at Airlie Beach?
There are 2 beaches in town, one is on the esplanade and the other is Boathaven Beach at the port of Airlie
How to get from Airlie beach to Whitehaven Beach?
There are many tour companies which include, boats, ferries, scenic flights and helicopters, you will find these on our Whitehaven Beach Tours Page
How to get to Airlie Beach from Proserpine airport?
There are plenty of shuttle services, car hire and buses,  we prefer the Whitsundays Transit Airport bus as it's comfortable and has great airconditioning.
Is it easy to get around in Airlie Beach?
The township is small and easy to walk around, there are taxis and public transport buses if you wish to discover the regional area we recommend car hire from Avis in town.
Are there mosquitoes and midges?
It depends on where you are staying some areas are worse than others but generally yes there are mosquitoes and midges in Airlie Beach, especially around sunset and sunrise.
Are there salt water crocodiles?
There are saltwater crocodiles all along the northern parts of Australia including Airlie Beach, mostly they live in the rivers but can sometimes be seen around the coastline.
Do you need a stinger suit at Airlie Beach?
We do recommend wearing a stinger suit if you are swimming in the ocean between October to April, think of them as seatbelts, you're better off wearing one just in case.
Are there dolphins in the Whitsundays?
We often see dolphins around the Whitsunday Islands on boat tours quite often, like most dolphins they love playing with the boats.
When is Whale Season in the Whitsundays
Humpback whales migrate here from Antarctica from June until September to breed and give birth to calves in the warm tropical waters of the Whitsunday
Does it rain a lot in Airlie Beach?
The region's weather in Summer is our wet season. In January, February and March, our rainfall can be from 100 – 300mls. That can seem like a lot but it's worth noting these are isolated days and most rain falls in the evening.
Can you drink the tap water?
The tap water is safe to drink in Airlie Beach, in saying that it's heavily chlorinated (due to the warm climate) and is not the best tasting. People filter their tap water to get rid of the unpleasant taste.
Does it get cold?
It's very rare for Airlie to have a cold day, cold for us is under 20 deg. We enjoy a subtropical climate that provides fine, mild weather most of the year. Except in summer which is hot humid and sticky.
What is the hottest month ?
January is the hottest closely followed by December, these days are mostly over 33deg with high humidity making it feel like 40+ deg
What are the top attractions to visit in Airlie Beach?
The top attractions are 
Whitehaven Beach 
Hill Inlet 
Whitsunday Island
Hamilton Island
Great Barrier Reef
Daydream Island
Hayman Island
What are the most popular things to do with kids?
this is easy, the Airlie Beach lagoon and Eslande playground will keep kids busy for hours and are a safe place to play. Also, take them on a tour of the island on a smooth fast boat like ZigZag Whitsundays, they will love it!
What tours are good for avoiding crowds?
ZigZag Whitsundays only takes a maximum of 30 guests and purposely stays away from the bigger crowded boats as much as possible.

Nath J
Hi, my name is Nath J.
I have lived and worked in Airlie Beach and Whitsundays since 2001. Over these 21 years, I spent 20 of them in the local tourism industry, Including owning a travel store, working on overnight and day boats, plus sales and marketing for local businesses. The content on this page is taken from my knowledge of the tourism industry and hopefully provides you with the facts about Airlie Beach and the Whitsundays you were looking for.