Airlie Beach Boat Hire offers an exciting opportunity for those seeking to explore the breathtaking beauty of Airlie Beach and its surrounding Whitsunday Island areas. With a range of boats available for hire, this service allows individuals to embark on their own maritime adventures.
For those without a boat license, fear not! Airlie Beach Boat Hire has you covered. They provide boats that do not require a license, ensuring that everyone can enjoy the thrill of being out on the water.
When it comes to hiring a boat from Airlie Beach Boat Hire, it is important to familiarize yourself with the terms and conditions. While they strive to make your experience enjoyable, certain guidelines must be followed to ensure safety and compliance with regulations. Reading through these terms before embarking on your boating adventure is always recommended.
Whether you are looking for a relaxing day out or an action-packed water sports experience, they have something for everyone. So grab your sunscreen, pack your sense of adventure, and get ready to start your outboard engine on an unforgettable experience in one of Australia's most stunning coastal destinations, "Airlie Beach".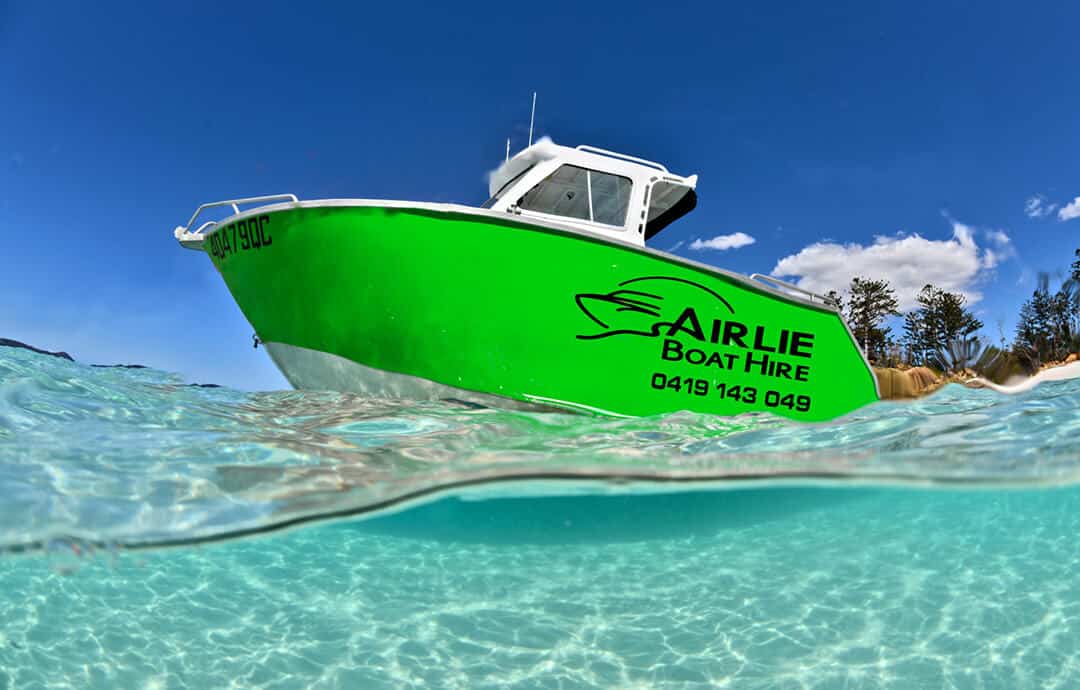 Hire Boats That Require a License
Hiring a boat requiring a license in Airlie Beach allows individuals to explore the Whitsunday Islands and Whitehaven Beach, ensuring a deeper connection with the area's stunning natural beauty.
Individuals can choose a vessel that suits their preferences and needs, with various boat options below.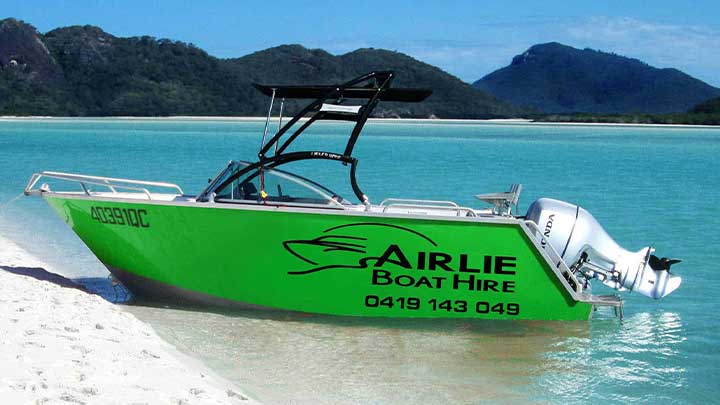 Sports Rider
Length: 5.7m
Width: 2.17m
Engine: 135 HP Honda
Passenger Capacity: 6 Passengers
Equipment: GPS, fish finder & depth sounder, 60L Esky and live bait tank.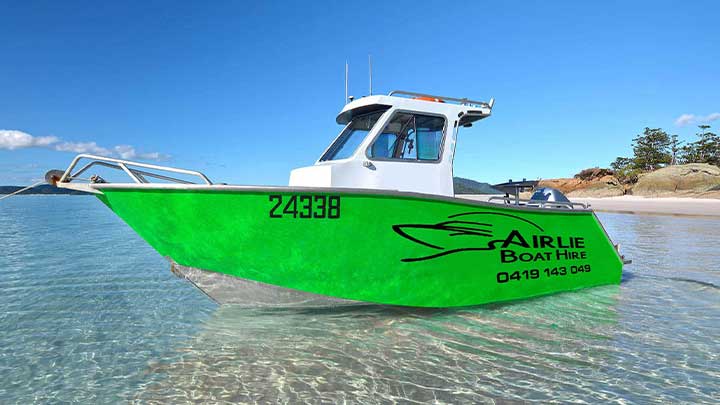 Centre Cab
Length: 6.0m Width: 2.48m
Engine: 150 HP Honda
Passenger Capacity: 7 Passengers
Equipment: GPS, fish finder, depth sounder, 2 x 86L Esky & live bait tank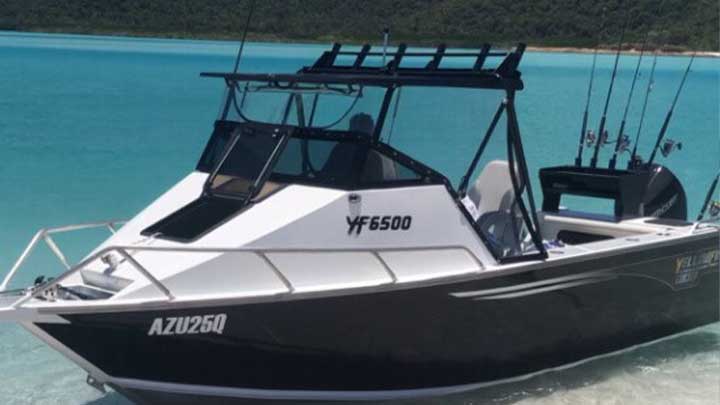 Yellowfin 6.5 Hardtop
Length: 6.5m
Width: 2.4m
Fuel tank: 260 litres
Engine: Mercury 175 HP 4 stroke
Passenger Capacity: 6 Passengers
Equipment: Simrad GPS Sounder, live bait tank, 260 litre fuel tank, 100L Esky, 25 rod holders, deck wash, 240 volt port, Blue tooth stereo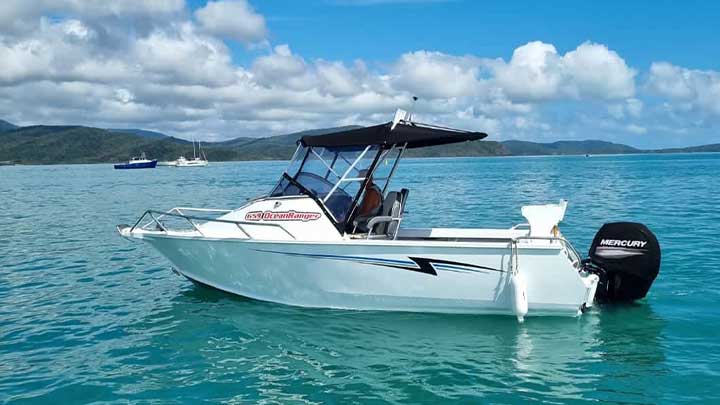 Ocean Ranger Half Cabin
Length: 6.5m
Width: 2.4m
Engine: Mercury 150hp four stroke
Passenger Capacity: 6 Passengers
Equipment: GPS Sounder, Live Bait Tank, 110L Esky, Blue tooth Stereo, 2 USB Ports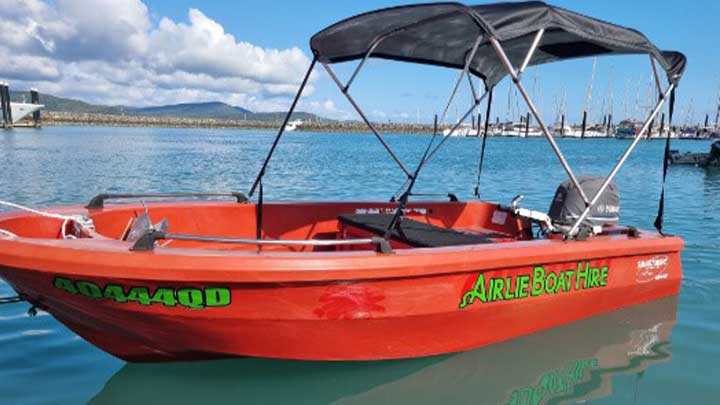 Smartwave Xtra
Length: 4.2m
Width: 2m
Engine: 50hp 4 stroke Yamaha
Engine: inshore use only
Passenger Capacity: 5 Passengers
Electric Start: Electric Trim and Tilt
Equipment: 2 inbuilt eskies, 7 inch Lowrance HDS GPS Sounder, 50 Litre Fuel Tank, Bimini for shade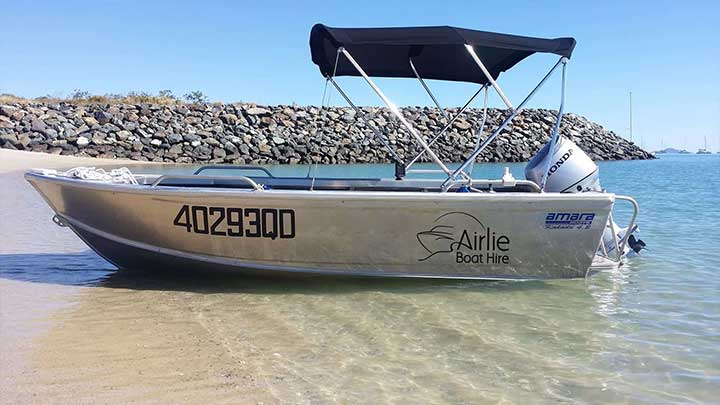 Kakadu Tinny
Length: 4.3m
Width: 1.85m
Engine: 40 HP Honda
Offshore Limit: Inshore use only
Passenger Capacity: 4 Passengers
Equipment: 50L Esky
Hire Boats That Do Not Require a License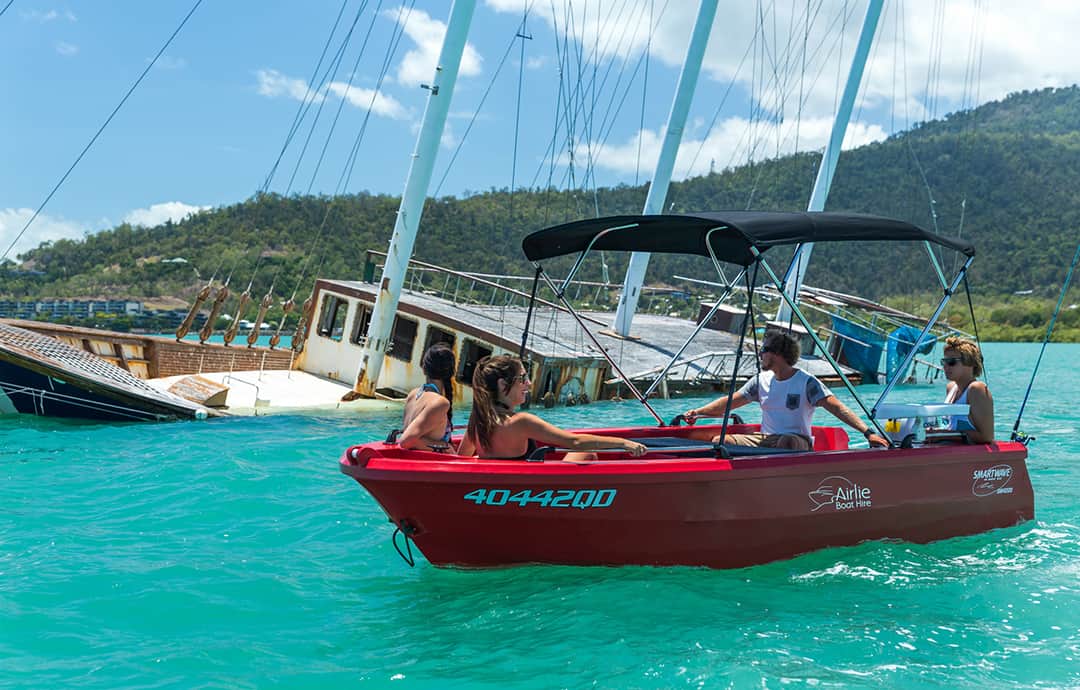 Embark on an aquatic voyage with the 4.2m "Smartwave", a self-drive hire boat equipped with a 9.9 Yamaha 4 stroke motor that requires no experience or license. Cruise around Airlie Beach and discover the natural wonders of its bays — spot turtles and dugongs, fish for your dinner, or simply enjoy the scenery. Please be aware that no coral in the bay area is suitable for snorkelling.
The 4.2m "Smartwave" comes with fuel, lifejackets, built-in eskies, bait board and two-rod holders to ensure your journey is as comfortable as possible. It can accommodate up to 5 passengers at once so you can share in this nautical adventure with friends or family!
To see the latest availability and pricing for the above Airlie Beach Boat Hire that needs a licence, please see their official company website by clicking the button below.
Quick Summary of the Hire Terms and Conditions
The boat rental terms and conditions include fuel charges, confirmation procedures, licensing requirements, safety precautions, weather restrictions, liability responsibilities, cancellation policies, and limitations on the number of passengers and activities allowed.
Fuel is an additional cost charged at Coral Sea Marina's browser price. The hirer must pay for fuel used, and if the amount exceeds the $250 deposit, they will be either refunded or charged accordingly. E10 fuel is not allowed, and the hirer will be responsible for removal costs if used.
Airlie Boat Hire contacts the hirer a day prior to confirm details and collect any outstanding balance. Valid national or international boat licenses are required for licensed boats. The minimum age for a hirer is 18 years old, with children under 12 counting as one passenger.
Cancellation is allowed up to 48 hours prior to booking with a full refund. Rental fees include insurance coverage while onboard the vessel but do not cover personal belongings.
For their full terms and conditions of an Airlie Beach Boat Hire, see here

Nath J
Hi, I'm Nath J, your go-to expert for everything Whitsundays Tourism. Since 2001, I've been immersed in this incredible destination, accumulating 22 years of industry experience. My journey has taken me from Operations Manager at Tallarook Sail and Dive to running my own businesses like Ripple Effect Online. I've given workshops on direct tourism bookings and even authored an ebook, Whitsunday Islands: A Journey through Paradise.
Why trust me? I hold certifications like "Whitsundays Tourism Hero" and "Respecting First Nations Cultural Protocols in Australia," both issued by the Queensland Tourism Industry Council. My work has garnered testimonials from tourism business around the region, praising my unique, genuine approach to tourism marketing.
Find me on Facebook and LinkedIn or drop me an email at info@nath-j.au.