Have you ever dreamed of a place that evokes the spirit of freedom? South Whitehaven Beach is such an escape. Nestled in the heart of Australia's beautiful Queensland coastline, this stunning beach offers visitors a chance to experience true liberation from their everyday lives. With its crystal-clear waters and pristine white sand beaches, it's no wonder why South Whitehaven Beach has become one of Australia's most beloved destinations for those seeking solace and relaxation. So come join us on this journey as we explore all that South Whitehaven Beach has to offer!
Ways To Visit South Whitehaven Beach
To begin your journey to this paradise, the best way is by taking a boat ride from Airlie Beach, Shute Harbour or Hamilton Island. This Whitsunday Islands scenic route will take around from one to two hours (depending on the boat), making sure you have plenty of time to soak in all the beauty that Whitsunday Island has to offer.
As South Whitehaven Beach is on Whitsunday Island there are no roads and these are the only ways to visit –
Tour Boat
Seaplane
Helicopter
Private Boat
So if you've been searching for a place to kick back and enjoy quality time away from everything else- South Whitehaven Beach should definitely be top of your list. Don't wait any longer – start planning your trip today!
Below are the boat tours/ helicoptors and Seaplanes that vist South Whitehavn Beach
South Whitehaven Beach Lookout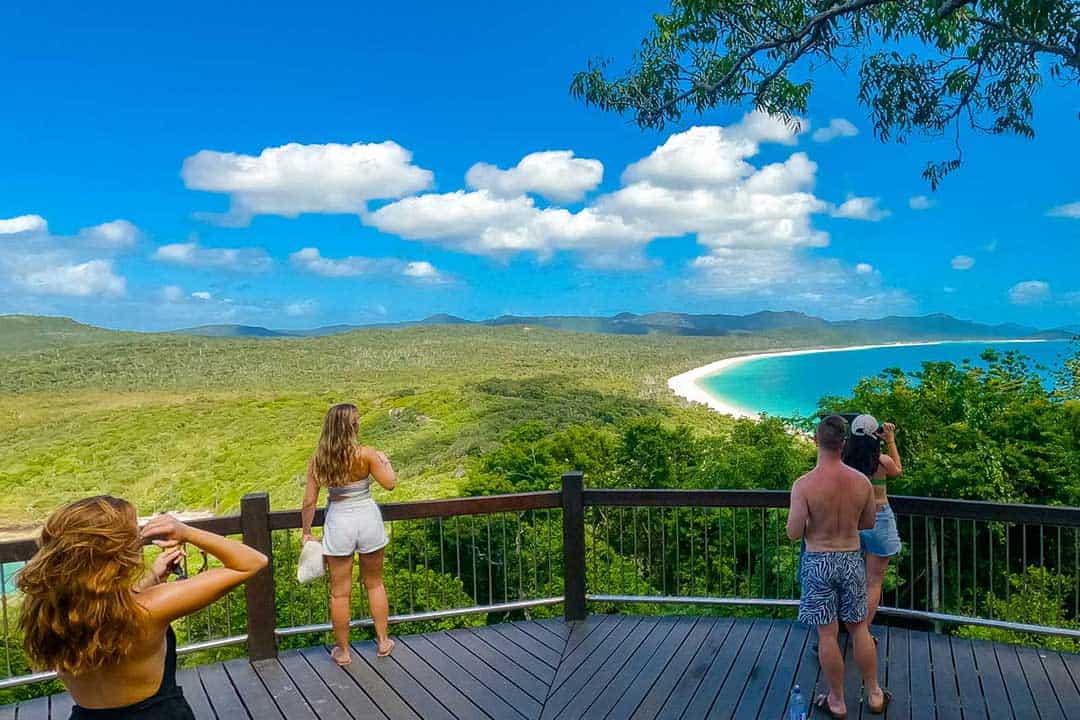 At the very southern end of this stretch of paradise lies South  Whitehaven Lookout – an elevated vantage point offering stunning views over all 7km of beach and many Whitsunday Islands. this lookout is so stunning we have a dedicated South Whitehaven Beach Lookout Page here 
Whitehaven Beach is located inside the Whitsunday National Park, and is an incredible destination for travelers looking to explore the natural beauty of Queensland. This this protected area encompasses several islands, From Hook Island all the way to the bottom of Whitsunday Island and a vast network of smaller islands close by. Here's why you should visit Whitsunday National Park:
Unparalleled Views: Enjoy breathtaking views from any one of the park's numerous lookouts. From hilltops to beaches, there are plenty of places to take in the stunning scenery of this unique environment.
Adventure Activities: Whether it be fishing or sailing, kayaking or snorkeling, there are many exciting activities available at Whitsunday National Park that will satisfy every traveler's craving for adventure.
Unique Wildlife: The park is home to more than 60 species of birds, as well as, wallabies, goats and other native animals. Keep your eyes open for large Goanna lizards as well!
4) Camping Opportunities: What better way to experience this national park than by camping? There are several campsites throughout the region .
So if you're looking for fun-filled adventures amidst stunning surroundings – make sure to add Whitsunday National Park to your travel itinerary! With its diverse range of outdoor activities and beautiful landscapes, you'll never run out of things to do here. Plus, being so close to South Whitehaven Beach makes it easy to combine two amazing destinations into one unforgettable Australian holiday.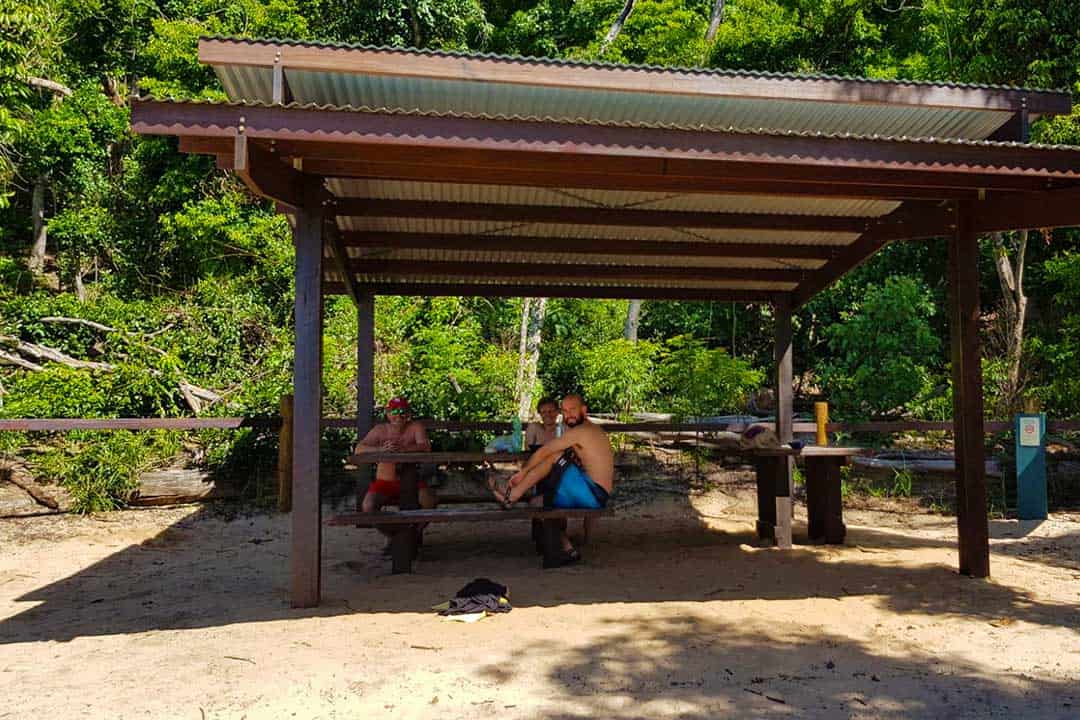 What Amenities Are Available At South Whitehaven Beach
South Whitehaven Beach has picnic tables with shade roofs and compositing toilets
Is There Any Local Wildlife At South Whitehaven Beach
South Whitehaven Beach is a stunning coastal destination and it's home to Goanna lizards, snakes, vibrant butterflys, lots of fish, large amounts of birdlife, plus plenty more
Are There Any Shops Or Restaurants Nearby?
No the island is unihabited.
Are There Any Nearby Attractions Besides The Beach
Yes some close attractions are the south Whitehaven Lookout, Chalkies Beach, Haslewood Island Lookout and Hamilton Island
Is South Whitehaven Beach Suitable For Children
South Whitehaven Beach is a great destination for families looking to have some fun in the sun together. The beach itself has flat waters, no rip tides  and 7km of enless sands, plus warm waters perfect for swimming and playing games. 
South Whitehaven Beach is a must-visit destination. With its clear blue waters, white sand and stunning views, it's the perfect place to spend a day of relaxation or adventure! 
So if you're looking for somewhere special on your next holiday, consider South Whitehaven Beach. It boasts over 1 million visitors per year1 – so why not join them on their next trip? Get ready for some salt air, sunshine and waves!

Nath J
Hi, I'm Nath J, your go-to expert for everything Whitsundays Tourism. Since 2001, I've been immersed in this incredible destination, accumulating 22 years of industry experience. My journey has taken me from Operations Manager at Tallarook Sail and Dive to running my own businesses like Ripple Effect Online. I've given workshops on direct tourism bookings and even authored an ebook, Whitsunday Islands: A Journey through Paradise.
Why trust me? I hold certifications like "Whitsundays Tourism Hero" and "Respecting First Nations Cultural Protocols in Australia," both issued by the Queensland Tourism Industry Council. My work has garnered testimonials from tourism business around the region, praising my unique, genuine approach to tourism marketing.
Find me on Facebook and LinkedIn or drop me an email at info@nath-j.au.