South Whitehaven Beach Including The Lookout 
The South end of Whitehaven beach is sheltered from the prevailing southerly winds and usually is flat and calm. Many tours visit this end of the beach as it has BBQ areas, toilets and lots of room to explore
With a new lookout opened in 2017, the south end has become more popular with a short walk to a fantastic lookout of the Haslewood Islands group. If you have the time, this walk continues across Whitsunday Island to Chance bay with views of Hamilton Island Resort.
As waters are above 22deg all year round, swimming is always an option along Whitehaven Beach. Stinger suits will be needed during the summer months and will protect from any jellyfish.
There is also a camping area here. Spaces are limited, and you will need to book early. see our blurb below to help you camp on Whitehaven Beach
South Whitehaven Lookout
The south Whitehaven Lookout opened in 2019 and gives massive views of Whitehaven Beach plus the western side and islands towards the mainland. This tourist hotspot is not as crowded as the northern Hill Inlet lookout, and in my opinion, gives better views of Whitehaven Beach and the surrounding islands.
The lookout platform itself is a large wooden half-circle and gives 120deg views.
ZigZag Whitsundays Whitehaven Beach Tour was the first commercial operator to start marketing the southern lookout and taking guests there on a daily basis, other companies have followed suit including Cruise Whitsundays and Whitehaven Xpress. You can see by the picture below the view from the South Whitehaven Lookout is outstanding.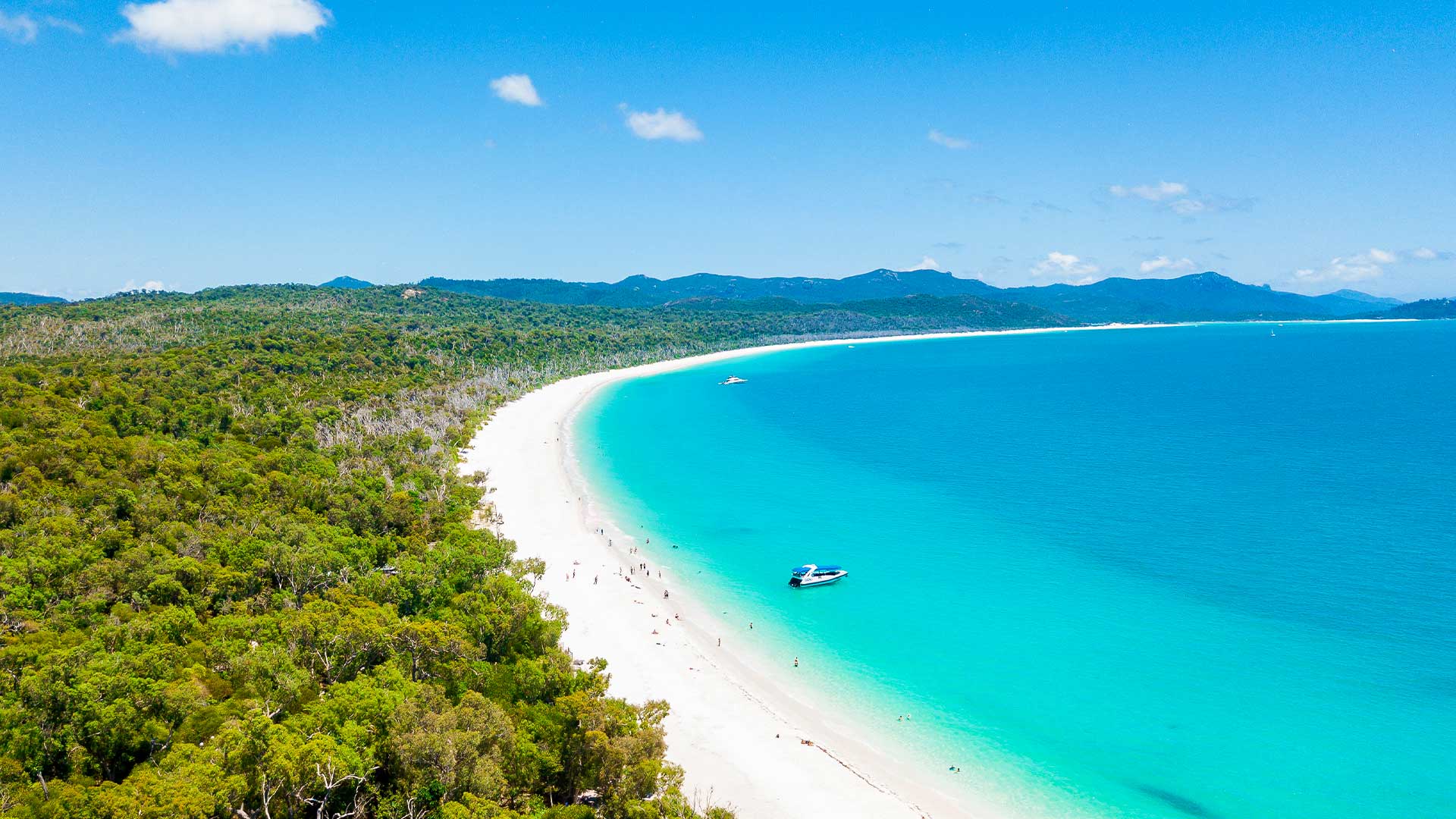 Start: Whitsunday Island
End: Whitsunday Island
Location: Whitsunday Islands National Park, Queensland 4802
Closest town: Airlie Beach and Hamilton Island
Distance: 900 metres each way
Duration: 45 mins
Grade: 3 (Average Fitness)
Style: Return  track
Opening hours: Open 24 hours a day
Cost: Free
Wheelchair access: There are no wheelchair-accessible facilities.
Access: By boat, helicopter and seaplane
How To Experience South Whitehaven Beach and Lookout 
As Whitehaven Beach is on Whitsunday Island 35km from Airlie Beach there are only a few ways
Tour Boat
Seaplane
Helicopter
Private Boat
Below you will find options for the tours and scenic flights.
Boat Tours That Visit South Whitehaven Beach and Lookout 
Scenic Flights Over Great Barrier Reef and Whitehaven Beach