The Southern end of the beach has a dedicated Whitehaven Beach Camping Location.  Tent sites are available right by the beach and larger sites for friends and family are available just 20 meters from the beach line. The campsite is low impact and consists of tent sites, compost (Hybrid) toilets and picnic benches
There are 7 designated areas to place your tent amongst the trees and the area is soft enough for tent pegs. With a maximum capacity of only 36 campers, you will have the beach mostly to yourselves after the tours leave. Although National Park rangers make regular patrols, there is mostly no one on the site. You are responsible for your own safety on Whitehaven Beach.
For more detailed information about camping on Whitsunday Island and Whitehaven Beach see our helpful guides below 
Camping area –  Campsites are behind the beach among lowland vine forests.
Location –  30km east of Shute Harbour.
Access – The camping area can be reached by boat at all tides.
Number of  Campsites – 10 sites including a large group camping area. Maximum of 36 people.
Camp site surface – Sand and dirt.
Facilities – Hybrid toilets, sheltered picnic table (communal).
Gas Cooking: gas stoves are allowed for cooking in the campground, however, you must use caution, especially in the dry season as the last thing you want is a fire in a national park. Gas stoves can be used for boiling as well as frying just make sure you have the correct utensils and a few BBQ camping recipes planned ahead of time.
Open fires: Prohibited.
Generators: Not permitted.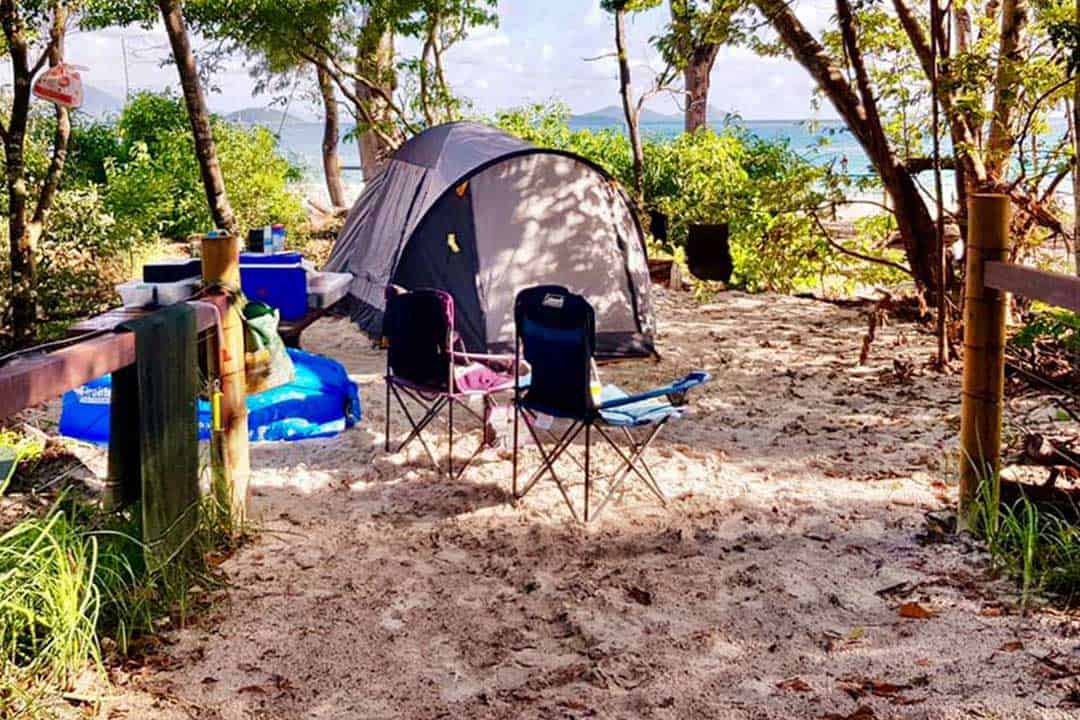 Camping Is The Only Accommodation On Whitehaven Beach
You need to be a serious camper to make the most of your stay. This campsite is over 30km from the mainland and on an island in the Great Barrier Reef Park. There is 0% population or any other form of accommodation, depending on the day there may be some private yachts anchored off the beach or there may not be. from late afternoon to mid-morning the next day the beach will be all yours! You must be well prepared and be aware of the safety equipment you will need to take with you while camping in such a remote location.
How To Camp On Whitehaven Beach
There is a process to Camp on Whitehaven Beach and it's not the easiest, below we detail the process of booking your National Parks Permits, catching a ride to Whitsunday Island and the camping equipment you will need.
Step 1
Your camping permit must be booked through the National Parks website here
In the booking selection, you want to select the below
Region – Whitsundays
Length of stay – Select how many nights
Access Type – Boat
Accommodation type – Tent
Enter Park Name – Type and select Whitehaven Beach Whitsunday Island
Date of stay – select your dates
The next page shows a list of locations within the Whitsundays National Park, scroll down and select Whitehaven Beach
From here you can book the nights and check availability for when you want to stay
Create an account and book your stay, you will need to print out your camping permit and take it with you to Whitehaven Beach
Step 2 
Book your boat transfers (if you don't have your own boat)
Scamper Whitsundays services most campsites in the Whitsundays including Whitehaven Beach Campsite. The scamper website is here 
it can be confusing to where to book your transfers to, and what time they depart each location, if you haven't booked before, call or email them  on the below details or see their transfer schedule here 
Scamper Whitsundays Contact Details
Phone – 0487 226 737
Email – info@whitsundaycamping.com.au
Step 3 
Camping Equipment – if you have your own tent or swag that's great skip the next bit and see below for a list of recommendations to take with you.
Camping Equipment hire 
Scamper you have the transfer boat above also hire camping equipment , they have for hire
Spinafex 3-man Dome Tent
Gas Stove
Cooler 55L
Cooler 25L
Sleep Mats
Pot & Frypan
Cutlery Set
Torch
Camp Chair
Sleeping Bag
Snorkel Mask
Fins
Stinger Suit
Self Inflatable sleep pad –
4 man Dome Tent
6 man Dome Tent
Other options they offer are
Kayak Hire
Food and Water drops
for a full list of Scampers camping equipment hire and prices click here
Step 4 
Recommended items to take with you
Tent or swag
Sufficient food and water, plus extra in case of emergency. (None of the islands have fresh water).
Bring enough water for drinking, cooking, washing and bathing; allow at least 5 litres per person per day.
A gas or fuel stove for cooking (fires or ash-producing stoves are not permitted).
A first aid kit, lots of vinegar and get advice on recognising and treating stings from dangerous marine stingers.
Reliable equipment such as torches, AM/FM radio and VHF radio.
Dehydrated food and minimal packaging.
Sturdy food containers and rubbish bags.
Camping gear cleaned of seeds, insects and vermin.
Tarpaulin, sunscreen and personal insect repellent. For a full guide on What to bring when camping on Whitehaven Beach see here.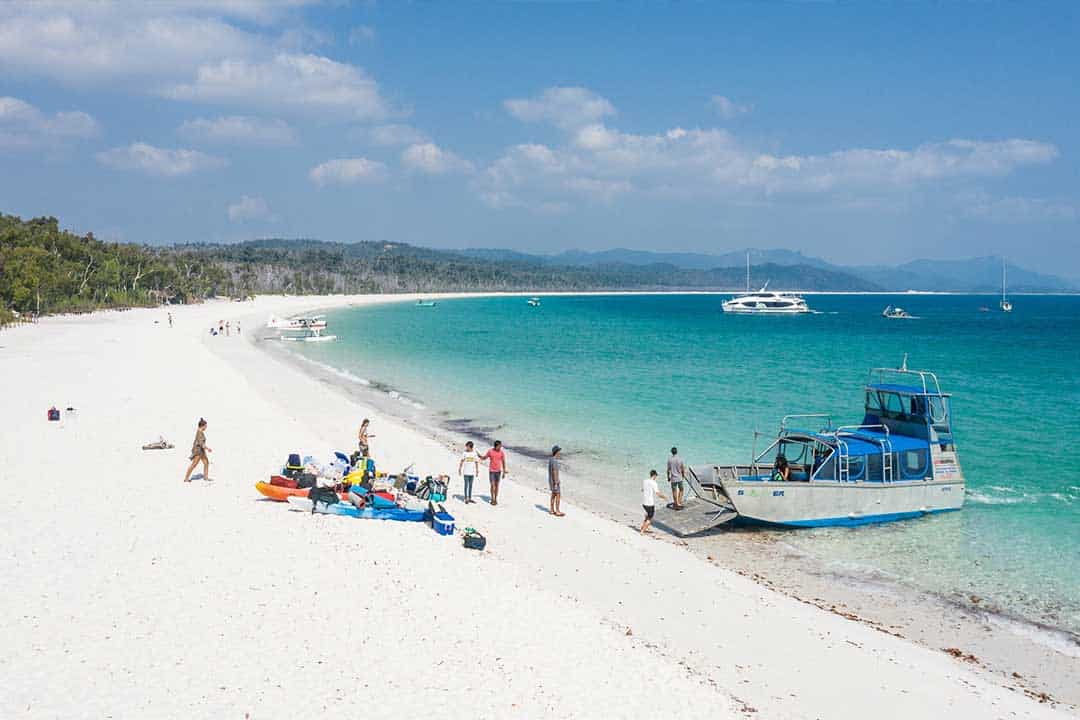 There is a process to Camp on Whitehaven Beach and it's not the easiest, below we detail the process of booking your National Parks Permits, catching a ride to Whitsunday Island and the camping equipment you will need.
More tips for camping at Whitehaven Beach
Camping Location Map For Whitehaven Whitsunday Island

Nath J
Hi, I'm Nath J, your go-to expert for everything Whitsundays Tourism. Since 2001, I've been immersed in this incredible destination, accumulating 22 years of industry experience. My journey has taken me from Operations Manager at Tallarook Sail and Dive to running my own businesses like Ripple Effect Online. I've given workshops on direct tourism bookings and even authored an ebook, Whitsunday Islands: A Journey through Paradise.
Why trust me? I hold certifications like "Whitsundays Tourism Hero" and "Respecting First Nations Cultural Protocols in Australia," both issued by the Queensland Tourism Industry Council. My work has garnered testimonials from tourism business around the region, praising my unique, genuine approach to tourism marketing.
Find me on Facebook and LinkedIn or drop me an email at info@nath-j.au.