Welcome to
Whitehaven Beach
© Official Local Whitsundays Website
Queensland Australia
Located On Whitsunday Island
Hill Inlet Lookout
South Whitehaven Lookout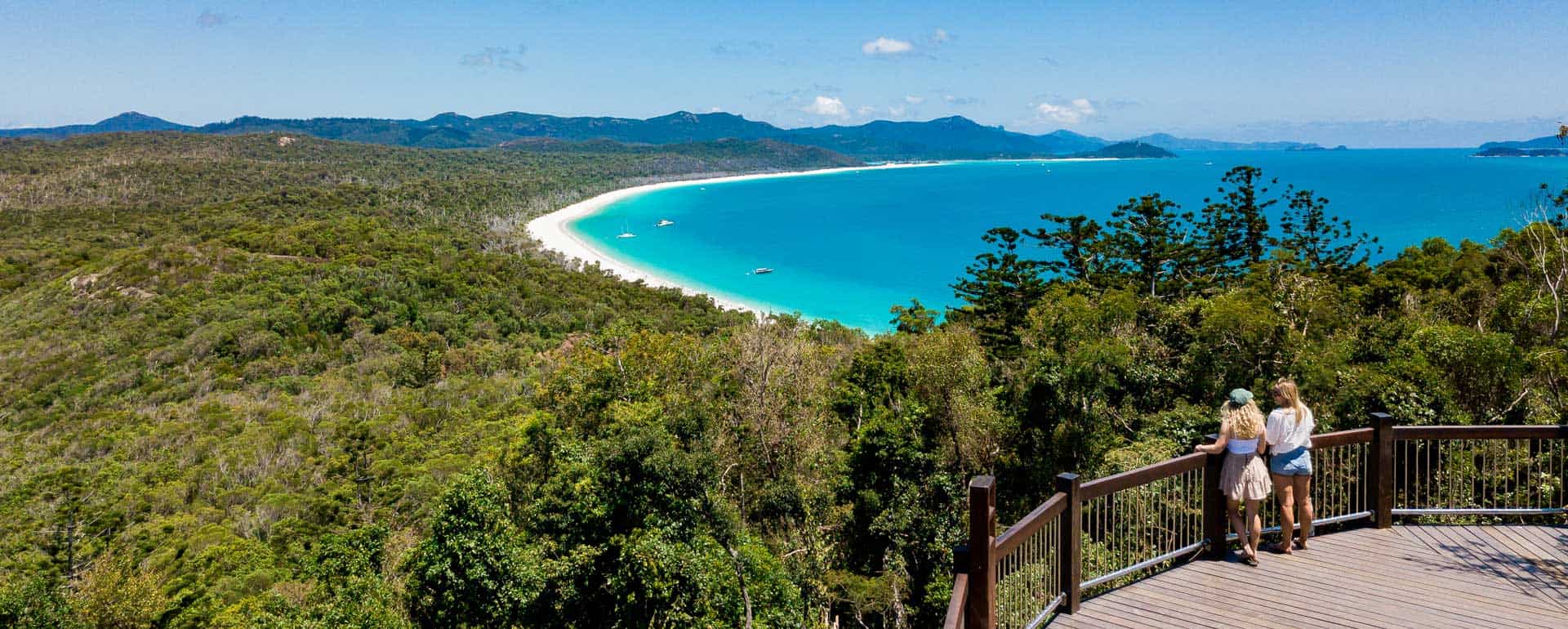 Discover the calming sense of freedom of Whitehaven Beach as you set foot on the pristine white powder sands, set to uncover the remoteness of this multi award winning tourism icon. With 97% pure, powder-white sands and crystal clear tropical waters, it's easy to see why this beach on the eastern shore of Whitsunday Island in Queensland, Australia, is so breathtaking and untouched.
The beach stretches an impressive 7 kilometres long and curves like a new moon. At one end lies the Hill Inlet hiking trail, with its sea river pushing through the island's centre and its stunning lookout that overlooks the Whitsunday Islands National Park and Whitehaven Beach. The south end also offers a spectacular lookout with views of the length of the beach and back towards the mainland! And if that wasn't enough, there is a camping ground and no one lives on this island – talk about an idyllic escape from everyday life!
Thanks to isolation from the mainland (35 kilometres away!), the Great Barrier Reef marine park, and Whitsunday National Parks, this dreamy 98% pure silica sand destination has been protected for all of us to enjoy. So what are you waiting for? Start discovering the perfect holiday today with our guide to Whitehaven Beach and the surrounding North Queensland region – there's no better time than now!
Whitehaven Beach Visitor Information
Here you will find all the information you need to visit Whitehaven Beach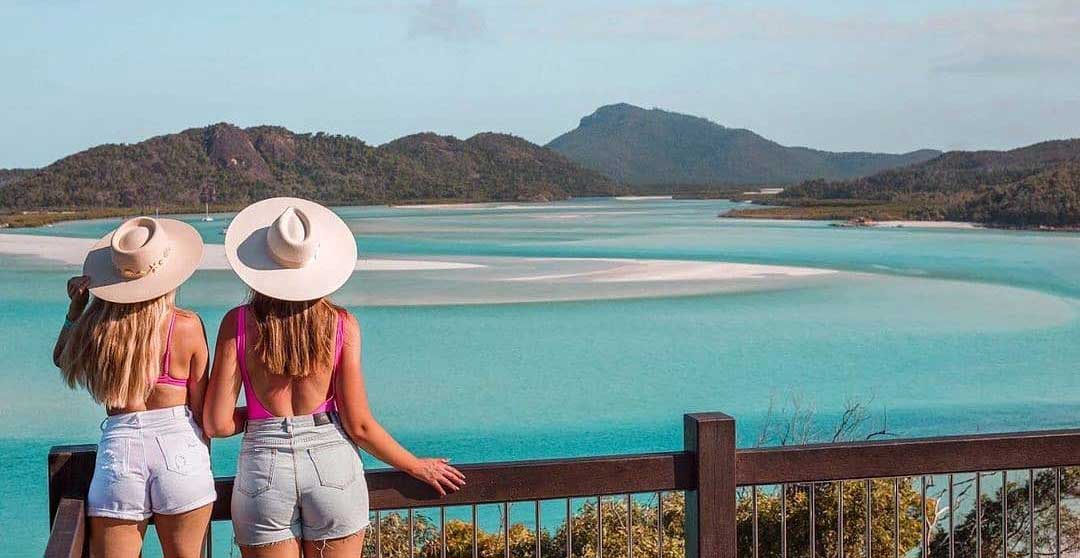 Whitsundays Best Attraction
I remember the first time I stepped onto Whitehaven Beach. The crystal clear turquoise shallow waters and pure white sand felt like nothing I had experienced in my travels – an experience that ultimately led to me living here just over 21 years ago! The sun shone brightly, reflecting off the sparkling sea and creating a mesmerizing atmosphere that made me feel so alive and left me realising plenty of untouched paradise locations still exist.
This pristine beach with calm waters is unlike any other in the world; its beauty lies in its naturally distanced, untouched state and 98% pure silica soft sand that never heats up under your feet. Everywhere you look, there's something new to discover as nature runs wild in this part of my backyard.
Whitehaven Beach truly has everything for everyone and is family-friendly for children of all ages; whether you want to relax by swimming, spending time in the day-use area (which has toilets and picnic tables), or just soaking up some rays while admiring its spectacular views, it's guaranteed an unforgettable experience. No wonder 75 000 people visit annually, and why it's been voted one of TripAdvisor's best beaches in Australia year after year!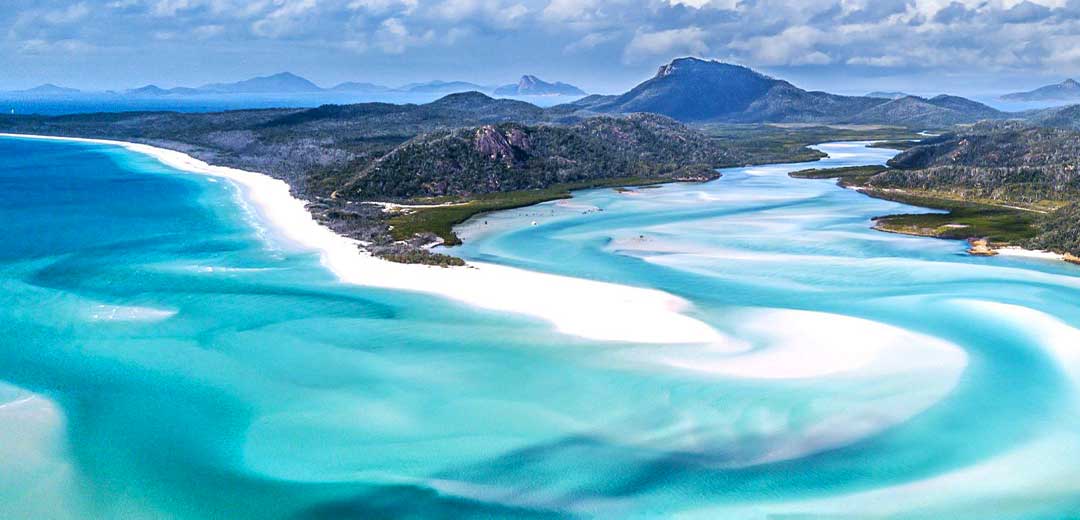 What is so special about Whitehaven Beach?
Remoteness – You're 35km across the Coral Sea from mainland Airlie Beach, but it feels like a million miles away! That's because Whitehaven Beach is located on the paradisiacal Whitsunday Island – and you must take a boat trip or helicopter to get there. So it's the perfect remote escape if you dream of freedom. So why not make your own adventure and experience some true serenity?
2. The sand – The sand here is divine; it's 98% pure silica, made up of tiny beads that glisten in the tropical sun while still remaining cool to the touch, even during the hottest days. It feels like you're walking on luxurious velvet!
3. Hill Inlet – the North end of the beach has an inlet that stretches far into Whitsunday Island. At its widest point, it spans 700 metres, and if you visit at low tide, you'll be able to witness the beautiful swirling sand pattern for over 4km along the shore.
4. South Whitehaven Lookout – I think this lookout offers one of the most magnificent views of our Whitsunday Islands paradise – you can see all 7km of the beach plus multiple islands and inlets. Truly stunning!
5. The awards – Whitehaven Beach has won so many awards over the years it would be impossible to list them all, but here are some highlights:
2021 TripAdvisor Travellers Choice Award #1 best beach in the world.
2018 Flight Network awarded Whitehaven Beach #2 for the World's Top 100 Beaches.
2017 TripAdvisor Traveller's Choice Awards Best Beach in South Pacific and Australia.
2016 TripAdvisor Traveller's Choice Awards Best Beach in South Pacific and Australia.
2010 News network CNN.com. Named Whitehaven Beach the Number One Eco-Friendly Beach in the world.
2008 Keep Australia Beautiful awards nominated Whitehaven Beach as the cleanest beach in Queensland.
Whitsunday Island Whitehaven Beach Map
Whitehaven Beach Whitsunday Island, QLD 4802 
Reviews From Whitehaven Beach Visitors
Stunning Video Of The Beach