© Official Local Whitsundays Website
Welcome to the Whitehaven Beach FAQ page! If you're looking for some answers about this amazing beach, then you've come to the right place.
Whitehaven Beach is one of Australia's most iconic beaches and it has a lot to offer. From its crystal clear waters to its white sand, it truly is an oasis. Whether you want to go swimming, snorkelling or just relax on the beach, there's something here for everyone.
So if you're ready for an unforgettable experience at Whitehaven Beach, start browsing through our list of frequently asked questions. With everything from camping options, transportation and accessibility to activities and amenities – we'll make sure your time at Whitehaven Beach is full of fun and relaxation!
Where is Whitehaven Beach located?
What is the best time to visit Whitehaven Beach?
July to November, during these months the weather is perfect with light winds and warm days (but not too hot) its also whale season.
How do I get to Whitehaven Beach?
There are 5 ways to get to Whitehaven Beach
Tour Boats
Private Boat
Charter Boat (Bareboats)
Seaplane
Helicopter
For more information on the different tour boats, helicopters and seaplanes see our tour page
Is Whitehaven Beach accessible by wheelchair?
Unfortunately no, there is no wheelchair access on the beach
Are there any accommodations on Whitehaven Beach?
Whitsunday Island including Whitehaven Beach is uninhabited. The only form of accommodation is camping at the south end of the beach or staying on a boat that is anchored off the beach. 
Is it possible to camp on Whitehaven Beach?
Yes camping is available at the south end of Whitehaven Beach, you will need to book your location with National Parks and use Scamper or a private boat to get there, see our camping guide here 
What is the sand at Whitehaven Beach made of?
Whitehaven Beach's sand is cool to touch on hot days and perfectly compliments the turquoise waters of the Whitsundays. Made up of 98.9% pure silica, it has a unique white colour and powdery texture. The sand is so fine that it can easily get into and harm electronic gadgets.
Is it safe to swim at Whitehaven Beach?
You can swim at Whitehaven Beach all year round due to the warm tropical waters. There are no large waves or rips and the shoreline is shallow with a light decline.  However, during the months of November To April, it is advised to use a stinger suit due to jellyfish.
Are there any dangerous animals at Whitehaven Beach?
Dangerous marine stingers can be found in the waters all year round but mostly from November to April, like any ocean there are sharks, and saltwater crocodiles can be in the sea at all times of the year, but is very rare to see them around the islands
Can I bring my own food and drinks to Whitehaven Beach?
Yes, you can bring food and drinks as there are no shops at Whitehaven Beach. Please remember to take any rubbish back home.
Are there any public restrooms at Whitehaven Beach?
Public restrooms are available at the South end of Whitehaven Beach only. These are hybrid compostable toilets. 
Is there any shade available at Whitehaven Beach?
The south end of Whitehaven Beach has picnic tables with sunshade roofs, there is also shade under the trees that line the beach. Some tours also provide shade tents.
Are there any hiking trails at Whitehaven Beach?
Yes there are 4 walking tracks at Whitehaven Beach
North end – has the Hill Inlet walking track to the lookout from Tounge Bay.
South end – has a walking track to the south lookout
South end walking track across the island called Chance Bay Track
South end – Solway way circuit
Can I rent snorkeling or diving equipment at Whitehaven Beach?
No there are no shops you will have to take your own. If you visit with a tour company check to see if they include snorkelling or diving equipment.
Is it possible to take a boat tour to Whitehaven Beach?
Absolutely! There is a range of boat tours to Whitehaven Beach that depart from Airlie Beach, Shute Harbour and Hamilton Island. For more information see our Whitehaven Beach Tours page here 
Are there any other beaches nearby that I can visit?
Beaches that are close and can be visited near Whitehaven Beach are 
Chalkies Beach
Betty's Beach
Chance Bay
What are some recommended activities to do at Whitehaven Beach?
Swimming, walking, beach games, sunbaking, north and south lookouts, long walks on the beach
Is it necessary to book a tour or can I explore Whitehaven Beach on my own?
Unless you have your own boat you will need to book a tour. Whitehaven Beach is 35km from the mainland. 
How long should I plan to spend at Whitehaven Beach?
Most tours spend around 2 hours at Whitehaven Beach, some are longer and spend the full day discovering the north and southern ends.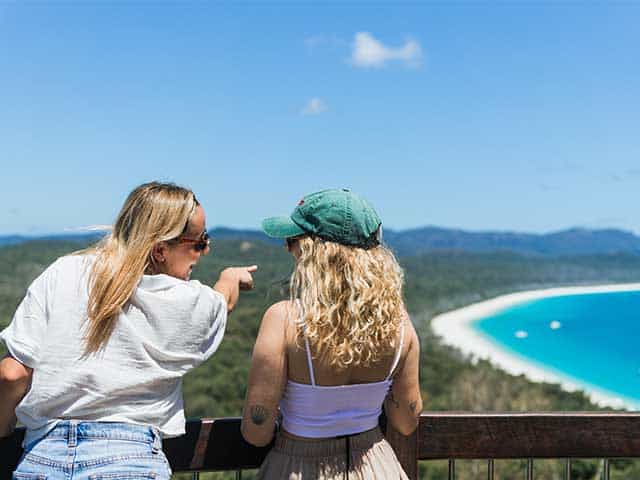 If you have any other Whitehaven Beach FAQ that I have not listed above, feel free to ask in the contact form below.