How To Get To Whitehaven Beach
© Official Local Whitsundays Website
Welcome to another stunning Whitsundays day! I am Nath J and have been involved in tourism and lived in the Whitsundays since 2001.
In this article, we will take a look at how to get to Whitehaven Beach.
Are you looking for an amazing beach escape in Queensland? Look no further than Whitehaven Beach! This stunning patch of silica sand and turquoise water is located on Whitsunday Island in Queensland, Australia. It's the perfect destination if you're after a bit of freedom away from the crowds – plus, it's always fun getting there by boat, plane or helicopter. In this article, I'm going to show you how to make your way from your Whitsundays Holiday Accommodation to this beautiful paradise. So let's dive straight in!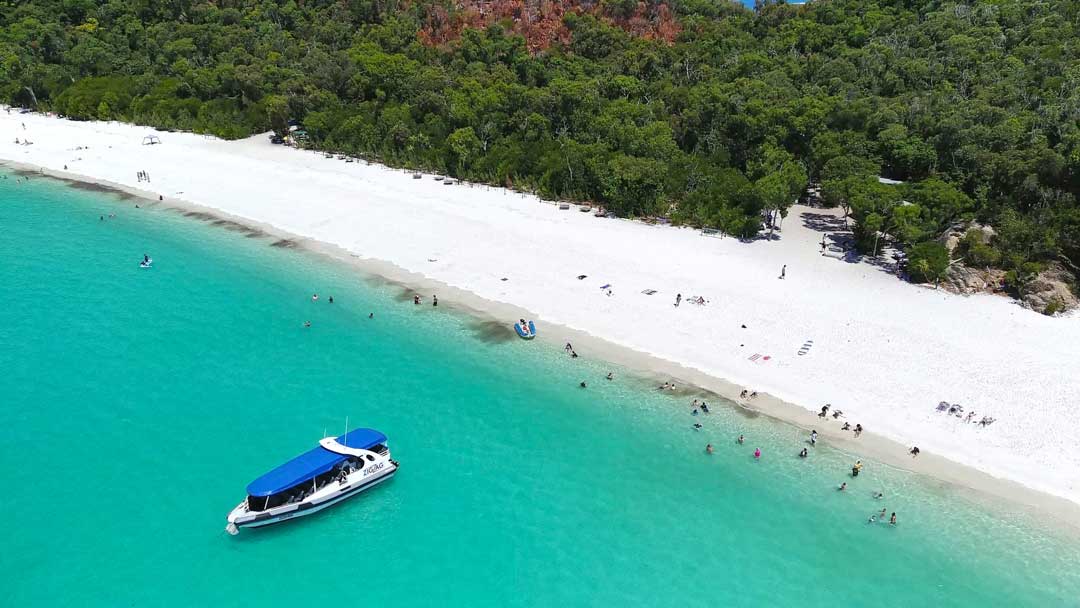 If you're looking how to get to Whitehaven Beach by boat tour, then there are plenty of options! From half-day tours to full-day adventures, there's something for everyone. I suggest checking out our Whitehaven Beach Tours Page for a list of available trips.
Here are my top three picks and why:
ZigZag Whitsundays Whitehaven Beach Day Tour is the perfect way to experience this beautiful beach. Not only will you get 2 hours on the sand but also a guided walk to the south lookout plus lunch served right on the beach! You'll even visit Chalkies Beach with its same stunning white sand – a local secret! Plus Haslewood Island Lookout and 1 snorkel location too. Why choose ZigZag? It's got a fast boat eliminating seasickness, comfy seating and only 30 guests so you won't be overcrowded like some other operators.
Thundercat Whitsundays takes visitors up north to explore what Whitehaven has to offer. Enjoy Hill Inlet Lookout as well as two snorkelling spots during their day trip. The main reason I recommend Thundercat is they've been awarded state and national tourism awards over the last 3 years; they must be doing something right!
Cruise Whitsundays Half-Day Tour would suit those who don't have time or want more relaxed activities. This tour visits south Whitehaven Beach via ferryboat complete with bar and air conditioning (no need to worry about getting sunburnt!). Perfect for people wanting a quicker look at this paradise without any water sports involved.
So whatever type of tourist you are, one thing's for sure – visiting Whitehaven is an absolute must when in the Whitsunday Islands! Don't forget your camera because it really does feel like a secluded heaven on earth…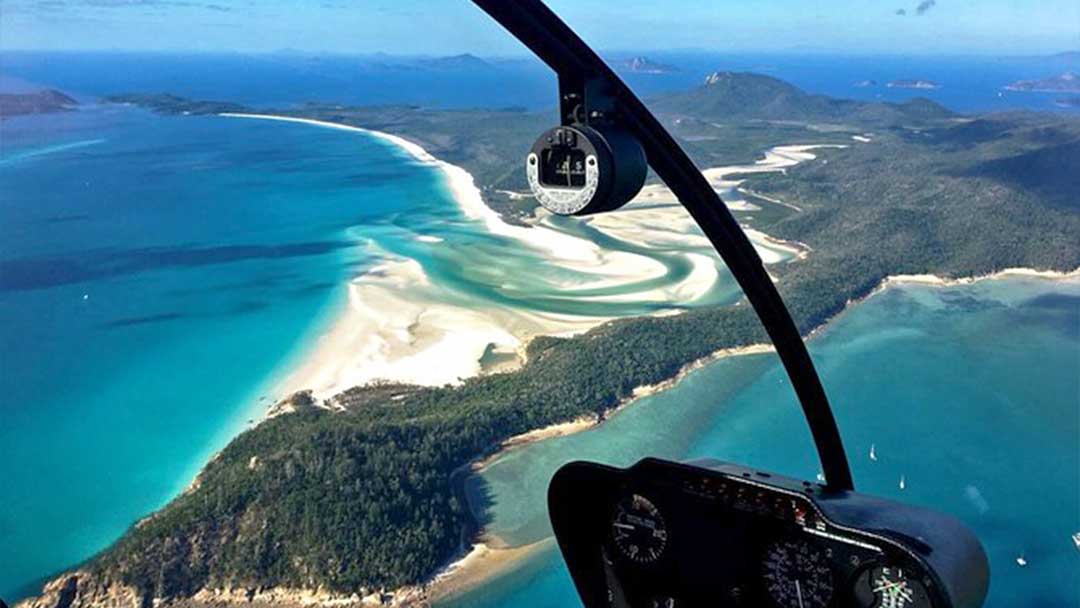 Scenic Plane Or Helicopter
If you're looking for a truly breathtaking experience, then a scenic plane or helicopter tour to Whitehaven Beach is an absolute must do. On these tours, you'll be able to take in all of the beauty of this iconic destination from up above and make memories that will last a lifetime. The views you get from flying over the island and its surrounding reefs are absolutely stunning; it's like something out of a movie!
The great thing about both types of tours is that they come with experienced pilots who know how to navigate their way around this region safely and efficiently. They'll also be able to point out any interesting sights like island names and reef structures along the way so you don't miss anything during your flight.
My Tips
For Scenic flights Fly Australia Charters 70 minute flight operates from Whitsunday Airport just 5 minute's drive from Airlie Beach, they have 3 different size plans that can take between 3 to 13 people and guarantee each guest has a window seat!
Helicopter flights are available with up to 90 minutes on Whitehaven Beach, this is perfect for couples as they only carry 2 people so it's like a private charter! Also, they land on Whitehaven away from the crowds.
Whitehaven Beach Scenic flights are particularly amazing because they give you enough time to really appreciate everything below without having to worry about getting anywhere quickly.
Helicopter tours offer more flexibility when it comes to where you fly and how long you stay at each location, but either option is sure to provide an unforgettable experience. No matter if you opt for a short thrill ride or a longer journey, these aerial adventures put Whitehaven Beach and Great Barrier Reef in perspective unlike ever before.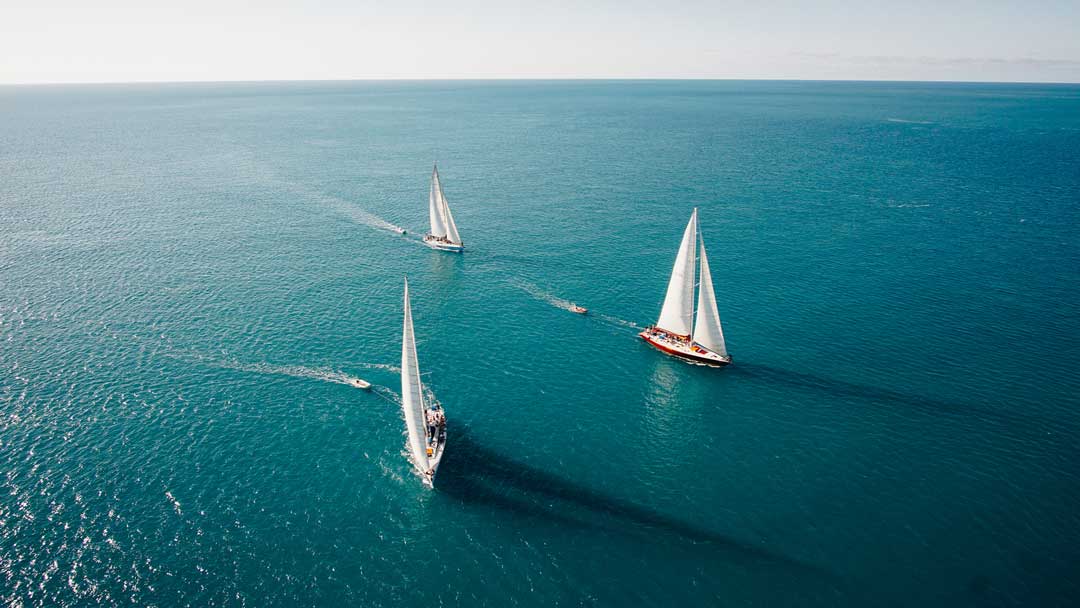 Next in my how to get to Whitehaven Beach guide is personal watercraft (sailing or motorboat). If you're looking for a real adventure and have your own boat, then Whitehaven Beach is the place to go. Setting off from one of the four main ports in Airlie, it's an easy trip out to Whitsunday island in under 15 knots of wind – just make sure to keep an eye on the weather! Before you head out though, tell someone your plan and when you expect to return; safety always comes first.
Local boat ramps for launching your boat are
Vmr Boat Ramp
Coral Sea Marina Boat Ramp
Port of Airlie Boat Ramp
Shute Habour Boat Ramp
As soon as you leave port, you'll be able to feel that sense of freedom. You're miles away from civilization and surrounded by nothing but crystal-clear waters and lush tropical islands. The best part about travelling with your own boat is the ability to explore further than most people can reach on tours – discover hidden coves or secret beaches that are yours alone (there are plenty)
My Tips (I do this trip often)
Get to the boat ramp early on good weather days as the parking is horrible.
Port of Airlie Boat ramp has the most parking
Take extra fuel, it's 35km each way to Whitehaven Beach.
Carry safety equipment and an EPIRB
Take more drinking water than you need.
Always check the tides, and do not leave your boat on the beach in an outgoing tide, many boats get stranded.
Frequently Asked Questions On Getting To Whitehaven Beach
How To Get To Whitehaven Beach From Daydream Island?
4 companies that can pick up and drop off in-house guests staying at Daydream Island are
Cruise Whitsundays
ZigZag Whitsundays
Redcat Adventures
Ocean Rafting
How To Get To Whitehaven Beach From Hamilton Island
To get to Whitehaven Beach from Hamilton Island see the companies below.
Cruise Whitsundays
Hamilton Island Water Sports
Explore Whitsundays
Freedom Charters
What Is The Best Time To Visit?
The best time to visit Whitehaven Beach is between August and November. 
Normally at this time of year, the winds are light from the southeast and there is minimal humidity and rain compared to summer.
Where to stay close to Whitehaven Beach?
Remembering Whitehaven Beach is 35km from the mainland, the closest accommodation in order of shortest distance first is
Hamilton Island
Daydream Island
Long Island
Airlie Beach
How Long Does It Take To Get To Whitehaven Beach?
The time to get here varies with your mode of transport and where you are staying.
Fast boat rides are between 30 minutes from Hamilton Island and 50 minutes from Airlie Beach, however, the average is around 75 minutes
Helicopters take around 15 minutes from Airlie Beach.
Whitehaven Beach Location

Nath J
Hi, I'm Nath J, your go-to expert for everything Whitsundays Tourism. Since 2001, I've been immersed in this incredible destination, accumulating 22 years of industry experience. My journey has taken me from Operations Manager at Tallarook Sail and Dive to running my own businesses like Ripple Effect Online. I've given workshops on direct tourism bookings and even authored an ebook, Whitsunday Islands: A Journey through Paradise.
Why trust me? I hold certifications like "Whitsundays Tourism Hero" and "Respecting First Nations Cultural Protocols in Australia," both issued by the Queensland Tourism Industry Council. My work has garnered testimonials from tourism business around the region, praising my unique, genuine approach to tourism marketing.
Find me on Facebook and LinkedIn or drop me an email at info@nath-j.au.