Local Guide To Hamilton Island Whitsundays
© Official Local Whitsundays Website
Welcome holiday planners! If you're looking for a tropical getaway in Australia that's full of sun, sea, and sand, based on my first hand experience, Hamilton Island in the Whitsundays should definitely be on your radar.
Hamilton Island is a small island located off the coast of Airlie Beach in Queensland in Australia. It's known for its crystal-clear waters, white sandy beaches, lush greenery, and stunning surrounding coral reefs – basically everything you'd want from a tropical island paradise.
Whether you're into water sports like snorkelling or diving, or just wanna chillax with a good book or cocktail by the beach, Hamilton Island offers something for everyone.
Plus, with plenty of dining options and accommodation choices to suit most budgets, there's no reason not to add it to your travel bucket wish list.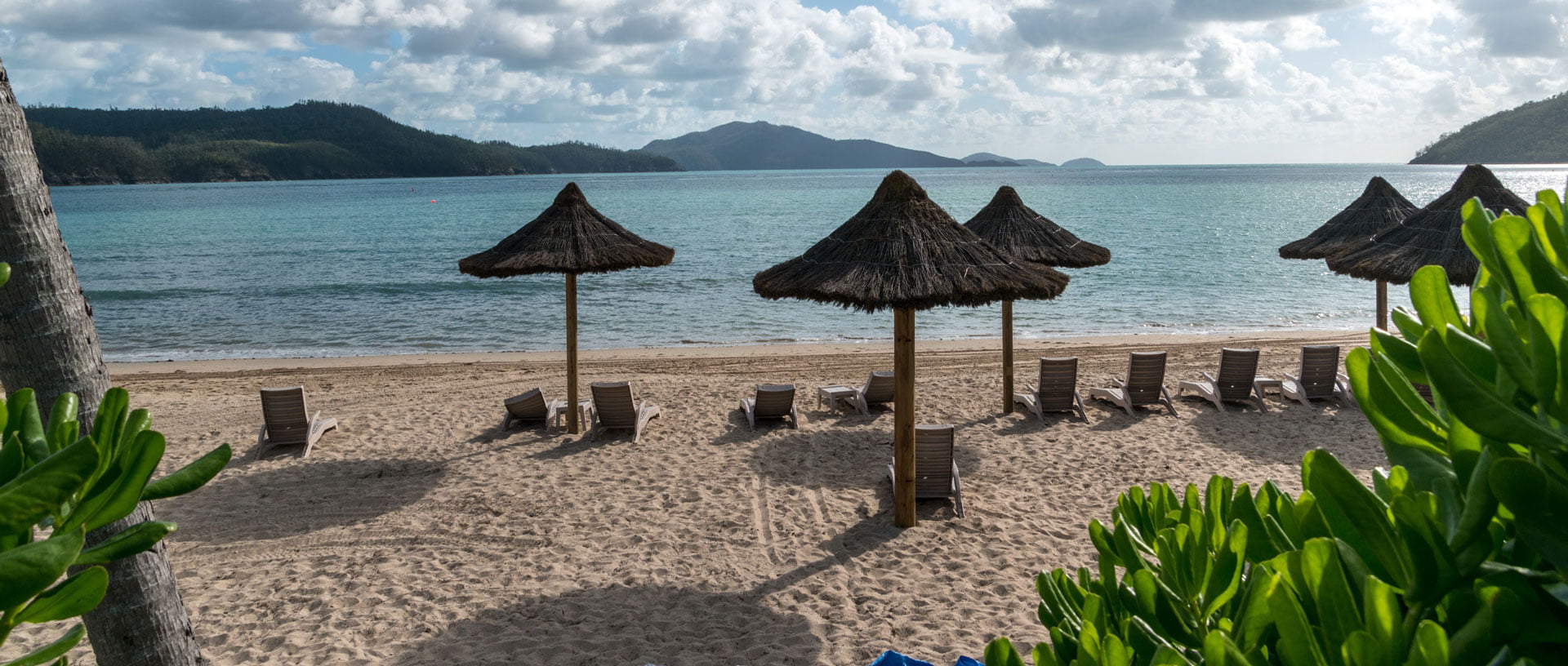 The first thing you need to know is the accommodation options on the island, Hamilton Island has got you covered with its diverse range of accommodation options.
Whether you're seeking luxury resorts or mid-level hotels, private villas, or family-friendly options, there's something to suit everyone's preferences.
The island boasts two luxurious resorts: Qualia and the boutique Beach Club. Qualia is an exclusive resort that caters to couples looking for a romantic retreat. Its extravagantly designed pavilions offer spectacular views of the ocean and lush tropical gardens.
On the other hand, The Beach Club offers guests personalized service in a secluded setting overlooking Catseye Beach.
If you're travelling on a budget but still want quality accommodations, check out the newly renovated Palm Bungalows. These self-contained bungalows come equipped with all your essential amenities and are ideal for families or groups of friends.
Additionally, the island has various holiday homes ranging from comfortable and casual to jaw-droppingly luxurious – take your pick!
Fun Activities Available From Hamilton Island
Looking for some fun and adventure while on Hamilton Island? Look no further! There are plenty of exciting activities to enjoy here.
How about embarking on a snorkelling adventure in the crystal-clear waters surrounding the island? You'll be amazed by the colourful marine life that call these waters home.
For those looking for an adrenaline rush, why not rent a jet ski and explore the Whitsunday Islands from a different perspective? Or perhaps you'd like to have a close encounter with some of Australia's unique wildlife? Join one of our guided tours and get up close with koalas, kangaroos, and other fascinating animals.
If you're feeling more daring, take on the ultimate challenge – try parasailing high above the island and soak up breathtaking views over this stunning part of Queensland. And if that isn't enough excitement, join a scuba diving excursion and discover even more amazing underwater sights.
With so many thrilling options available, your stay at Hamilton Island is sure to be unforgettable!
Ready to start planning your trip now? Don't hesitate – to book your tickets today and prepare yourself for an experience unlike any other.
Whether you're travelling solo or with friends and family, there's something for everyone here on Hamilton Island. So what are you waiting for? Come see it all for yourself!
Being a massive tourist drawcard there is plenty of things to do in the Great Barrier Marine Park and here are our top 10 things to do below
1. Take a day tour of Whitehaven Beach
2. Take a day tour of the outer Great Barrier Reef with Cruise Whitsundays
3. Scenic Flight over the Whitsunday Whitehaven Beach and Heart Reef.
4. Hire a golf buggy and explore the island
5. Play golf on dent island
6. Hike to Passage Peak
7. Watersports at Catseye Beach, sailing, canoeing etc
8. Snorkelling Tours
9. Take a Whitsundays Day Tour to the islands in the marine park
10. Take a jetski tour
11. pamper yourself with a massage
12. Enjoy the many restaurants
Popular and Remote Beaches
After experiencing the fun activities on Hamilton Island, it's time to explore some of its popular beaches. The island boasts a range of pristine coastlines that are perfect for beach activities such as swimming and snorkelling.
If you're looking for great snorkelling spots, head over to Coral Cove or Hideaway Bay. Both offer stunning coral reefs and marine life waiting to be explored. Don't forget your snorkel gear!
For those who prefer scenic views while relaxing with a picnic or drinks, Catseye Beach and Southern Leads Beach are perfect choices. You can also visit the nearby beachfront bars to enjoy refreshing cocktails while taking in the breathtaking ocean view.
Hamilton Island has no shortage of fantastic beaches, each offering unique experiences for visitors. With so many options available, there's bound to be one that will fulfil your desire for sun, sand and sea without compromising on innovation.
If you're looking to explore more of the Whitsundays, there are plenty of destinations near Hamilton Island that offer stunning natural beauty and exciting activities.
One option is nearby islands like Daydream Island or Long Island, both just a short ferry ride away from Hamilton. These smaller islands offer their own unique charm and attractions, such as snorkeling spots teeming with marine life or scenic hikes through lush rainforests.
For those seeking adventure, consider taking one of many scenic flights available in the area. From high above, you can witness breathtaking views of the Great Barrier Reef and surrounding islands.
For a more grounded experience, hiking trails on neighboring Whitsunday Islands offer challenging treks through rugged terrain for experienced hikers. You can also opt for day trips to popular tourist hotspots like Airlie Beach or Whitehaven Beach.
Whether you're after relaxation or excitement, there's no shortage of things to do around Hamilton Island. With so many options for exploring nearby islands, snorkeling in crystal-clear waters, embarking on scenic flights over the Great Barrier Reef or tackling challenging hikes through pristine wilderness areas – it's easy to see why this region is considered one of Australia's most captivating destinations.
As we move away from Hamilton Island, let's dive into the island's lively nightlife and dining scene. Whether you're looking to experience a bar crawl or indulge in some fine dining, there are plenty of options available for everyone.
For those seeking live music and an entertaining ambiance, head over to any of the island's bars. You'll find everything from beachfront establishments serving up cocktails with stunning views to classic pubs featuring local musicians performing throughout the night.
If you want to take your cocktail game up a notch, sign up for one of the many cocktail classes on offer where expert mixologists will teach you how to make delicious drinks like a pro.
If you're looking for something romantic, consider taking a sunset cruise around the beautiful Whitsunday Islands while enjoying some fine dining onboard. The crystal-clear waters and breathtaking scenery provide the perfect backdrop for a memorable evening with loved ones.
With so much variety at hand, Hamilton Island is truly a foodie paradise that caters to all tastes!

Nath J
Hi, I'm Nath J, your go-to expert for everything Whitsundays Tourism. Since 2001, I've been immersed in this incredible destination, accumulating 22 years of industry experience. My journey has taken me from Operations Manager at Tallarook Sail and Dive to running my own businesses like Ripple Effect Online. I've given workshops on direct tourism bookings and even authored an ebook, Whitsunday Islands: A Journey through Paradise.
Why trust me? I hold certifications like "Whitsundays Tourism Hero" and "Respecting First Nations Cultural Protocols in Australia," both issued by the Queensland Tourism Industry Council. My work has garnered testimonials from tourism business around the region, praising my unique, genuine approach to tourism marketing.
Find me on Facebook and LinkedIn or drop me an email at info@nath-j.au.