Hill Inlet Whitehaven Beach
Lookout Platform
Swirling Silica Sand
Hill Inlet Whitehaven Beach has been named one of Australia's best beaches for good reason. Its dazzling white sand is composed of 98% pure silica, making it incredibly soft to walk on and giving it an amazing brightness that stands out among other beaches. The crystal clear turquoise waters are perfect for swimming and offer incredible views of the surrounding islands. On top of that, the beach is surrounded by lush vegetation and diverse wildlife that will keep you captivated during your visit.
If you're looking for even more adventure, there are plenty of activities to do at Hill Inlet Whitehaven Beach. Guests can explore the nearby walking tracks and lookout points. No matter how you choose to spend your time here, this beach is sure to leave you with unforgettable memories!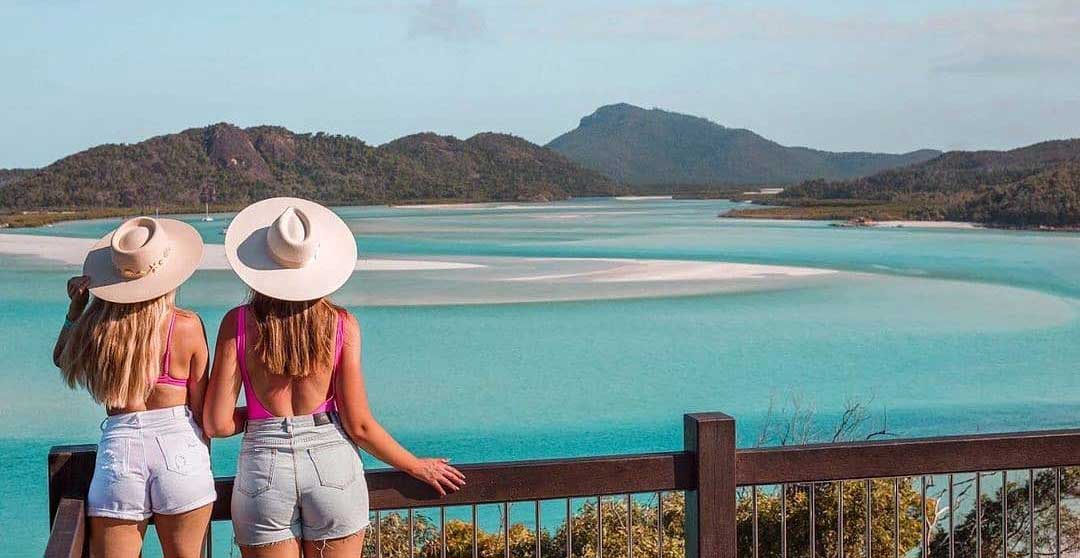 How To Experience Hill Inlet In The Whitsundays
As Hill Inlet is on Whitsunday Island 35km from Airlie Beach there are only a few ways
Tour Boat
Scenic Flight
Private Boat
Below you will find options for the tours and scenic flights.
Boat Tours That Visit Hill Inlet Lookout
Scenic Flights Over Hill Inlet and Whitehaven Beach
Start: Whitsunday Island
End: Whitsunday Island
Location: Whitsunday Islands National Park, Queensland 4802
Closest town: Airlie Beach and Hamilton Island
Distance: 1.3km
Duration: 45 mins
Grade: 3 (Average Fitness)
Style: Return loop track
Opening hours: Open 24 hours a day
Cost: Free
Wheelchair access: There are no wheelchair-accessible facilities.
Access: By boat only
Overview Of Hill Inlet And Whitehaven Beach
Hill Inlet and Whitehaven Beach are two stunningly beautiful locations located in the Whitsundays. With crystal clear waters, sand composed of 98% pure silica and a panoramic view of the ocean, these two landmarks make a trip to the islands truly unforgettable.
For starters, Hill Inlet is known for its picture perfect swirling sands and vibrant colors, earning it a reputation as one of the most photographed places in Australia. Located near Whitehaven Beach on Whitsunday Island, Hill Inlet consists of an inlet where two different currents collide – creating unique patterns in the water and sand. Visitors can also take part in guided tours to explore this mesmerizing landscape and experience its magical views from atop the lookout.
Whitehaven Beach is another must-visit destination in the area. Known for its soft white sands that stretch over seven kilometers along Whitsunday Island's coastline, it has become one of Australia's most popular beaches for swimming, sailing, kayaking and more. The beach also features several walking trails that lead visitors to some of its hidden coves – offering up incredible snorkeling opportunities with some of the most colorful marine life you'll ever see.
These two attractions are sure to leave a lasting impression on any visitor who takes the time to explore them. If you're looking for an unforgettable experience in Queensland's natural beauty then Hill Inlet and Whitehaven Beach should absolutely be at the top of your list!
Location And Access 
Hill Inlet and Whitehaven Beach are two of the most stunning locations within the Whitsundays. They have become popular tourist destinations, due to their incredible beauty, combined with the fact that they are easily accessible. In this section, we'll explore the location and access to these two amazing sites.
Hill Inlet and Whitehaven Beach are located on Whitsunday Island in Queensland, Australia. Accessible only by boat,  seaplane or helicopter, this beach is one of the most secluded spots in the region and well worth visiting if you're looking for a bit of peace and quiet away from crowds of tourists. There are several different companies offering boat trips out to Whitehaven Beach – choose one that includes snorkelling or diving so you can really make the most of your time in the Whitsunday Islands.
No matter how you choose to access Hill Inlet and Whitehaven Beach, one thing is certain – you'll be rewarded with memories that will last a lifetime. With its breathtaking views and tranquil atmosphere, these two sites offer something truly special – take some time to explore them both!
Attractions And Activities 
Hill Inlet and Whitehaven Beach offer a unique combination of attractions and activities for visitors. From swimming and snorkelling to exploring the surrounding islands, there's something for everyone to enjoy. With its stunning landscape, Hill Inlet and Whitehaven Beach are sure to make your holiday unforgettable.
The first thing you'll want to do when visiting Hill Inlet and Whitehaven Beach is take in the spectacular views at the northern lookout platforms. Other activities include exploring Betty's beach, and Whitehaven Bay, sunbathing, watching rays and marine life, and of course, plenty of Insta pics and selfies to make your friends jealous! Whether you're looking out over Hill Inlet's turquoise waters or strolling along Whitehaven's white sand beach, there's no better way to relax than by taking in the beauty of these two incredible locations.!
Accommodation Options Near Hill Inlet And Whitehaven Beach
Accommodation near Hill Inlet and Whitehaven Beach is not as easy as it sounds. As they are located on Whitsunday Island which is a deserted island protected by national parks . The only option for staying on the island or beach is camping.
There are a variety of options for visitors to choose from on other Islands Including.
Hamilton Island
Daydream Island Resort
Palm Bay Resort Long Island
Hayman Island
If an island resort is not your thing, Airlie Beach is the most popular place to stay with boat tours running every day to Whitehaven Beach and Hill Inlet. We have a full guide to Airlie Beach Accommodation here
When deciding on accommodation in this area, it's important to consider the location. Some places will be closer to Hill Inlet, but you pay triple the price of an upmarket boat (Eg Hayman Island 6 Star Resort) Hamilton island is close but there are limited tour options, Airlie Beach while a little further has plenty of tour options on fast boats that explore the Whitsunday Islands
No matter what type of accommodation you choose, you can be sure that Hill Inlet and Whitehaven Beach will provide an unforgettable holiday destination. With its stunning scenery and endless activities, it's no wonder why these two beaches continue to attract tourists year after year!
Weather And Climate 
The Whitsundays are known for their spectacular views and white-sand beaches, but the weather and climate at Hill Inlet and Whitehaven Beach should also be taken into consideration when planning a trip. The region experiences a tropical climate with warm temperatures year round and is known for its wet season from November to April. It's important to be aware of this before you travel so that you can prepare accordingly.
During the wet season, rainfall is frequent and humidity levels are high, but it's still possible to enjoy your visit. Pack some light clothing that can dry quickly in case you do get caught in the rain. Additionally, being mindful of local weather conditions ahead of time will help ensure that you're able to make the most of your stay in the Whitsundays.
No matter what time of year you visit Hill Inlet and Whitehaven Beach, there's always something special about taking in the beauty of these places in person. The Whitsunday Islands are a popular destination among locals and tourists alike, so it's worth doing your research on weather conditions before your trip so that you have a safe and enjoyable experience. With careful preparation and an appreciation for the area's unique climate, you'll be sure to make unforgettable memories during your stay!
Wildlife And Marine Life 
Wildlife And Marine Life Of Hill Inlet And Whitehaven Beach
When it comes to Hill Inlet and Whitehaven Beach in the Whitsundays, there's a world of wildlife and marine life to explore. From the coral-filled waters of the Great Barrier Reef to the diverse array of birds and mammals that call this area home, visitors can expect an abundance of natural beauty. Let's take a closer look at what you can find when visiting these two special spots.
Marine Life often seen around Hill Inlet includes
Dolphins
Turtles
Sting-rays
Small tropical fish
Small crabs with fluorescent blue shells
dugongs
Whales in season (June to September)
There are no coral reefs at Hill Inlet just sand and more sand
On land too there's plenty for wildlife enthusiasts to enjoy. A plethora of interesting animals live on or around Hill Inlet and Whitehaven Beach including wallabies, bush turkeys and goannas, lizards and snakes, There's also a wide range of birdlife with colourful parrots being especially popular sights in this part of Australia.
Environmental Protection 
The Whitsundays are a stunning destination, While these natural wonders are fantastic to explore, it's important to remember that protecting them is every vistors responsibility.
When visiting the region it's essential to stick to designated pathways and areas that have been allocated by Queensland National Parks. This helps to reduce human impact on the environment and ensure that habitats remain intact. It's also important to be mindful of any wildlife you may encounter during your visit – keep a respectful distance and never feed or touch wild animals.
It's very important not to take anything away from the beach or leave any rubbish behind. On any tours to Whitehaven Beach, the crew will give you a briefing on what to do with rubbish and how to minimise your impact on the beach. Take care when using sunscreen too, as certain chemicals in sunscreens have been proven to damage coral reefs nearby. you can find a full guide to coral reef safe sunscreen here.
By following these simple rules we can all help to ensure Hill Inlet and Whitehaven Beach stay safe for future visitors. We all have a part to play in preserving this beautiful environment so let's do our bit!
History And Culture Of Hill Inlet 
Hill Inlet and Whitehaven Beach have a long, rich history and culture that is deeply connected to the Whitsunday Islands (Cumberland islands). The area has been home to the Ngaro people for thousands of years, who have left behind evidence of their presence in the form of rock art.
A small ground survey was completed by Bryce Barker and his team from Queensland University (Published 1995)  at a Hill Inlet Rock Shelter 2.2km from the entrance of Hill Inlet on its western side. The shelter is 300m from the high-water mark at an elevation of ea. 40m above sea level.
Three 50 x 50cm squares were excavated and the results included  Reference The Sea People, Online Book, Page 138
Tightly packed ash
Shellfish
Fish Bones
A large amount of crab shell
Turtle bone
Terrestrial fauna
Stone artefacts (low density)
Non-lithic artefacts
One of the interesting features of the Hill Inlet survey is the small number of stone artefacts, Although the sample size is very small, a number of preliminary conclusions can be drawn from the assemblage. The fact that most of the artefacts are of black tuff points found in the material on the South Molle Island quarry some 34km to the north-west. shows the local Ngaro people either traded or travelled between South Molle Island and Hill Inlet.
The importance of protecting Hill Inlet and Whitehaven Beach has been emphasized by local indigenous groups, who seek to preserve it for future generations. There is an ongoing effort by conservationists and government organizations alike to maintain the integrity of the area by limiting access and implementing sustainable practices. This ensures that this precious gem will remain a part of Australia's cultural heritage for many years to come.
Can you swim at Hill Inlet?
Abouslutly there is shallow water swimming available in all tides, remember to wear your stinger suit in season.
Can you walk from Whitehaven Beach to Hill Inlet lookout?
This is a difficult question as my marketing brain wants to say yes, but technically no you can not walk from Whitehaven Beach to Hill Inlet. Let me explain:
Whitehaven Beach is the 7km stretch of sand on the south side of Hill Inlet, and the lookout is on the north side of the inlet. there is a wide body of water in the inlet meaning you can not walk, swim across ? maybe ( but wouldn't recommend it) Kayak? definitely!
The beach on the north side of the inlet is named and marked by Queensland National Parks as "Whitehaven Bay" and "Bettys Beach"
Access to Hill Inlet Lookout is either from Whitehaven Bay or Toung Point on the other side of the point.
How hard is the walk to Hill Inlet?
We rate it as a grade 3 (average fitness) being 1.3km long return track. it takes around 45 minutes to complete the track with viewing time
Is Hill Inlet better at high or low tide?
Low tide as you see more swirling sands.
Can you take sand from Whitehaven or Hill Inlet
No sorry, you can not remove items from the Whitsundays National Parks.
How do I get to Hill Inlet?
Boat is the only way to access Hill inlet both private and commercial are allowed to visit
More Information on Hill Inlet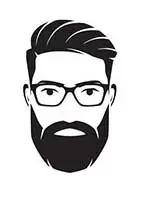 Nath J
Airlie Beach and Whitsundays Specialist
Hi my name is Nath J.
I have lived and worked in Airlie Beach and Whitsundays since 2001. Over these 21 years I spent 19 of them in the local tourism industry, Including owning a travel store, working on overnight and day boats, plus sales and marketing for local business. The content on this page is taken from my knowledge of the tourism industry and hopefully provide you with the facts about Airlie Beach and the Whitsundays you were looking for.

Nath J
Hi, I'm Nath J, your go-to expert for everything Whitsundays Tourism. Since 2001, I've been immersed in this incredible destination, accumulating 22 years of industry experience. My journey has taken me from Operations Manager at Tallarook Sail and Dive to running my own businesses like Ripple Effect Online. I've given workshops on direct tourism bookings and even authored an ebook, Whitsunday Islands: A Journey through Paradise.
Why trust me? I hold certifications like "Whitsundays Tourism Hero" and "Respecting First Nations Cultural Protocols in Australia," both issued by the Queensland Tourism Industry Council. My work has garnered testimonials from tourism business around the region, praising my unique, genuine approach to tourism marketing.
Find me on Facebook and LinkedIn or drop me an email at info@nath-j.au.