ZigZag Whitsundays Whitehaven Beach Tour.
Tour Locations – Whitsunday Islands – Whitehaven Beach – South Whitehaven Lookout – Chalkies Beach – Haslewood Island Lookout.
Tour Experience – ZigZag Whitsundays and Whitehaven Beach Tour
Price – From $159
Ticket Price Includes – Lunch, snacks, cold water refills, snorkel equipment, wetsuit
Diet options – Standard, vegan, vegetarian, gluten-free and lactose-free.
Departure Location – 8 am at Coral Sea Marina, Airlie Beach QLD 4802
Return Location  – 4 pm at Coral Sea Marina, Airlie Beach QLD 4802
Type Of  Tour Boat – Fast Motorboat
Guest Capacity – 30
Cancellation and Refund Policy – Up to 24 hours before tour departure – Full Refund. Details are in the FAQ section at the bottom of this page.
ZigZag Whitsundays is the perfect day trip for those of us looking to explore the scenic beauty of the Whitsunday Islands.
With comfortable seats, low guest numbers (maximum 30 people), and everything you need included in the ticket price – including
Lunch
Snacks
Snorkel equipment and wetsuits
Good quality marine wind jackets
Cold water refill station so all you have to do is bring your own bottle.
This day tour to Whitehaven Beach offers an unbeatable experience that's easy on the environment too! So why not join the most popular tour in the Whitsundays and make some amazing memories to last a lifetime?
Complete Guide to ZigZag Whitsundays Whitehaven Beach Tour
Tour Highlights
2 beaches, 2 lookouts, and 1 snorkel location included in the tour
Considered as the most comfortable day boat in the Whitsundays
Whitehaven beach visit included
The New South Whitehaven Beach lookout also included in the tour
The best snorkel locations available in the coral-filled bay
Chalkies Beach visit included
Haslewood Island Lookout included
Buffet lunch will be served on Whitehaven Beach
Snorkel equipment, wetsuit, lunch, and snacks are all included
Comfortable padded seats available for guests
The tour can accommodate up to 30 guests and 3 crew members, making it the ultimate Whitsundays day tour.
Is This Tour Suitable For You?
The tour welcomes guests of all ages from 5 years old and up. However children under 5 are not permitted.
The boat provides a very comfortable fast ride, and in 2020, high-back padded seats were added to take guest comfort to the next level.
Please note that if you are over 20 weeks pregnant or have a back or neck injury, this tour is not suitable for you.
Location Details - Whitehaven Beach
ZigZag Whitsundays Day Tour will take you to one of the most beautiful locations in the area: Whitehaven Beach. You'll get to spend around 2 hours at this stunning location. During your stay, our crew will serve you a delicious cold buffet lunch right on the beach. After lunch, you'll have plenty of time to explore the south lookout and swim in the crystal clear waters. Take a walk along the 98% pure silica sand dunes or simply relax and soak up the breathtaking scenery. It's an experience you won't want to miss!
Location Details - South Whitehaven Lookout
The ZigZag Whitsundays team are excited to announce that our tour now includes a visit to the brand new lookout platform at the South end of Whitehaven Beach! This stunning 970-meter walk and lookout platform opened in July 2019 and offers an incredible view that is unlike any other in the Whitsundays.
From here, you'll be able to see the entire length of Whitehaven Beach as well as 120-degree views of the Whitsunday Islands. It's a breathtaking sight and we're proud to be one of the few tours that visit this Instagram-worthy location. Don't miss out on the opportunity to experience it for yourself!
Location Details - Snorkelling
As part of our one-day tour, you'll have the incredible opportunity to snorkel in the coral-filled bays that line the coast of the islands. The Whitsunday Islands are part of the Great Barrier Reef Marine Park and teaming with coral reefs and fish. You'll get to see all kinds of sea creatures, including turtles, Maori wrasse, batfish, parrot fish, and even the famous clown fish (Nemo).
In most bays, the coral starts close to shore and is easily accessible via the front stairs on the boat. If you're not a confident swimmer, don't worry – we have noodles and flotation devices available to ensure your safety. It's a once-in-a-lifetime experience that you won't forget!
Location Details - Chalkies Beach And Haslewood Lookout
One of the highlights of our tour is a visit to Chalkies Beach on Haslewood Island. It's like Whitehaven Beach's little brother, with similarly stunning sand but fewer crowds, making it a popular spot on our itinerary. While you're there, don't miss out on the beautiful lookout that overlooks the beach and coral reefs in one direction and offers stunning views across the water to Whitehaven Beach and the surrounding islands in the other direction.
To reach the lookout, all it takes is a short 10 to 15-minute walk on a well-maintained track installed by National Parks. It's an easy and rewarding hike that offers breathtaking views. Come see it for yourself!
ZigZag Whitsundays Meeting Point Map
Other Details For This Whitehaven Tour
MEETING TIME/PLACE ON THE MORNING OF DEPARTURE
For the morning of departure, if you're walking, it will take around 15 minutes to get to Abell Point Marina Roundabout, which is the North End Meeting Point under the Umbrellas (refer to the map above). You should be there by 8:00 am.
If you're driving, there is car parking available at Abell Point Marina for $8 for the day, which you can pay with coins or card on the day using the parking machines. After parking your car, you can walk down to the Roundabout (North End Meeting Point under the Umbrellas see map above) @ 8.00am.
To find the meeting point, you can use the Google Maps App link provided: https://goo.gl/maps/dbyjbJntHDL2.
YOUR ITINERARY:
We do not have set itineraries at ZigZag, as our plans are dependent on weather and tidal conditions. When you board the boat, our crew will provide you with information specific to the vessel and where we may be heading that day.
IMPORTANT!
Please keep in mind that ZigZag is an open vessel, so you may get wet while we're travelling. Please be prepared for this. Additionally, large backpacks or suitcases are not allowed on the boat. If you'd like to bring a bag, make sure it's a small day pack. There is no bag storage on the boat, so if you bring a bag, you'll need to keep it with you or under your seat for the tour.
WHAT TO BRING:
We suggest bringing the following items in a small soft bag (if needed):
Light Clothing / Warm clothing in cooler months (May – September)
Swimsuit
Hat
Sunscreen (30+ highly recommended)
Beach Towel
Sunglasses
Morning Tea and lunch are included, but if you think you might get extra hungry, you can bring crisps, chocolates, etc.
WHAT NOT TO BRING:
Please do not bring glass bottles, passport, or travel documents. ZigZag is not responsible for any property you take on board the vessel. We strongly recommend using waterproof cameras (or waterproof-protected cameras) instead of expensive digital cameras, as your electrical equipment will be ruined if it comes into contact with seawater.
WEATHER:
Welcome to the tropics! Our winters are unbeatable in terms of weather, but our summers can be hot and wet. From November to March, it can be extremely hot and humid. If you're not accustomed to this climate, you may find it slightly uncomfortable, so please be prepared.
TRAVEL SICKNESS:
If you're not sure whether you may suffer from travel sickness, please make sure you're prepared. While our trained crew will do their best to make you comfortable, they're not allowed to provide you with medication for travel sickness. You can purchase medication at the Night Owl in Airlie Beach or any pharmacy. ZigZag is a fast boat, and most people don't suffer from seasickness while travelling with us.
SNORKELLING GEAR:
Masks and snorkels are included in the price of your trip and will be distributed on board. Wearing a Lycra stinger suit will prevent UV exposure and significantly reduce your risk of marine stingers. ZigZag requires all passengers to wear a full-length stinger suit or wetsuit if you wish to swim or snorkel from our boat. You'll be fitted for your suit onboard the boat, and these are included in the price you paid.
LYCRA SUITS & WETSUITS:
It is important to wear a full length stinger suit or wetsuit to reduce your risk of exposure to marine stingers (jellyfish). We provide these suits for all passengers and you will be fitted for one on the boat. The cost of the suit is already included in the price you paid.
Terms and Conditions Of Travel On ZigZag
B&N Operations Pty Ltd ABN 14 617 437 751 t/as ZigZag Whitsundays operates the vessels known as ZigZag, The following terms and conditions apply to travel by you on ZigZag.
All prices are shown in Australian dollars and are inclusive of GST. Prices are valid from 1st January 2022.
All ZigZag departures and itineraries are subject to weather and may be changed or cancelled a B&N Operations discretion. ZigZag reserves the right to substitute vessels without notice at any time and for any reason.
ZigZag reserves the right to cancel any trip, or reduce trip duration, in any circumstances, including those which pose a safety risk to you, the vessel or crew, such as severe weather, including cyclones.
If ZigZag is cancelled by the owner prior to or on the scheduled departure date, you will be refunded within 7 days.
If your trip duration is reduced during the trip due to Unforeseen Circumstances, you may be offered a future trip on ZigZag at no cost to you, depending on the amount of time by which your original trip on ZigZag was reduced and, subject to availability. You acknowledge that "Unforseen Circumstances" includes but is not limited to the following; inclement weather, issues pertaining to ZigZag and any medical emergency, such as injury to guests or crew.
You acknowledge that if you cancel your travel on ZigZag less than 24 hours before the departure date, this will result in the forfeiture by you of the full trip price.
If you request a transfer of a trip departure date up to at least 24 hours before the day of scheduled departure this will incur no transfer fee. No Transfers will be accepted under this 24 hr. period
We recommend you take out travel insurance
You acknowledge that travel with, and the recreational services provided by, ZigZag (such as all in water activities and bushwalking) involve risk, including in particular a risk of being stung or bitten by jellyfish and other marine creatures or native fauna. You are advised to wear a stinger suit at all times you are in the water.
Whilst we make every effort to safeguard our passengers travelling on ZigZag , you acknowledge and agree that ZigZag is not liable to you for personal injury, aggravation of any existing injury or condition, mental injury, contraction of any disease, loss (direct, indirect or consequential) or death (including but not limited to from jellyfish stings) resulting from the recreational services provided by ZigZag , ZigZag hereby excludes absolutely all such liability to you.
Where the Competition and Consumer Act (CCA) consumer guarantees apply you also acknowledge and agree that the liability of ZigZag for any breach of those consumer guarantees is excluded to the maximum extent possible under section 64A of the Australian Consumer Law and 139A of the CCA, where you are killed, injured (physically or mentally) or contract a disease, or an existing disease is aggravated, arising from your trip onZigZag Whitsundays.
Your agreement with ZigZag Whitsundays is subject to the laws of Queensland, Australia If any of these terms is unreasonable or unenforceable for any reason whatsoever, it shall be severed and the remaining terms will not be affected in any way.
WHAT IS THE CANCELLATION POLICY?
Cancellation of a ticket more than 24 hours before the trip departure date is a full refund.
Cancellation of a ticket less than 24 hours before the trip departure date will result in the forfeiture by you of the total trip price.
The travel Date of the tour is transferable up to 24 hours before the day of scheduled departure.
No Transfers will be accepted under this 24 hr period.
All refund requests must be in writing to bookings@zigzagwhitsundays.com.au with your ticket or voucher number.
CAN YOU TAKE CHILDREN UNDER 5 ?
No, sorry they have an age limit of 5 years old for safety reasons on the tour.
WHERE CAN I PARK MY CAR?
There is plenty of car parking at Coral Sea Marina for both cars and motorhomes, the cost is around $10 to $12 for the duration of the trip, Pay and display or use the Easy Park App
IS THERE A BATHROOM ONBOARD?
Yes! we have a toilet on the boat for your convenience
CAN YOU TAKE PREGNANT WOMEN?
Only up to 20 weeks, the tour is not suitable for prgnant woman over 20 weeks, we are over 1 hour from port and the owner Nicole who was working on the boat while pregeant has made this cut off time for the safty and comfort of guests.
IS THIS TOUR GOOD FOR PEOPLE WITH BACK PROBLEMS ?
No sorry if you have existing back problems a slower boat is better suited for you, we can not take guests who have known back problems.
I CANT SWIM! CAN I SNORKEL?
The short answer is maybe, it depends on your confidence! We have flotation aids called pool noodles that will help you float.
DO YOU SELL ALCOHOL?
No, we do not sell alcohol on the boat, you may bring your own just no glass
ZigZag Whitsundays And Whitehaven Beach Day Tour (2023)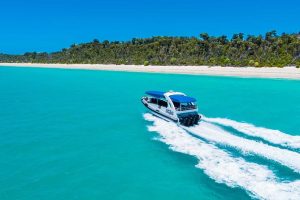 ZigZag Whitsundays Day Tour - 2 beaches, 2 lookouts, 1 snorkel location, and Whitehaven Beach. An unforgettable adventure awaits! Bookings and Live availability
Product Brand: ZigZag Whitsundays Day Tour
Product Currency: AUD
Product Price: 159
Price Valid Until: 2024-04-01
Product In-Stock: InStock

Nath J
Hi, I'm Nath J, your go-to expert for everything Whitsundays Tourism. Since 2001, I've been immersed in this incredible destination, accumulating 22 years of industry experience. My journey has taken me from Operations Manager at Tallarook Sail and Dive to running my own businesses like Ripple Effect Online. I've given workshops on direct tourism bookings and even authored an ebook, Whitsunday Islands: A Journey through Paradise.
Why trust me? I hold certifications like "Whitsundays Tourism Hero" and "Respecting First Nations Cultural Protocols in Australia," both issued by the Queensland Tourism Industry Council. My work has garnered testimonials from tourism business around the region, praising my unique, genuine approach to tourism marketing.
Find me on Facebook and LinkedIn or drop me an email at info@nath-j.au.