BBQ recipes for camping on Whitehaven Beach
© Official Local Whitsundays Website
If you are planning a camping trip to the Whitsunday Islands, you will find some tasty BBQ recipes for camping on Whitehaven Beach and other camping locations below.
The crystal clear salt waters and pristine white sands of this beautiful location make it the perfect campsite situated in the Whitsunday Islands. And what better way to enjoy the great outdoors than by cooking up some delicious meals around the BBQ?
Here are some tasty camping recipes that are sure to be a hit on your Whitehaven Beach camping trip.
Aussie BBQ Recipes For Camping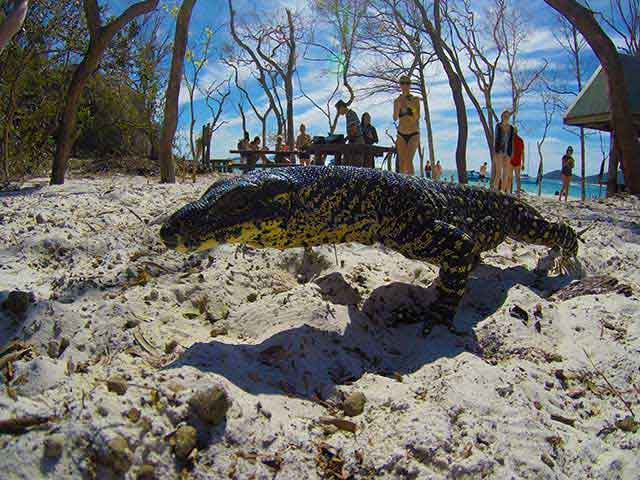 Grilled Prawns and Vegetable Skewers
Prawns and vegetables are a classic combination that's perfect for cooking over a BBQ. To make this dish, simply skewer your favourite vegetables (such as bell peppers, onions, mushrooms, and cherry tomatoes) and some large peeled prawns. Season the skewers with a mixture of olive oil, garlic, and your favourite herbs, then grill over the BBQ until the prawns are pink and the vegetables are tender. Serve with a squeeze of lemon juice and a side of bread to soak up all the delicious flavours.
Campfire Nachos
Nachos are a crowd-pleasing snack that's easy to make over the campfire. To start place a layer of tortilla chips in a large foil-lined pan, and top with a mixture of grated cheese, black beans and diced tomatoes. Put the pan over the BBQ, and let the cheese melt and the nachos get crispy. Once the nachos are hot and gooey, remove them from the fire and serve with some salsa, guacamole, and sour cream on the side. YUM!
BBQ Damper
Damper is a traditional Australian bread that's cooked over the campfire or BBQ, and it's the perfect accompaniment to any outdoor meal. To make a damper, start by mixing together some flour, baking powder, salt, and milk in a large bowl. Knead the dough into a ball, and pat it into a round shape. Place the damper on a piece of foil, and wrap it up tightly. Place the foil-wrapped damper directly on the BBQ at low heat, and let it cook for about 15 minutes, or until it's cooked through and slightly crusty on the outside. Serve the damper warm, with some butter and honey on top.
BBQ Pork Ribs
Pork ribs are my BBQ favourite and the best BBQ recipes for camping on Whitehaven Beach, and they're easy to make on the grill. To start, season the ribs with a mixture of brown sugar, paprika, garlic powder and your favourite BBQ sauce. Place the ribs on the grill, and let them cook for about 30 minutes or until they're tender and falling off the bone. Brush the ribs with more BBQ sauce as they cook, and serve with a side of coleslaw and corn on the cob.
BBQ Lamb Chops
Lamb is a popular meat in Australia, and lamb chops are a tasty and versatile cut that's perfect for the BBQ. To make this dish, season the lamb chops with a mixture of olive oil, garlic, and your favourite herbs (such as rosemary and mint). Grill the lamb chops on the BBQ until they are cooked to your desired level, and serve with a side of grilled vegetables and some quinoa salad.
BBQ Snapper
Snapper is a delicious and flaky fish that's perfect for grilling on the BBQ. To make this dish, start by marinating the snapper in a mixture of olive oil, lemon juice, garlic, and your favourite herbs (such as parsley and dill). Grill the snapper on the BBQ until it's cooked through and the skin is crispy, and serve with a side of grilled vegetables and some lemon wedges on the side.
BBQ Grilled Pineapple
Grilled pineapple is a delicious and healthy dessert that's easy to make on the BBQ. To start, slice a fresh pineapple into rounds, and brush them with a mixture of melted butter, brown sugar, and cinnamon. Put the pineapple on the grill, and let it cook for about 5 minutes on each side, or until it's caramelized and slightly browned. Serve the grilled pineapple with a scoop of vanilla ice cream on top, and a drizzle of honey.
These Aussie BBQ recipes for camping on Whitehaven Beach are just a few of the many delicious dishes you can enjoy on your camping trip. So check the best season for camping on Whitehaven Beach, fire up the BBQ, and get cooking!
Cooking Safety On Whitehaven Beach
When camping in the Whitsundays cooking is essential as there are no shops on most Islands, so it's important to follow safety guidelines to ensure that your cooking experience is safe and legal.
No open fires are allowed on Whitehaven Beach only gas powered cookers (see below)
See some tips below for using a BBQ on Whitehaven Beach
Choose a safe location for your cooking area, and look for a flat open area away from any hazards such as trees, bushes, and other materials that may cause a fire.
Use a portable stove like the one here, and avoid cooking directly on the sand, as it can be difficult to control the heat of the BBQ. (air flow is needed)
Keep a bucket or bottle of water nearby in case of any small fire flare ups.
Do not leave your cooking area unattended. Watch your BBQ at all times, and make sure it's properly put out before leaving the site.
Dispose of any trash or food waste properly. Do not leave any rubbish on the beach make sure to properly dispose of any food waste to avoid attracting animals.
By following these above tips you can enjoy a safe cooking experience on Whitehaven Beach. Happy camping!

Nath J
Hi, I'm Nath J, your go-to expert for everything Whitsundays Tourism. Since 2001, I've been immersed in this incredible destination, accumulating 22 years of industry experience. My journey has taken me from Operations Manager at Tallarook Sail and Dive to running my own businesses like Ripple Effect Online. I've given workshops on direct tourism bookings and even authored an ebook, Whitsunday Islands: A Journey through Paradise.
Why trust me? I hold certifications like "Whitsundays Tourism Hero" and "Respecting First Nations Cultural Protocols in Australia," both issued by the Queensland Tourism Industry Council. My work has garnered testimonials from tourism business around the region, praising my unique, genuine approach to tourism marketing.
Find me on Facebook and LinkedIn or drop me an email at info@nath-j.au.