Sustainable camping on Whitehaven Beach
© Official Local Whitsundays Website
Sustainable camping at Whitehaven Beach is a great way to preserve the beauty of this iconic Whitsunday holiday destination while also minimizing your impact on the environment including our fragile coral reefs.
With our unique ecosystem and natural environment, it is very important to take steps to ensure that your camping visit is as sustainable as possible.
Our Tips For Sustainable Camping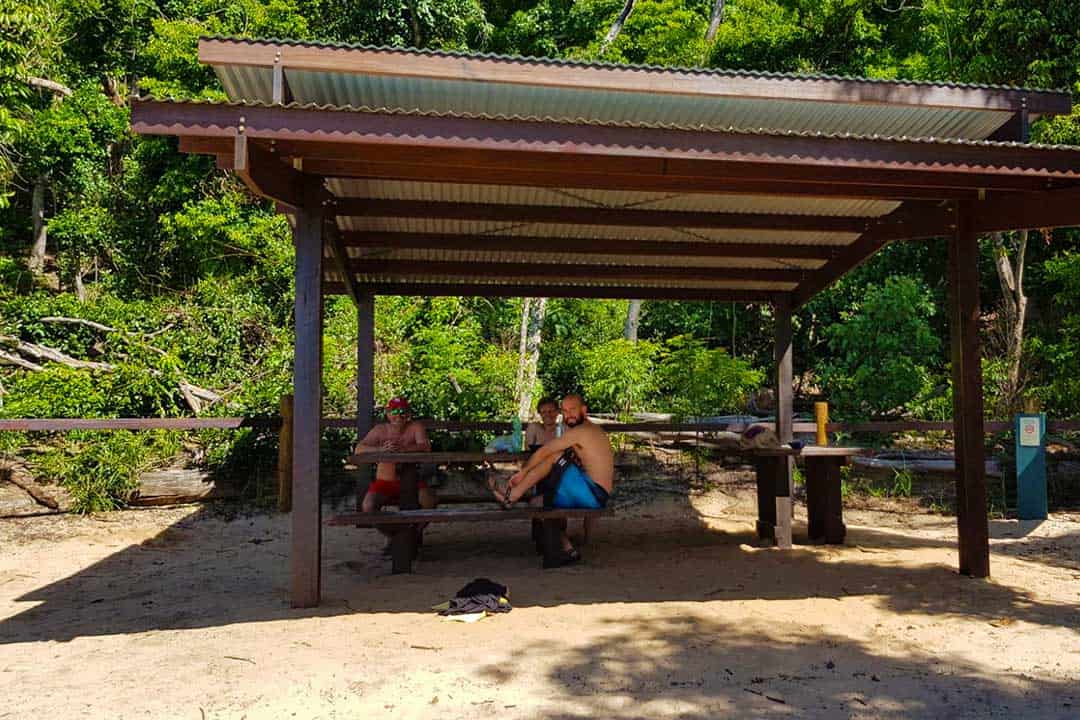 One of the best ways to camp sustainably at Whitehaven Beach is to make sure that you leave no trace that you have been there.
This means packing out all of your rubbish, including any food waste and disposing of it properly. (you will be given instructions when booking your permit)
Always be aware not to disturb the natural habitat, this includes not collecting shells or coral, it is also illegal to take any of the sand from the beach.
Another way to camp sustainably on Whitehaven Beach is to choose eco friendly camping equipment. This can include using solar powered camping for cooking, or a reusable water bottle instead of single use plastic ones you buy from shops.
By choosing sustainable options you can help to reduce the amount of waste generated during your visit.
It is also important to remember that Whitehaven Beach and hiking trails near Whitehaven Beach is a protected area. This means there are strict regulations in place to protect the natural environment, and it is important to follow these rules and regulations.
This can include obtaining any necessary camping permits and following any rules or guidelines set out by Queensland National Parks.
Another important aspect of sustainable camping is to be water-wise. Whitehaven Beach is known for its crystal clear waters, but these waters are very fragile and need to be protected. This means using biodegradable soaps and shampoos and being mindful of how much water you use.
It's also important to avoid polluting the waters, whether it's by throwing rubbish into the sea or using chemicals that can harm marine life.
The best rule I have heard is to leave the campsite better than you found it. It takes little effort to clean up your or someone else's mess but it can mean so much for the island and marine wildlife, so remember to do your bit for sustainable camping on Whitehaven Beach and let the future generations enjoy it as we do.

Nath J
Hi, I'm Nath J, your go-to expert for everything Whitsundays Tourism. Since 2001, I've been immersed in this incredible destination, accumulating 22 years of industry experience. My journey has taken me from Operations Manager at Tallarook Sail and Dive to running my own businesses like Ripple Effect Online. I've given workshops on direct tourism bookings and even authored an ebook, Whitsunday Islands: A Journey through Paradise.
Why trust me? I hold certifications like "Whitsundays Tourism Hero" and "Respecting First Nations Cultural Protocols in Australia," both issued by the Queensland Tourism Industry Council. My work has garnered testimonials from tourism business around the region, praising my unique, genuine approach to tourism marketing.
Find me on Facebook and LinkedIn or drop me an email at info@nath-j.au.