How To Get To Airlie Beach 10 Different Ways
© Official Local Whitsundays Website
Are you looking to get away on Holiday and researching how to get to Airlie Beach? I have the perfect destination guide for you! Nestled in tropical Queensland, this beachside town will take your breath away with its stunning views and various activities. But how do you get there? Well, you're in luck – we've compiled a list of 10 different ways to get to Airlie Beach so that you can pick the one that best fits your needs.
From flying into the local airports to taking a road trip along Australia's East Coast, each option has its own unique charm. And whether it's an adventure-filled vacation or just a quick weekend escape, these methods will surely provide an unforgettable experience along the way. So if you're looking to travel like never before, pack up your bags and let's explore all the ways you can reach Airlie Beach. 
When it comes to getting to Airlie Beach, one of the fastest ways is taking a plane. Whether you're dreaming of soaking up the sun and swimming in crystal-clear waters or planning an ultimate adventure with friends, flying makes your journey easier.
Whitsundays Coast Airport (PPP) and Hamilton Island (HTI) are two major commercial airline airports. If flying into Hamilton Island, you will need to book a ferry. See below for our ferry details. Flights are available from Brisbane, Sydney, Melbourne and Cairns – wherever you come from, the skies will be your gateway to paradise! Plus, airfares can often be quite affordable when booked early enough – ensuring you get where you want for a reasonable price.
Airlines that fly into the region are
So why wait? If time and budget aren't too much of an issue for you and getting to Airlie Beach quickly sounds like your ideal plan – then take off into the clouds and enjoy all that awaits! From here on out, travelling by bus is another great way to reach Airlie Beach…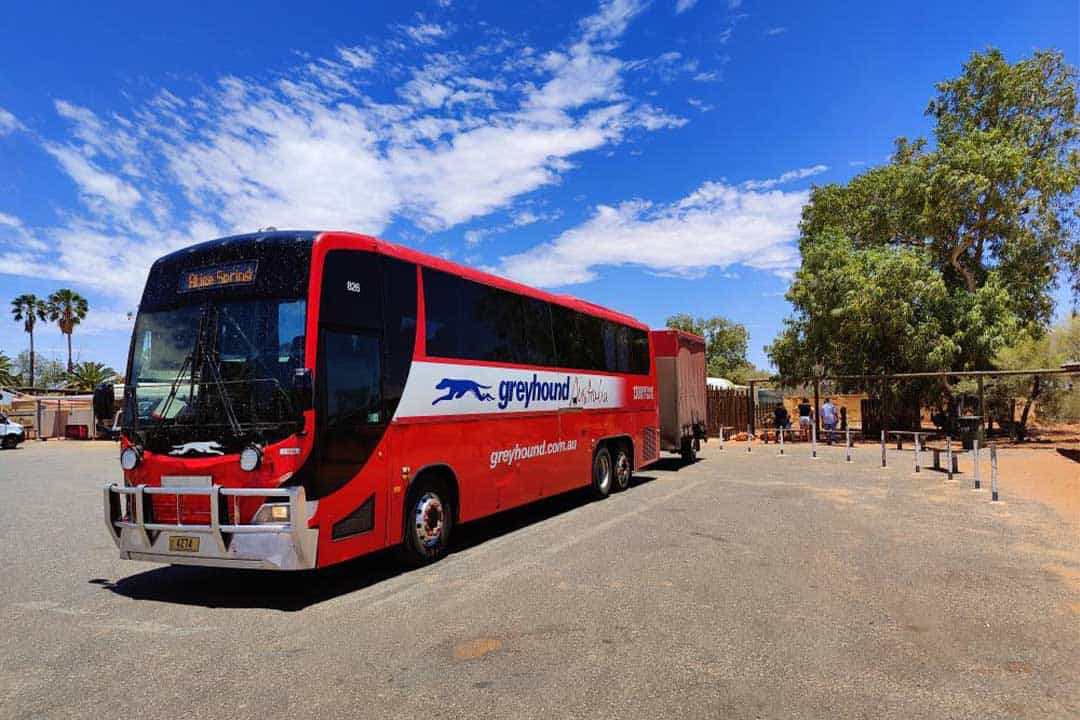 Taking a bus to Airlie Beach is an economical and convenient way of getting there, especially if you're on a budget. Depending on where you are coming from, it can be the most practical option for anyone looking to travel without worrying about driving their car or flying in. Plus, with all the scenic views available during your ride, you'll enjoy some stunning landscapes along the way!
Two leading bus companies run daily to Airlie Beach. They are  Greyhound Australia and Premier Motor Services.
Once you've decided to take a bus, make sure to book ahead of time – this will save you money and guarantee you a seat too! Once onboard, relax and enjoy the journey at its fullest potential; plug into some music or podcasts while admiring the views outside your window – before long enough, you'll have arrived safely in Airlie Beach!
So why not take advantage of all these benefits? Hop on board, and let's explore the gorgeous Whitsunday Islands together! 
Driving your own car to Airlie Beach is a great way of getting there. It's an easy journey, and you get the added bonus of having your own vehicle while you're in town. You'll be free to move around at your leisure without relying on public transportation or waiting for rides from friends. Plus, it allows you to take breaks along the way and take in some stunning views!
When planning out your route, consider taking scenic roads instead of highways so that you can fully enjoy all the sights along the way. Plenty of maps online will help guide you through this process, so spend some time researching what works best for you.
TIP: Always plan ahead if possible – look into road reports with the RACQ interactive road map, estimate how much money you'll need for fuel and check weather forecasts before hitting the road. That way, when it comes time to leave, everything will run smoothly and stress-free!
Renting a car to get to Airlie Beach is convenient and offers plenty of freedom. You don't have to worry about the hassles and stress of public transportation, and you can go wherever you want, whenever you want!
Drive your own vehicle or rent one; either way, it's easy enough to find suitable transport for your trip. Renting a car means you can come and go as you please without sticking to timetables. Plus, there are many great deals out there, so if you're looking for an affordable option, this could be the perfect choice. I thoroughly recommend the Avis Team in Airlie Beach and Whitsunday Coast Airport. They have always helped me in the past with excellent customer experience.
Road trips allow us to explore our environment uniquely. With rental cars at competitive prices, why not take advantage of some extra time on the road? Soak up the beautiful scenery around Airlie Beach while discovering new places – remember to plan ahead and leave yourself plenty of time before arriving at your destination!
How To Get To Airlie Beach By Taking A Train?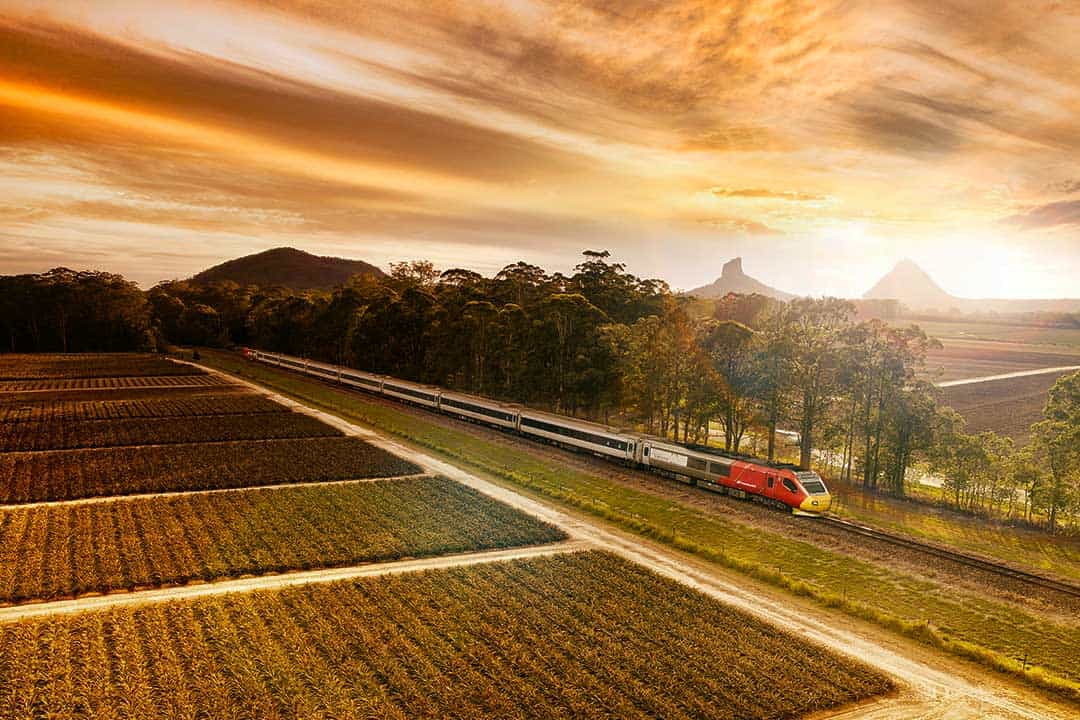 Next in our how-to get to Airlie Beach guide is by train, which is an exciting and convenient way. Enjoy the views of rural Queensland while you relax in a comfortable seat without worrying about driving or parking. With the Spirit Of Queensland running daily from Brisbane and Cairns, all it takes is booking your ticket and hopping aboard! Here are five things that make taking the train great:
1. Allowing plenty of time for sightseeing along the way;
2. Easy access with multiple routes available;
3. Affordable fares;
4. Frequent departures;
5. Comfortable seating with lots of legroom.
Train travel also has its unique charm – listening to the rhythm of the rails and feeling like part of something bigger than yourself as you pass through different towns and landscapes… In short, it's an experience worth savouring! Plus, when you arrive at Proserpine Train Station, you're just 30  minutes away from some incredible beaches and attractions, so you can start exploring immediately.
But if rail isn't your thing, never fear – another option awaits… 
If staying at an island resort, why not take a ferry with Cruise Whitsundays? Whether travelling to the mainland for some Airlie Beach Activities or just island hopping between the Whitsundays, it can be an enjoyable experience.
The Cruise Whitsundays ferries are designed with comfort in mind – air-conditioned cabins and spacious open decks provide plenty of options for passengers to relax while enjoying breathtaking views as they make their way to their destination. There's no need to worry about booking a seat; these cruises have reserved seating, so everyone is guaranteed a spot.
Travelling by ferry also allows visitors to explore some of the nearby islands, catching glimpses of wildlife and stunning natural landscapes that they would otherwise miss out on if they were driving or flying into Airlie Beach. This makes it an ideal choice for those who want to take their time and enjoy all that Queensland has to offer before arriving at their ultimate destination. 
Sailing to Airlie Beach by private boat is one of the most enjoyable ways to arrive. It's a great way for adventurous travellers to explore and discover new sights around the Whitsunday Islands. Plus, there's no better feeling than slipping away from civilization and setting sail with nothing but your crew and the open ocean!
Making your way up north (or south) via a private boat isn't just about reaching your destination – it's about connecting with nature and appreciating its beauty every step (or paddle). Whether you're an experienced sailor looking for an exciting challenge or want to relax on deck under starry skies, this mode of travel will give you memories that last a lifetime. Ready for another adventure? Next up on our how-to get to Airlie Beach guide: hitchhiking.
Hitchhiking is a great way to get to Airlie Beach if you want an adventure. It's not the safest or most comfortable mode of transportation, but it has its unique charm and potential rewards. Hitchhiking has many pros and cons that must be weighed before taking off on this journey.
The Pros:
– Hitchhiking will allow you to experience local culture much more personally than other forms of travel. You'll meet locals who can give you tips about the best places to visit and stories about their lives and experiences in the area. Plus, it's free!
– Additionally, hitchhiking gives you access to areas inaccessible by public transport or private car hire services. For example, hitching is the perfect solution if you want to explore remote beaches or back roads without renting your own vehicle.
The Cons:
– The biggest downside of hitchhiking is that it can be dangerous; At the same time, plenty of friendly people are willing to offer rides, and some may take advantage of unsuspecting travellers. Be sure to trust your gut instinct when deciding whether or not to accept a ride from someone.
– Time constraints can also be an issue; depending on where you're coming from and how widespread the destination is with hitchhikers, it could take several days (or even weeks) before you reach Airlie Beach – something that could disrupt your plans if time isn't on your side.
Ultimately, whether hitchhiking is right for you depends on what kind of traveller you are and how comfortable you feel putting yourself at risk for the sake of adventure. If all signs point green, hit the road – ensure your safety comes first! As they say, 'Nothing ventured, nothing gained,' so why not challenge yourself? With some luck and careful planning, these risks could pay off significantly as you embark upon a once-in-a-lifetime journey towards Airlie Beach.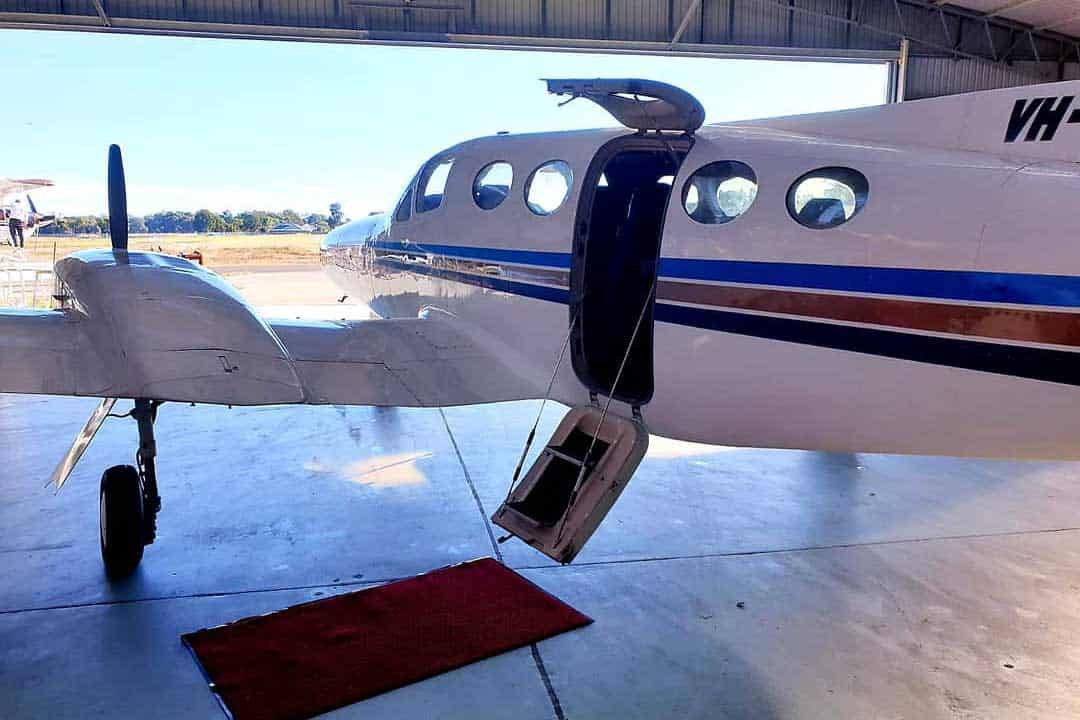 Flying a private plane is an exciting topic in our How to get to Airlie Beach article. It's not for everyone, as not many people own aircraft, but there is another way of charting private flights. Read on;
It's a luxurious, high-end experience that will make your journey special. There is a small airport 5 minutes south of Airlie Beach called Whitsunday Airport you can land at with prior approval. It provides the opportunity for adventure and exploration, and you can also enjoy breathtaking views from the air! Here are four great reasons why flying a private plane is one of the best ways to get to Airlie Beach:
1) You'll be able to take in stunning aerial views – Flying by private plane allows you to see things from up above that you wouldn't usually be able to with other forms of transportation. The vast expanse of nature stretching below you will leave you breathless as you soar through the sky.
2) Experience luxury travel – There's something very luxurious about travelling by private plane. From plush leather seats and expansive windows offering panoramic views to attentive staff on hand ready to meet any needs or requests, nothing compares to comfort and convenience. If you are looking for a Private charter from Sydney or Brisbane, talk to the team at FlyAus, who can fly all over Australia.
3) Save time – Travelling by commercial airline takes hours upon hours out of your day due to layovers and waiting around at airports; however, if you opt for a private plane, this won't even be an issue. Your flight plan can be tailored to your schedule, so there's no need to waste precious time stuck in transit.
4) Enjoy peace & privacy – Planes tend to be quite noisy, making having conversations difficult, especially on long journeys; however, opting for a private aircraft eliminates such issues as they offer more soundproofing than regular planes. This means once aboard your aircraft, peace reigns supreme, allowing passengers plenty of privacy during their travels.
There's no doubt that flying a private plane is one of the most unique experiences ever! And since getting away from all the hustle and bustle is what many people look forward to these days, leaving behind everyday life has never been easier! Now let's move on to another enjoyable way of getting there—going by motorcycle… 
So, you're looking at how to get to Airlie Beach? Going by motorcycle could be the perfect option. It's an incredibly freeing and exhilarating experience, especially if you take the scenic route! Having a motorbike in my 20s and an uncle who rides worldwide, I know this is for a select group, but once your motorbike, it's hard to travel any other way!
Riding a motorcycle gives you more freedom than any other mode of transport; from deciding when and where to stop, how long each leg of your journey should be, and which roads to take – it's entirely up to you! With such flexibility, going by bike ensures an adventure, a true escape from everyday life into something truly special – one that stays close in memory forever! 
Frequently Asked Questions (FAQ)
What Is The Cheapest Tips For Your How To Get To Airlie Beach Guide?
When you're looking at how to get to Airlie Beach, the last thing you want is a hefty bill. So when it comes to visiting the Whitsundays, what's the cheapest way to go? There are plenty of options out there – let's take a look!
For starters, if you have some flexibility with your travel dates and times, booking flights early can save you a bundle. You can also check airlines directly for any discounted fares they may be offering.
If planes and cars aren't your thing, why not skip them entirely and take the bus? Greyhound Australia offers regular service from many cities in Queensland straight to Airlie Beach at reasonable prices. If you'd rather see more of the countryside along your journey, train companies like Spirit of Queensland provide rail passes allowing passengers unlimited stops between certain destinations. This means taking the scenic route while keeping your wallet happy too!
No matter which mode of transport works best for you, rest assured there are several economical ways to reach Airlie Beach without breaking the bank. Whether solo or in a group, these budget-friendly solutions are sure to help create memories that'll last forever.
Are There Any Direct Flights From My City To Airlie Beach?
Are you looking for the most direct route to Airlie Beach? You're in luck! Direct flights from your city may be available.
Finding a flight that works with your schedule and budget isn't always easy, but it can be done. With some research and patience, you can find the best option for getting there quickly and affordably. But what if a direct flight is not an option?
Brisbane Airport has connecting flights to Airlie Beach every day through Virgin Australia and Jetstar, with most airports flying direct to Brisbane this makes getting to Airlie Beach and summer breeze.
Are There Any Safety Considerations When Hitchhiking?
Hitchhiking used to be a popular way when deciding how to get to Airlie Beach, but times have changed and while its no longer favoured by backpackers it is still a popular way to travel, particularly for those looking to explore an unfamiliar destination. However, with this activity comes inherent risks that need to be taken into consideration when deciding whether or not it's the right choice.
One of the most important safety considerations when hitchhiking is who you decide to accept rides from. To help ensure your safety, here are some key tips:
* Research – Before setting out on your journey, research the area and learn about any local regulations regarding hitchhiking;
* Assessments – When accepting a ride, assess yourself if it's safe by asking questions like "Do I feel comfortable in this person's car? Am I getting suspicious vibes?" If you can't answer yes to both these questions then politely decline their offer;
* Pre-planning – Consider pre-planning where possible, such as working out which routes are safest and having backup plans should something goes wrong during your travels.
By taking simple precautions like researching before departure and using common sense assessments while travelling, you can enjoy all the benefits of hitchhiking without putting yourself at risk. Remember that hitching isn't just about getting from Point A to Point B – it's also an opportunity to make connections with people and communities along the way! With a little preparation and foresight, you can embark on adventures with complete peace of mind.
Are There Any Rental Car Companies Near Airlie Beach?
When travelling to Airlie Beach, one of the best ways to get around is by renting a car. It can be much easier and more comfortable than relying on public transport or hitching rides with strangers. Not only that, but when you have your own rental car, you are free to explore different areas at your leisure!
So if you're looking for a rental car company near Airlie Beach, there are plenty of options available. Here's a few:
1. Avis – offering small cars up to larger family vehicles.
2. Hertz – providing quality service and dependable rentals in most major cities in Australia.
3. Thrifty Car Rental – great value deals on compact cars and 4x4s from top brands like Toyota and Hyundai
4. Budget Car Rentals – excellent customer service with competitive prices for all types of vehicle categories including luxury SUVs, economy hatchbacks and people movers.
Keep in mind that each rental car provider has their own policies regarding insurance coverage, age restrictions, additional fees etc., so it's important that you read through the fine print before making any decisions about which company to rent from. That way, you can make sure that the option you choose is right for both your budget and needs!
Whichever route you decide to take for getting around Airlie Beach, just remember – safety first!
Are There Any Restrictions For Taking A Private Plane?
When it comes to reaching Airlie Beach, taking a private plane is an option that not many people consider. But what are the restrictions? Let's take a look at some of them.
Firstly, it's necessary to have prior approval from aviation authorities before any private flight takes off. The Civil Aviation Safety Authority (CASA) will need to be informed of your intended route and itinerary in advance so they can ensure you meet all safety requirements for each part of the journey.
Secondly, aircraft must adhere to certain air routes when flying over Australia and its waters. You'll also need to check if there are any special conditions or other international laws associated with entering or leaving certain countries during your trip. Lastly, unless you're travelling between two major airports, you may need permission from local councils along the way too.
So while there are certainly some considerations when looking into a private plane travel option for getting to Airlie Beach, these restrictions should not stop anyone from experiencing this popular destination – as long as everything is planned out correctly! With careful research and preparation involved, plus abiding by CASA regulations, planning a successful flight becomes much easier – so why not give it a go?
In conclusion, above is our 10 ways on how to get to Airlie Beach. Depending on what your budget is and how much time you have will help determine which option is best for you.
If money isn't an issue, then direct flights from your city may be the quickest way to get to Airlie Beach. You'll want to make sure that the airline you choose meets all safety regulations before booking a flight.
Hitchhiking can also be an inexpensive mode of transportation, but it's important to consider the risks involved when doing so. Additionally, if you're up for the challenge, renting a car or even taking a private plane could be great options as well – just keep in mind any restrictions that may apply before making a final decision. All in all, no matter which method you choose, getting to Airlie Beach doesn't have to be complicated!
If you have any questions about how to get to Airlie Beach just fill in the form below and I will get back to you as soon as possible.

Nath J
Hi, I'm Nath J, your go-to expert for everything Whitsundays Tourism. Since 2001, I've been immersed in this incredible destination, accumulating 22 years of industry experience. My journey has taken me from Operations Manager at Tallarook Sail and Dive to running my own businesses like Ripple Effect Online. I've given workshops on direct tourism bookings and even authored an ebook, Whitsunday Islands: A Journey through Paradise.
Why trust me? I hold certifications like "Whitsundays Tourism Hero" and "Respecting First Nations Cultural Protocols in Australia," both issued by the Queensland Tourism Industry Council. My work has garnered testimonials from tourism business around the region, praising my unique, genuine approach to tourism marketing.
Find me on Facebook and LinkedIn or drop me an email at info@nath-j.au.