Pet friendly Caravan Parks In Airlie Beach
© Official Local Whitsundays Website
Welcome to our local information page dedicated to the top three pet friendly caravan parks in Airlie Beach.
If you are planning a memorable vacation with your furry friends, we have compiled a list of the caravan parks that allow your pests to stay with you.
So, pack your bags, load up the car, andpreparey for an unforgettable pet-friendly holiday in Airlie Beach!
Airlie Beach Holiday Park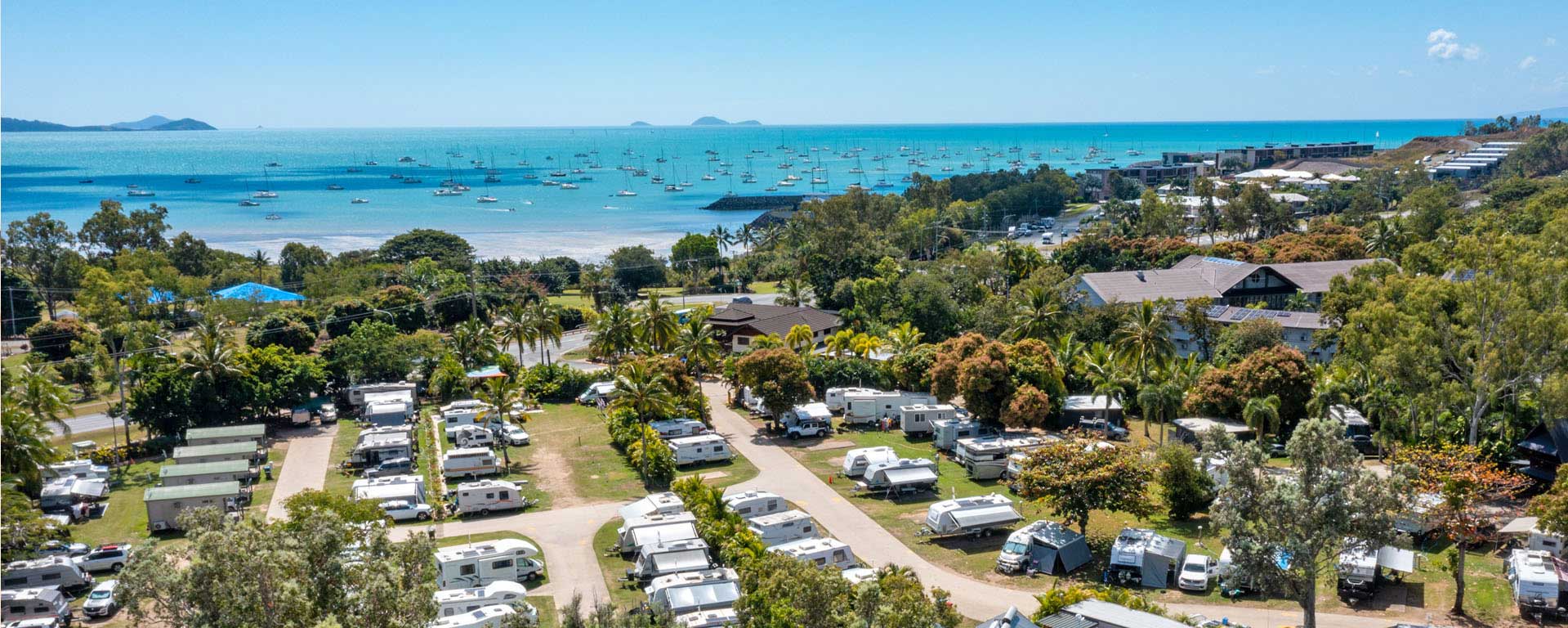 This pet-friendly park has something for everyone, whether you're seeking powered and unpowered sites, budget cabins, or a fun group event.
You'll be delighted that the budget cabins are air-conditioned and have a kitchenette, queen bed, and outdoor setting.
Plus, with the park partnered with Royal Life Saving Australia and Camp Quality, you can enjoy your holiday knowing you support great causes.
Airlie Beach Holiday Park offers pet-friendly options for accommodation, including unpowered sites and budget cabins. Pet bookings must be made with the park, and approval is at the park manager's discretion. A pet waiver form is also required.
The park provides various types of accommodation, including powered and unpowered sites and select budget cabins. There is a maximum limit of 2 small dogs per site, and the terms and conditions are outlined in the pet waiver.
The budget cabins at Airlie Beach Holiday Park are studio-style and can sleep up to 2 people. They are air-conditioned and equipped with a kitchen, veranda, and outdoor setting. The kitchenette includes a bar fridge.
The park offers powered slab sites and grass sites that accommodate up to 6 people. These sites are suitable for caravans, motorhomes, campervans, and tents. Power and water are available, and one car space is provided for each location.
Tasman Holiday Park Airlie Beach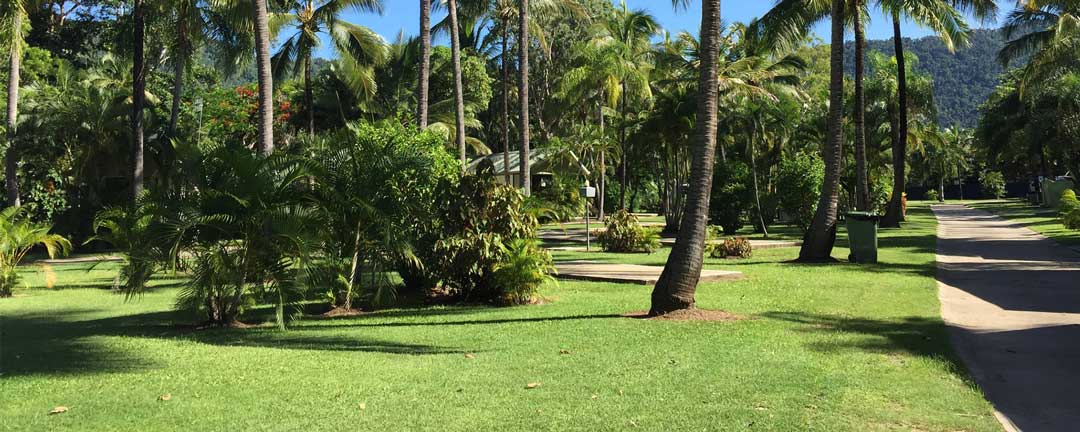 Next on our list of Pet friendly Caravan Parks In Airlie Beach is Tasman Holiday Park. This caravan location has modern kitchens and BBQ facilities, spotless ablution blocks, and laundry facilities.
Dog-friendly sites are available at this location and must be made directly with the park owners on the contact details above. There is also a leash-free park just 200 metres up the road from Tasman holiday park. Please Note: Annual vaccination certificate may be required.
The family-friendly atmosphere of this caravan park provides a variety of activities for all ages, including a pool, sun lounges, a toddlers pool, and a playground. Daily bird feeding and a complimentary bird feeding experience are also available.
Offers bike and pedal buggy hire, providing an opportunity for exploration. Helmets are provided for safety, and the prices for hire are affordable, making it a convenient and enjoyable experience.
BIG4 Whitsundays Tropical Eco Resort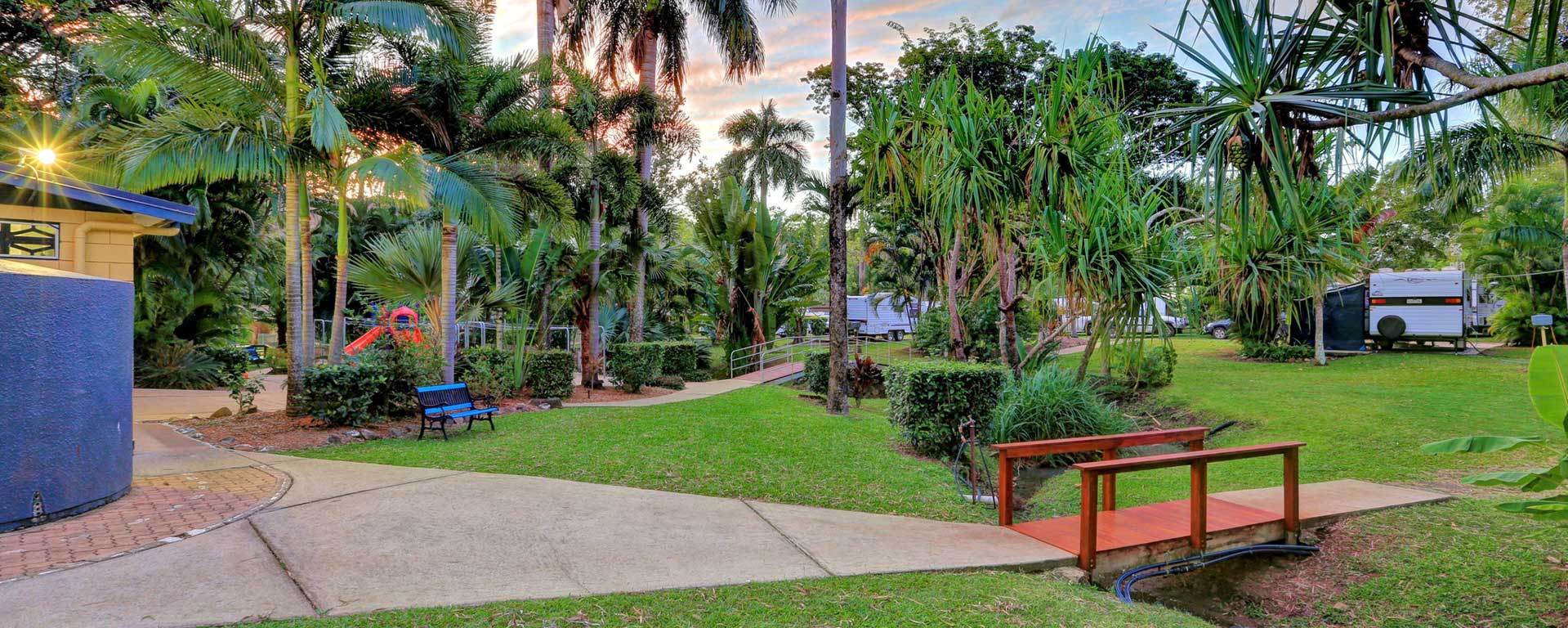 Escape to the idyllic BIG4 Whitsundays Tropical Eco Resort, a haven designed for both you and your beloved pets. Here, tranquillity and relaxation harmonize in a breathtaking backdrop. Embark on an extraordinary getaway and create memories that will last a lifetime, knowing that your furry companions are welcome any time of the year! This is definitely one of the favourite pet friendly caravan parks in Airlie Beach, as it's slightly out of town in a secluded location.
Nestled away in 7 acres of lush tropical rainforest and surrounded by the breathtaking Conway National Park. You'll be just minutes from all the action of Airlie Beach, while still enjoying a tranquil getaway.
 Soak up the sun at our solar-heated swimming pool, grab some snacks from the Tropical Treats Cafe, or let the kids run wild on our playground and pedal karts. Foodies can whip up a storm in the fully-equipped camp kitchen and even have a movie night under the stars at our outdoor cinema.
Offering a variety of comfortable lodgings – from studios to deluxe lodges – plus spacious powered and unpowered sites that are pet-friendly too!
For bookings with pets, please call them direct on the number provided above 
Abinda House – Pet Sitting For A Day
If you're looking for a reliable and trustworthy place to leave your pup while you take a day trip to Whitehaven Beach, Abinda House Pet Sitting is the perfect option! They provide a safe and comfortable environment for your fur baby to stay in while you explore the Whitsundays Islands on a day tour. Plus, their pet sitters are experienced with all kinds of dog breeds and make sure to give lots of love and attention. So don't worry about leaving your pup behind – Abinda House has got you covered! 
Pet friendly Caravan Parks In Airlie Beach FAQ
Are there any pet-sitting services available in Airlie Beach?
Yes, pet-sitting services are available in Airlie Beach. Abinda House provides experienced pet sitters to give love and attention to pets while owners are away on a day trip. This reliable and trustworthy service offers peace of mind to pet owners, allowing them to explore the Whitsundays Islands worry-free.
Are the pet friendly caravan parks in Airlie Beach near any beaches?
Yes, the pet-friendly caravan parks in Airlie Beach are all within close proximity of the beautiful beaches of the Whitsundays. Whether a short stroll or a longer drive, pet owners can enjoy the stunning coastline and its many attractions.
Are there any leash-free parks nearby?
Yes, several pet-friendly caravan parks in Airlie Beach are located near leash-free parks. Tasman Holiday Park, for example, has a leash-free park located 200 meters away.
Are there any restrictions on the size of the pets allowed?
Yes, there are restrictions on the size of pets allowed. For example, at Airlie Beach Holiday Park, the maximum limit is two small dogs per site. PLEASE CONTACT THE CARAVAN PARKS DIRECTLY TO DISCUSS YOUR PET.
Is there a discount for long-term stays at any of the pet friendly caravan parks?
The pet-friendly caravan parks in Airlie Beach may offer discounts for long-term stays. To find out more, it is best to contact the park manager directly to inquire about any potential discounts or special offers.
Are there any pet friendly cafes?
Fat Frog Cafe in Cannonvale is 100% pet friendly and right opposite Cannonvale Beach. You can find their details in our Airlie Beach Restaurant Guide.

Nath J
Hi, I'm Nath J, your go-to expert for everything Whitsundays Tourism. Since 2001, I've been immersed in this incredible destination, accumulating 22 years of industry experience. My journey has taken me from Operations Manager at Tallarook Sail and Dive to running my own businesses like Ripple Effect Online. I've given workshops on direct tourism bookings and even authored an ebook, Whitsunday Islands: A Journey through Paradise.
Why trust me? I hold certifications like "Whitsundays Tourism Hero" and "Respecting First Nations Cultural Protocols in Australia," both issued by the Queensland Tourism Industry Council. My work has garnered testimonials from tourism business around the region, praising my unique, genuine approach to tourism marketing.
Find me on Facebook and LinkedIn or drop me an email at info@nath-j.au.