Whitsundays Scenic Flight For 70 Minutes
Are you ready to experience the beauty of the Whitsunday Islands in all their glory?
Take a 70-minute flight over one of Australia's most popular tourist destination!
From breathtaking views of Whitehaven Beach to the spectacular coral reefs, this is an opportunity to witness some of nature's best creations.
You'll be taken up in a state-of-the-art aircraft with experienced pilots and knowledgeable tour guides who will provide insight into what you're seeing from above.
So don't wait – book your Whitsunday Scenic Flight from Airlie Beach today and start your reef & island journey over one of the world's greatest locations.
Product: Whitsundays Scenic Flight
• Duration: 70 minutes
• Cost: $279 per person (all ages)
• Includes use of Fly Australia passenger lounge, bottled water, headset & in-flight commentary by an experienced pilot
• Operator: Fly Australia Charters (FlyAus)
Pros:
• Unique aerial view of some of Australia's most iconic sites
• Offers window seat views for all passengers
• Unlimited photo opportunities along the way
• Hotel pick up and drop off service available from Airlie Beach (at extra cost)
• Offers better views than boat tours
Cons:
• Maximum weight limit 130 kg due to aircraft weight & balance restrictions
• Wildlife and marine sightings not guaranteed
• Not suited for people afraid to fly in small planes.
What will you see on this scenic flight?
On this 70 minute scenic flight, you'll get to experience the best of Whitsunday!
You'll see Whitehaven Beach, with its stunning white sand and crystal clear waters.
You'll be able to witness Hill Inlet's mesmerizing swirls of sand and water and view the spectacular Great Barrier Reef in all its glory.
Get ready for an unforgettable aerial view of Heart Reef, Whitsunday Islands, Hamilton Island, Daydream Island, and Hayman Island all surrounded by clear tropical water.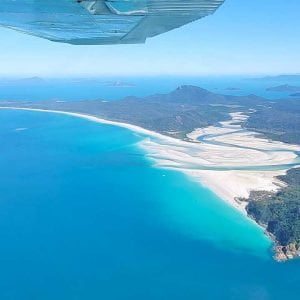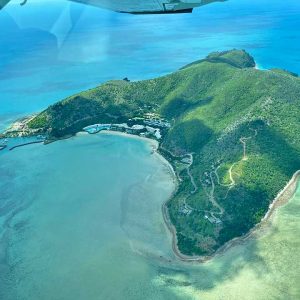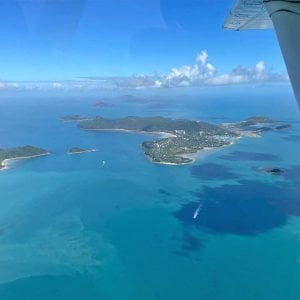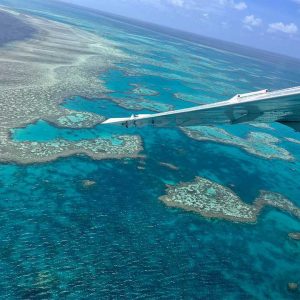 Whitehaven Beach
See the crystal clear waters and powdery white sands as you fly over the world-famous Whitehaven Beach located on Whitsunday Island (the largest island in the chain)!
A flight over this iconic landmark of Whitsunday Island will take your breath away.
With such breathtaking beauty, it's no wonder why Whitehaven Beach is one of the most visited spots in Australia and these flights offer the best stunning views of the beach.
To top it off, you can experience the swirling sands of Hill Inlet for an unforgettable memory that will last forever.
Hill Inlet
Hill Inlet, at the northern end of Whitehaven Beach, is a stunning sight to behold as its shifting tides blend sand and sea into an awe-inspiring mosaic.
Unlike boat tours, you will get to see all of Hill Inlet which cuts through the landscape on Whitsunday Island for over 2km. Hidden coves are tucked away among the mangroves and other plant life, providing the perfect habitat for migratory birds and other wildlife.
As you take in this wondrous scene, you can look forward to being inspired as you continue your flight journey eastward towards the Great Barrier Reef.
Great Barrier Reef
Discover a myriad of marine life and coral reefs from above as you explore the Great Barrier Reef, from sharks to dolphins and Whales (in season) and plenty more in between.
The diversity of the underwater outer reef world is captivating, with various types of coral gardens, over 1500 species of fish and 400 varieties of hard and soft corals providing an ever-changing canvas for your exploration.
As you take in all these wonders above hook reef and bait reef on a scenic flight tour, make sure not to miss out on Heart Reef!
Heart Reef
Take in the incredible beauty of Heart Reef, located in Hardy Reef and part of the Great Barrier Reef, with its stunning coral composition naturally shaped into a heart – it's an experience you won't forge
Soak up the amazing panoramic views while taking in the vibrant colours of the reef below. From above you will be able to witness just how vast and beautiful this part of the world can be.
Get ready to explore all that Whitsunday Islands have to offer!
Whitsunday Islands
Take in the breathtaking Bird's Eye View from high above as you embark on a 70-minute Whitsundays scenic flight and witness the vibrant coral reefs, powdery white sand beaches, and crystal clear waters that surround the Whitsunday Islands shoreline.
Spot local wildlife in their natural habitat while soaking up the spectacular views of this island paradise – you won't want to miss out on this relaxing experience.
From the majestic Heart Reef to exploring Hamilton Island, your journey through these beautiful islands will be filled with unforgettable memories.
Hamilton Island
You won't want to miss out on the opportunity to explore Hamilton Island from above, this stunning island paradise is the biggest island resort in the Whitsundays with over 5000 people on the island on any given day.
With its easy access from the mainland and proximity to sister islands for island hopping opportunities, it's no wonder that Hamilton Island is one of Australia's most popular holiday destinations.
Get ready for a truly unforgettable experience as you explore all that this beautiful corner of the world has to offer.
Onward then to Daydream Island!
Daydream Island
Located in Queensland's Whitsundays Islands, Daydream Island Resort & Living Reef offers a selection of newly refurbished rooms and suites with sweeping views of the pool and garden area or ocean vistas.
Daydream Island is your ideal escape for exploring all that this breathtaking part of Australia has to offer!
Next stop? Hayman Island awaits with its own unique charm and beauty…
Hayman Island
Fly over the Whitsundays only 6-star resort! , Located at the northern end of the island chain.
The luxury resort on Hayman Island is well known for its luxury rooms and famous guests who come to escape from their busy lives.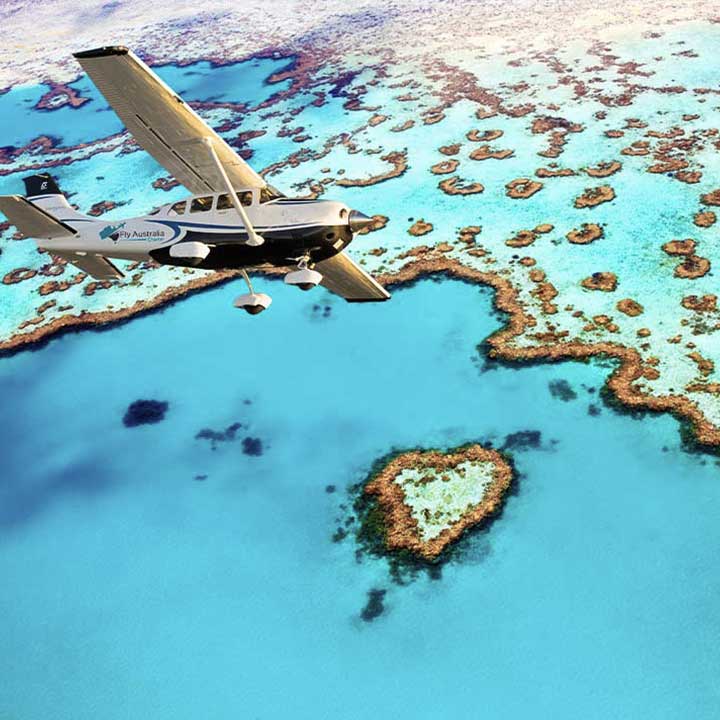 What aircraft are used for these scenic flights?
Let's discuss two aircraft used for scenic flights: the Cessna 206 and the Cessna 172 are both fixed wing aircraft
The Cessna 206 can accommodate up to five passengers, while the Cessna 172 only allows three passengers.
Both of these planes offer amazing views of nature from a bird's eye view and every passenger gets a window seat, making them ideal for sightseeing trips.
Cessna 206 (5 passenger)
You and four friends can take a adventure journey in this Cessna 206, soaring high above the beautiful landscape below. This plane is perfect for small groups of adventurers looking to explore the Whitsundays
With a comfortable cabin and plenty of safety features, you can rest assured that your flight will be smooth and secure. The experienced pilot on board will navigate the flight route with ease and precision.
The Cessna 206 is equipped with advanced technology that makes it an ideal option for sightseeing trips. It boasts modern navigation systems, powerful engines, and spacious cabins that provide ample legroom for up to five passengers—so you won't have to worry about feeling cramped during your journey!
Cessna 172 (3 passenger)
Experience the thrill of flight in our Cessna 172, a reliable aircraft perfect for those wanting to explore without compromising on comfort or safety. It's equipped with all the necessary safety regulations, so you can rest assured your flight will be among the safest experiences of your life.
With a spacious cabin and capacity for three people, you can explore Whitsunday with loved ones or friends.
 Whitsunday Airport Location And Facilities 
Get ready to take off in no time – just 5 minutes away from Airlie Beach is Whitsunday Airport located at Air Whitsunday Drive, Flame Tree (on the way to Shute Harbour)
Facilities include 
Free parking
Public Restrooms
Onsite Cafe
This scenic flight departs from the airport, giving you and your friends a bird's eye view of the stunning Whitsunday Islands immediately after taking off. The entire flight duration lasts 70 minutes! which is the longest Whitsundays Scenic Flight!
To meet your flight you can drive (ample parking) or get a courtesy pickup from your Airlie Beach accommodation ($ 15 per person return)
Scenic Flight Frequently Asked Questions
How long is the flight?
Experience the freedom of flight with a 70-minute Whitsunday scenic flight! See what the beautiful coast of Australia has to offer from up in the sky.
This is the longest scenic flight offered in the Whitsunday Region giving you 10 extra minutes.
What is the cost of the flight?
Experience the freedom of flight with a 70-minute Whitsunday scenic flight for only $279!
Are there any flight restrictions?
Yes weight restrictions are under 130kg
Is there a transfer service to and from the Airport?
Yes! For the low price of $15 per person they will pick you up from your accommodation and drop you back.
Will I get a window seat?
Every passenger will get a window seat 100% guaranteed.
Reef + Whitehaven Beach Whitsundays Scenic Flight (70 Min)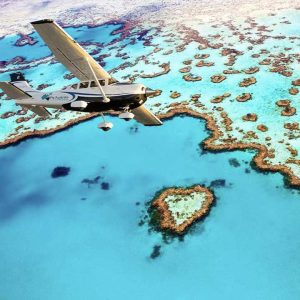 Are you ready to experience the beauty of Whitsundays Scenic Flight? Take a 70-minute flight over one of Australia's most popular tourist destinations! Live Bookings
Product Brand: Fly Australia Charters
Product Currency: AUD
Product Price: 279
Price Valid Until: 2024-01-01
Product In-Stock: InStock
 See More Overnight Sailing Tours

Nath J
Hi, I'm Nath J, your go-to expert for everything Whitsundays Tourism. Since 2001, I've been immersed in this incredible destination, accumulating 22 years of industry experience. My journey has taken me from Operations Manager at Tallarook Sail and Dive to running my own businesses like Ripple Effect Online. I've given workshops on direct tourism bookings and even authored an ebook, Whitsunday Islands: A Journey through Paradise.
Why trust me? I hold certifications like "Whitsundays Tourism Hero" and "Respecting First Nations Cultural Protocols in Australia," both issued by the Queensland Tourism Industry Council. My work has garnered testimonials from tourism business around the region, praising my unique, genuine approach to tourism marketing.
Find me on Facebook and LinkedIn or drop me an email at info@nath-j.au.