Whitehaven Xpress Day Tour
Tour Locations – Whitsunday Islands – Whitehaven Beach – Hill Inlet Lookout 
Tour Experience – Whitehaven Xpress Day Tour
Price – From $195
Ticket Price Includes – BBQ Lunch, snacks, 
Diet options – Standard, Special dietary requirements, such as vegetarian or pescatarian diets, can be catered for with prior notice.
Departure Location – 9 am at Coral Sea Marina, Airlie Beach QLD 4802
Return Location  – 5 pm at Coral Sea Marina, Airlie Beach QLD 4802
Type Of  Tour Boat –  Monohull Motorboat
Guest Capacity – 35
Discover the beauty of Whitehaven Beach on this exclusive Xpress Day Tour. Immerse yourself in the serene turquoise waters and marvel at the pristine white sand that makes up this World-Heritage-listed beach. Enjoy a scrumptious Australian BBQ lunch while taking in the breathtaking Hill Inlet lookout, providing you with an unforgettable experience!
Join this tour to explore both North and South Whitehaven beaches, allowing you more time to enjoy the stunning views of the surrounding islands. Whether it's your first time or returning for another visit, Whitehaven Xpress offers great value for money and is suitable for families, seniors, students, couples and even infants alike. Come join us for the ultimate Whitehaven Beach adventure – book today and make memories that will last a lifetime!
Complete Guide to Whitehaven Xpress Day Tour
Tour Highlights
Explore North & South Whitehaven Beach

Enjoy an Aussie Beach BBQ Lunch

Experience Whitehaven Beach Lookout

More time is allowed at Hill Inlet than most other tours

Take in the wonder of the swirling sands from the lookout

Swim with the stingrays & explore the sand dunes
Is This Tour Suitable For You?
The tour welcomes guests of all ages.
Location Details - Whitehaven Beach
Whitehaven Xpress visits the world-renowned Whitehaven Beach, stretching an impressive 7 km, which is not only 97% pure silica white sand but also boasts crystal clear waters of the coral sea. It's no surprise that this beach is one of the most photographed beaches globally and has received numerous awards (Including the best beach in the world).
If you're planning to visit the Whitsunday Islands, don't miss the opportunity to experience the magic of Whitehaven Beach and Hill inlet lookout with this full day boat tour.
Location Details - Hill Inlet Lookout
If you're seeking one of the most popular sights in the Whitsundays, Hill Inlet is definitely worth your time. This breathtaking sand inlet is situated at the northern end of Whitehaven Beach on Whitsunday Island and boasts a mesmerizing effect that is captured in hundreds of photos each day. When the tides shift and the white sands mix, it creates a swirling wonder that will take your breath away. If you want to learn more about Hill Inlet see our dedicated page here
Whitehaven Xpress Meeting Point Map
Tour Video
Terms and Conditions Of This Tour
Confirmation:
Passengers are required to contact Whitehaven Xpress 48 hours before travel, to re-confirm their booking, bus pick-up time and location.
Cancellation Policy:
Cancellations are accepted up until 24 hours prior to the tour. The FARE is non-refundable for cancellations made within 24 hours of the date of travel.
Changes to the date of travel can be made more than 24 hours prior to the date of travel, subject to availability.
Whitehaven Xpress reserves the right to change or alter the tour as described on our website, without notice. Sites are weather permitting.
The tour may be cancelled by the operator, in the event that:
• Minimum numbers are not achieved.
• Strong Wind warnings or extreme rain conditions prevail.
• Equipment failure is experienced.
• Factors beyond the control of Whitehaven Xpress that prevent the normal operation of the tour.
In any such events, the tour operator's liability will be limited to a full refund of any fare pre-paid.
Liability:
Clients should note that sea travel involves risk. Whilst we make every effort to safeguard our clients and their possessions, we cannot be held responsible for personal injury or loss due to the actions of the clients which are beyond our control. An electronically signed release will be required from all participants before departure. Whitehaven Xpress may use photographs of our clients in promotional material, including but not limited to social media, however, if you do not consent please advise Whitehaven Xpress.
What Do I need To Bring On This Tour?
Sunscreen
Sunglasses
Towel and a hat
Practical clothing and footwear (warmer items during winter)
Wet weather jacket/windproof jacket
Underwater camera
BYO alcohol (no glass or red wine, please)
Where Do I Check In
Please make your way to the Coral Sea Marina meeting area next to the roundabout at 8.30 am. see map on this page
What Is This Tours Cancelation Policy
Cancellations within 24 hours of departure will forfeit the full cost of the trip.
Do they have a toilet on board?
Yes, we have two toilets on board for your convenience.
Whitehaven Xpress 1 Day Tour | Full Day At The Beach (2023)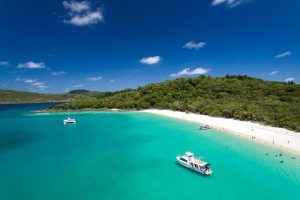 Discover the beauty of Whitehaven Beach on this Whitehaven Xpress Day Tour. Immerse yourself in the serene turquoise waters and marvel at the pristine white sand
Product Brand: Whitehaven Xpress
Product Currency: AUD
Product Price: 190
Price Valid Until: 2023-11-01
Product In-Stock: InStock

Nath J
Hi, I'm Nath J, your go-to expert for everything Whitsundays Tourism. Since 2001, I've been immersed in this incredible destination, accumulating 22 years of industry experience. My journey has taken me from Operations Manager at Tallarook Sail and Dive to running my own businesses like Ripple Effect Online. I've given workshops on direct tourism bookings and even authored an ebook, Whitsunday Islands: A Journey through Paradise.
Why trust me? I hold certifications like "Whitsundays Tourism Hero" and "Respecting First Nations Cultural Protocols in Australia," both issued by the Queensland Tourism Industry Council. My work has garnered testimonials from tourism business around the region, praising my unique, genuine approach to tourism marketing.
Find me on Facebook and LinkedIn or drop me an email at info@nath-j.au.