Providence Whitsundays Day Tour – Sailing
Tour Locations – Whitsunday Islands – Whitehaven Beach – Hill Inlet Lookout – 1 Snorkel Locations
Tour Experience – Sailing Providence Whitsundays Day Tour
Price – From $195
Ticket Price Includes – Lunch, snacks, snorkel equipment, wetsuit
Diet options – Standard and vegetarian
Departure Location – 7.15 AM  at Coral Sea Marina, Airlie Beach QLD 4802
Return Location  – 5 pm at Coral Sea Marina, Airlie Beach QLD 4802
Type Of  Tour Boat – Sailing monohull yacht
Guest Capacity – 24
Come and join us for an unforgettable day on the beautiful Whitehaven Beach! On this 62-ft gaff rigged schooner, you will sail to one of the most photographed beaches in the world. You'll be mesmerized by the dazzling white sand and crystal turquoise waters – perfect for a refreshing swim. And if that wasn't enough, you'll also have lunch at some fringing coral reef where you can snorkel among the vibrant fish and corals. Plus, there's even a chance to see dolphins, turtles, and whales during their calving season (July/August).
You'll get morning tea and a delicious picnic lunch with a fruit platter too. They have got all the necessary gear like snorkelling equipment and stinger suits (seasonal), plus transportation included so all you need to do is turn up! If it's wintertime, wet suits are available for hire for $10 a person – it's recommended if you plan to go snorkelling for more than 10 minutes. Don't miss out; book your Providence Whitsundays Day Tour Sailing Yacht today!
Complete Guide to Providence Whitsundays Day Tour 
Tour Highlights
Visit Tongue Bay and Hill Inlet

 Whitehaven beach

Spot parrot fish, humphead wrasse and colorful coral as you swim and snorkel

Enjoy a delicious lunch served on-board

Travel on a sailing 62-ft gaff rigged schooner and have a go steering the ship!

Small group numbers of 24 
Is This Tour Suitable For You?
The tour welcomes guests of all ages from 1 year old, however you will need to be comfortable with a sailing vessel
Location Details - Whitehaven Beach
Providence Whitsundays visits the world-renowned Whitehaven Beach, stretching an impressive 7 km, which is not only 97% pure silica white sand but also boasts crystal clear waters of the coral sea. It's no surprise that this beach is one of the most photographed beaches globally and has received numerous awards (Including the best beach in the world).
If you're planning to visit the Whitsunday Islands, don't miss the opportunity to experience the magic of Whitehaven Beach and Hill inlet lookout with this full day boat tour.
Location Details - Hill Inlet Lookout
If you're seeking one of the most popular sights in the Whitsundays, Hill Inlet is definitely worth your time. This breathtaking sand inlet is situated at the northern end of Whitehaven Beach on Whitsunday Island and boasts a mesmerizing effect that is captured in hundreds of photos each day. When the tides shift and the white sands mix, it creates a swirling wonder that will take your breath away. If you want to learn more about Hill Inlet see our dedicated page here
Location Details - Snorkelling
Snorkel at one of the best snorkelling spots in the Whitsundays, Dive in and discover beneath the coral sea, with epic coral formation and loads of tropical fish, the snorkelling is 45 minutes to 1 hour.
Thundercat Whitsundays Meeting Point Map
Tour Video
Terms and Conditions Of This Tour
 Providence Whitsundays FAQ
What Do I need To Bring On This Tour?
Sunscreen
Sunglasses
Towel and a hat
Practical clothing and footwear (warmer items during winter)
Wet weather jacket/windproof jacket
Underwater camera 
Where Do I Check In
Please make your way to the Coral Sea Marina meeting area next to the roundabout at 7.00 AM. The vessel will depart at 7.15 AM sharp, so please don't be late. 
What Is This Tours Cancelation Policy
Cancellations within 24 hours of departure will forfeit the full cost of the trip.
On Day Sailing Tour On Providence Whitsundays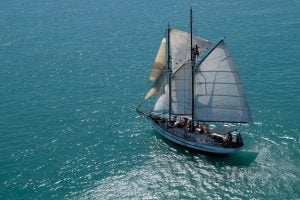 Come and join Providence Whitsundays on an unforgettable day on beautiful Whitehaven Beach! 62-ft gaff rigged sailing schooner! Book This Tour Online Today
Product Brand: Providence Sailing
Product Currency: AUD
Product Price: 195
Price Valid Until: 2023-11-01
Product In-Stock: InStock

Nath J
Hi, I'm Nath J, your go-to expert for everything Whitsundays Tourism. Since 2001, I've been immersed in this incredible destination, accumulating 22 years of industry experience. My journey has taken me from Operations Manager at Tallarook Sail and Dive to running my own businesses like Ripple Effect Online. I've given workshops on direct tourism bookings and even authored an ebook, Whitsunday Islands: A Journey through Paradise.
Why trust me? I hold certifications like "Whitsundays Tourism Hero" and "Respecting First Nations Cultural Protocols in Australia," both issued by the Queensland Tourism Industry Council. My work has garnered testimonials from tourism business around the region, praising my unique, genuine approach to tourism marketing.
Find me on Facebook and LinkedIn or drop me an email at info@nath-j.au.