Cruise Whitsundays Chill And Grill
Tour Locations – Whitsunday Islands – Whitehaven Beach – Hill Inlet Lookout
Tour Experience – Whitehaven Beach and Hill Inlet Chill and Grill – Cruise Whitsundays
Price – From $250
Ticket Price Includes –  Lunch, snacks, Coffee and/or Tea
Diet options – Standard and Vegetarian
Departure Location –
7:15 AM at Cruise Whitsundays Terminal Port Of Airlie
7:45 AM Daydream Island
8:30 AM Hamilton Island
Type Of  Tour Boat –  Large Ferry Motorboat
Guest Capacity – 65
Welcome aboard the Cruise Whitsundays Chill and Grill full day tour! Come explore the stunning Whitsundays with us, and discover the magical beauty of Whitehaven Beach. Be captivated by the sweeping vistas of Hill Inlet lookout and the unspoiled wonder of Whitehaven Beach Lookout. Enjoy a delicious gourmet burger on the beach, and play beach games with our dedicated host. This full day tour is like a journey through a dream, where you can relax, explore, and take in the beauty of the Whitsundays.
Don't miss out on the chance to experience the majestic power of the Whitsundays. Feel the sand beneath your feet and the sun on your face as you make your way through the islands. The Chill and Grill tour is perfect for those who crave adventure and the beauty of nature. Let the experienced staff guide you through the day, and show you the hidden gems of the Whitsundays. This trip is like a pearl in the ocean, a unique and unforgettable experience that will stay with you forever.
Complete Guide to Cruise Whitsundays Chill And Grill
Tour Highlights
Up to 6 hours on Whitehaven Beach
Guided walk to Hill Inlet and Lookout
Walk to South Whitehaven Beach Lookout
A gourmet burger on the beach
Morning and afternoon tea
Beach games
Protective stinger suits
Dedicated host for the duration of the day
Is This Tour Suitable For You?
The tour welcomes guests of all ages.
Location Details - Whitehaven Beach
Cruise Whitsundays Chill and Grill tour visits the world-renowned Whitehaven Beach, stretching an impressive 7 km, which is not only 97% pure silica white sand but also boasts crystal clear waters of the coral sea. It's no surprise that this beach is one of the most photographed beaches globally and has received numerous awards (Including the best beach in the world).
If you're planning to visit the Whitsunday Islands, don't miss the opportunity to experience the magic of Whitehaven Beach and Hill inlet lookout with this full day boat tour.
Location Details - Hill Inlet Lookout
If you're seeking one of the most popular sights in the Whitsundays, Hill Inlet is definitely worth your time. This breathtaking sand inlet is situated at the northern end of Whitehaven Beach on Whitsunday Island and boasts a mesmerizing effect that is captured in hundreds of photos each day. When the tides shift and the white sands mix, it creates a swirling wonder that will take your breath away. If you want to learn more about Hill Inlet see our dedicated page here
Cruise Whitsundays Meeting Point Map
Tour Video
Terms and Conditions Of This Tour
The full terms and conditions of travel for Cruise Whitsundays who operate this Whitehaven Beach Half Day Tour can be found here in PDF format 
Cruise Whitsundays Chill And Grill FAQ
What Do I need To Bring On This Tour?
Sunscreen
Sunglasses
Towel and a hat
Practical clothing and footwear (warmer items during winter)
Money for purchasing products onboard the boat EG soft drinks 
Where Do I Check In
All of Cruise Whitsundays Tours depart from the Maritime Terminal at 24 The Cove Road, Port of Airlie, Airlie Beach. Check in is 30-40 minutes prior to your departure time.
What Is This Tours Cancelation Policy
Guest changes: Permitted up to one (1) day prior to departure* (*fees may apply)
Guest cancellations: 100% cancellation fees apply within 48 hours of departure
Between 14 days and 48 hours before departure – 20% of the total cost
Within 24 hours – 48 hours before the tour- 50% of the total cost
Within 24 hours of departure -100% of the total cost
If a tour is cancelled by SeaLink Whitsundays due to inclement weather or unforeseen circumstances a transfer to another date of travel or full refund will be offered.
A 'no show' will incur 100% penalty. No refunds are given.
No refunds will be made for services not availed once travel has commenced. All refund claims must be made in writing. Please note operators/agents (other than SeaLink Whitsundays) reserve the right to charge cancellation fees in addition to the above.
Do they have a toilet on board?
Yes, there are multiple bathrooms 
Do tours still operate in the rain?
All tours will still operate in wet conditions
Cruise Whitsundays Chill And Grill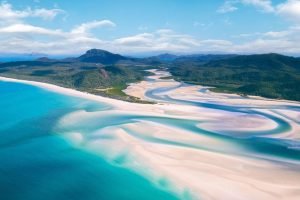 1 Day Ferry Ride to Whitehaven Beach and Hill Inlet in the Whitsunday Islands, Queensland Australia. 4802
Product Brand: Cruise Whitsundays
Product Currency: AUD
Product Price: 250
Price Valid Until: 2023-11-01
Product In-Stock: InStock

Nath J
Hi, I'm Nath J, your go-to expert for everything Whitsundays Tourism. Since 2001, I've been immersed in this incredible destination, accumulating 22 years of industry experience. My journey has taken me from Operations Manager at Tallarook Sail and Dive to running my own businesses like Ripple Effect Online. I've given workshops on direct tourism bookings and even authored an ebook, Whitsunday Islands: A Journey through Paradise.
Why trust me? I hold certifications like "Whitsundays Tourism Hero" and "Respecting First Nations Cultural Protocols in Australia," both issued by the Queensland Tourism Industry Council. My work has garnered testimonials from tourism business around the region, praising my unique, genuine approach to tourism marketing.
Find me on Facebook and LinkedIn or drop me an email at info@nath-j.au.