Camira Whitsundays Tour – Sailing
Tour Locations – Whitsunday Islands – Whitehaven Beach – Hill Inlet Lookout 1 Snorkel Location.
Tour Experience – Cruise Whitsundays Camira Saing Catermaran
Price – From $229
Ticket Price Includes – Beverages, Lunch, Snacks, and snorkel equipment.
Departure Location – Port Of Airlie Marina, Airlie Beach QLD 4802
Return Location  – Port Of Airlie Marina, Airlie Beach QLD 4802
Type Of  Tour Boat – Sailing Catamaran 
Guest Capacity – 75
Soak up the sun, sand and sea with a Camira Whitsundays sailing tour! Departing from Airlie Beach, take in the stunning sights of Daydream, Hamilton and Hook Islands before mooring at Whitehaven Beach. Get ready for an unforgettable experience as you explore the beach's 7km arc of dazzling white sand, followed by a guided hike to Hill Inlet lookout.
After lunch is served on board, jump in for some snorkelling over one of Whitsunday's fringing reefs before heading back to shore. Don't miss out on this amazing opportunity to get away from it all and reconnect with nature – book your Camira Whitsundays sailing tour today!
Complete Camira Whitsundays Full Day Tour
Tour Highlights
The thrill of high-speed sailing through the famous Whitsunday Islands

Morning and afternoon tea

An all-you-can-eat barbecue lunch

Snorkelling the Inner Reef

Guided walk to Hill Inlet and Lookout
Is This Tour Suitable For You?
Travelers should have a moderate physical fitness level
Location Details - Whitehaven Beach
This Whitehaven Beach Half Day Tour visits the world-renowned Whitehaven Beach, stretching an impressive 7 km, which is not only 97% pure silica white sand but also boasts crystal clear waters of the coral sea. 
This tour visits the Southern end of the beach
Cruise Whitsundays Meeting Point Map
Tour Video
Terms and Conditions Of This Tour
The full terms and conditions of travel for Cruise Whitsundays who operate this Whitehaven Beach Half Day Tour can be found here in PDF format 
Where and when do i check in?
All of Cruise Whitsundays Tours depart from the Maritime Terminal at 24 The Cove Road, Port of Airlie, Airlie Beach. Check in is 30-40 minutes prior to your departure time.
Do I need to reconfirm my booking?
Yes, please reconfirm your booking the day prior to your scheduled departure by contacting our reservations team on phone 07 4846 7000.
What Is This Tours Cancelation Policy
Guest changes: Permitted up to one (1) day prior to departure* (*fees may apply)
Guest cancellations: 100% cancellation fees apply within 48 hours of departure
Do tours still operate in the rain?
All tours will still operate in wet conditions
Camira Whitsundays Full Day Sailing Tour (2023 Guide)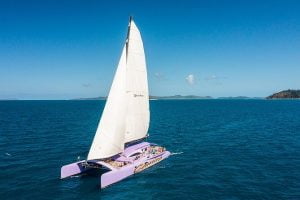 Get ready for an unforgettable experience on Camira Whitsundays as you explore Whitehaven Beach on a guided hike to Hill Inlet lookout and the beach. Book Today
Product Brand: Cruise Whitsundays
Product Currency: AUD
Product Price: 229
Price Valid Until: 2024-04-01
Product In-Stock: InStock

Nath J
Hi, I'm Nath J, your go-to expert for everything Whitsundays Tourism. Since 2001, I've been immersed in this incredible destination, accumulating 22 years of industry experience. My journey has taken me from Operations Manager at Tallarook Sail and Dive to running my own businesses like Ripple Effect Online. I've given workshops on direct tourism bookings and even authored an ebook, Whitsunday Islands: A Journey through Paradise.
Why trust me? I hold certifications like "Whitsundays Tourism Hero" and "Respecting First Nations Cultural Protocols in Australia," both issued by the Queensland Tourism Industry Council. My work has garnered testimonials from tourism business around the region, praising my unique, genuine approach to tourism marketing.
Find me on Facebook and LinkedIn or drop me an email at info@nath-j.au.