Fury Whitsundays Day Tour
Tour Locations – Whitsunday Islands – Whitehaven Beach – Hill Inlet Lookout – 1 Snorkel Location
Tour Experience – Fury Whitsundays Day Tour
Price – From $170
Ticket Price Includes – Lunch, snacks, snorkel equipment, wetsuit
Diet options – Standard, gluten-free, vegan, lactose intolerant, nut allergy (all diet requirements must be confirmed 24 hours before travel)
Departure Location – 10 am at Coral Sea Marina, Airlie Beach QLD 4802
Return Location  – 5 pm at Coral Sea Marina, Airlie Beach QLD 4802
Type Of  Tour Boat – Fast monohull Motorboat
Guest Capacity – 35
Do you dream of visiting some of the most beautiful beaches and coral reefs in the world? Look no further than Big Fury Whitsundays Day Tour! With two to two-and-a-half hours spent exploring Whitehaven Beach, renowned as one of the top 10 beaches in the world, you'll be able to take a dip in pristine turquoise waters, relax and soak up your surroundings or walk on soft white silica sands. Plus, if that's not enough for you, there's a short walk up to Hill Inlet Lookout to see the famous swirling sands, followed by snorkelling at any of the many islands fringing reefs in the area – with snorkelling equipment and stinger suits included!
So don't miss out on this truly unique opportunity to explore paradise – book your tour now with Big Fury Whitsundays and make all your dreams come true!
Complete Guide to Big Fury Whitsundays Whitehaven Beach Tour
Tour Highlights
Get ready to experience the Whitsunday Islands at maximum speed and comfort with Big Fury's 3 x 300hp outboard engines!
Enjoy stunning uninterrupted views of over 25 islands and beaches around the Whitsundays.
Uncover hidden gems, from turtles, birds and fish-life.
Look out for humpback whales (July – September)!
Receive an entertaining and informative running commentary from our friendly and professional crew.
Make sure to take lots of photos – it's sure to be one of the most memorable days of your holiday!
Is This Tour Suitable For You?
The tour welcomes guests of all ages from 3 years old. this tour is not suitable for pregnant ladies or anyone with a back or neck problem.
Location Details - Whitehaven Beach
Fury Whitsundays visits the world-renowned Whitehaven Beach, stretching an impressive 7 km, which is not only 97% pure silica white sand but also boasts crystal clear waters of the coral sea. It's no surprise that this beach is one of the most photographed beaches globally and has received numerous awards (Including the best beach in the world).
If you're planning to visit the Whitsunday Islands, don't miss the opportunity to experience the magic of Whitehaven Beach and Hill inlet lookout with this full day boat tour.
Location Details - Hill Inlet Lookout
If you're seeking one of the most popular sights in the Whitsundays, Hill Inlet is definitely worth your time. This breathtaking sand inlet is situated at the northern end of Whitehaven Beach on Whitsunday Island and boasts a mesmerizing effect that is captured in hundreds of photos each day. When the tides shift and the white sands mix, it creates a swirling wonder that will take your breath away. If you want to learn more about Hill Inlet see our dedicated page here
Location Details - Snorkelling
If you're looking for a truly unique underwater experience, then the Big Fury Whitsundays Day Tour is perfect for you. On this tour, you'll have the chance to investigate one of the many superb island fringing reefs in the area – which location will depend on the weather and tide conditions.
The best part is that all your snorkelling gear, including stinger suits and floatation devices, are included, making it easy to explore the pristine coral and diverse marine life. Plus, our experienced tour guides can provide tuition and demonstrations so you know exactly what to do when you get there. So why not join us on an unforgettable journey beneath the waves?
Fury Whitsundays Meeting Point Map
Terms and Conditions Of This Tour
All prices are per person in AUD and include GST, National Park and Great Barrier Reef Marine Park entry fees, professional skipper and host, live aboard, all meals, fresh linen and use of snorkelling equipment and stinger suits.
Cancellations made less than 24 hours before departure (Big Fury) or less than 21 days before departure (Habibi) will result in complete forfeiture of the full price.
We reserve the right to substitute vessels without notice at any time for any reason.
We recommend you take out travel insurance covering illness, injury, loss of personal goods and the inability to travel due to weather.
Passengers should note that adventure travel involves risk. Whilst we make every effort to safeguard guests, we cannot be responsible for any damage, personal injury or loss due to the actions of passengers that are beyond our control.
All cruises are subject to weather and the vessel operator's discretion. Please allow extra time to travel during the wet season (Dec-May) as we occasionally have road closures due to flooding.
At certain times of the year, 'dangerous' jellyfish inhabit these waters and passengers should take care for their own safety. Passengers entering the water do so at their own risk and the owner of the vessel will not be liable for any personal injury, illness, death or any other consequences whatsoever of passengers being stung by jellyfish. To minimise this risk, you will be provided with a full-length protective 'Stinger Suit' to wear whilst swimming and snorkelling during the cruise.
Accordingly, Magic Whitsundays shall not be liable for any loss or damage whatsoever which is suffered (including but not limited to indirect or consequential loss) or for any injury to person or property which is suffered or sustained by any passenger as a result of participating in any of its sailing adventures, except for any liability which cannot be excluded by law.
What Do I need To Bring On This Tour?
Sunscreen
Sunglasses
Towel and a hat
Practical clothing and footwear (warmer items during winter)
Wet weather jacket/windproof jacket
Underwater camera
BYO alcohol (no glass or red wine, please)
Where Do I Check In
Please make your way to the Coral Sea Marina meeting area next to the roundabout at 9.30 am. see map on this page
What Is This Tours Cancelation Policy
Cancellations within 24 hours of departure will forfeit the full cost of the trip.
What if I have a medical condition?
Big Fury Whitsundays is not suitable for guests who are pregnant or with back or neck injuries or those recovering from recent surgery.
Fury is designed for riding over waves and as such may become 'bouncy' depending on the prevailing weather and sea conditions on the day. Passengers must complete a medical questionnaire and waiver prior to boarding which will further assess your suitability for our cruises.
Fury Whitsundays Boating Tour To Whitehaven Beach (2023)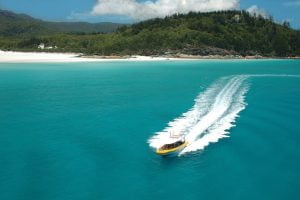 Look no further than Big Fury Whitsundays Day Tour! With two hours spent exploring Whitehaven Beach, Hill Inlet and 1 Snorkel Location. Live Availability and Bookings
Product Brand: Magic Whitsundays
Product Currency: AUD
Product Price: 170
Price Valid Until: 2023-11-01
Product In-Stock: InStock

Nath J
Hi, I'm Nath J, your go-to expert for everything Whitsundays Tourism. Since 2001, I've been immersed in this incredible destination, accumulating 22 years of industry experience. My journey has taken me from Operations Manager at Tallarook Sail and Dive to running my own businesses like Ripple Effect Online. I've given workshops on direct tourism bookings and even authored an ebook, Whitsunday Islands: A Journey through Paradise.
Why trust me? I hold certifications like "Whitsundays Tourism Hero" and "Respecting First Nations Cultural Protocols in Australia," both issued by the Queensland Tourism Industry Council. My work has garnered testimonials from tourism business around the region, praising my unique, genuine approach to tourism marketing.
Find me on Facebook and LinkedIn or drop me an email at info@nath-j.au.