The History Of Airlie Beach
© Official Local Whitsundays Website
Airlie Beach is a small coastal town located on the east coast of Australia, and it has a rich history. From its humble beginnings of logging and farming in the early 1900s, to now being one of Australia's most beloved tourist destinations, Airlie Beach has quite a story to tell. It's a place where you can find beautiful white-sand beaches, crystal blue waters and an abundance of activities that make it the ideal place for an unforgettable holiday. In this article, we'll take an in-depth look at the fascinating history of Airlie Beach and how it evolved into what it is today.
For centuries prior to European settlement, the Whitsunday Islands were home to the Ngaro people. These Indigenous Australians had been living along the coastline for hundreds of years when Captain James Cook sailed by in 1770. The Ngaro people were later displaced by Europeans who came to settle in the area and work as fishermen or farmers.
In 1935, Airlie Beach was named, It is believed that it was named Airlie Beach in reference to a parish in Scotland where Thomas Abell (one of our earliest European settlers) was originally from. In the 1950s Airlie Beach started to become more than just a fishing and farming area; it began to grow into a popular tourist destination with all sorts of amenities designed for visitors from around the world. Let's take a closer look at how Airlie Beach became one of Australia's most beloved holiday spots!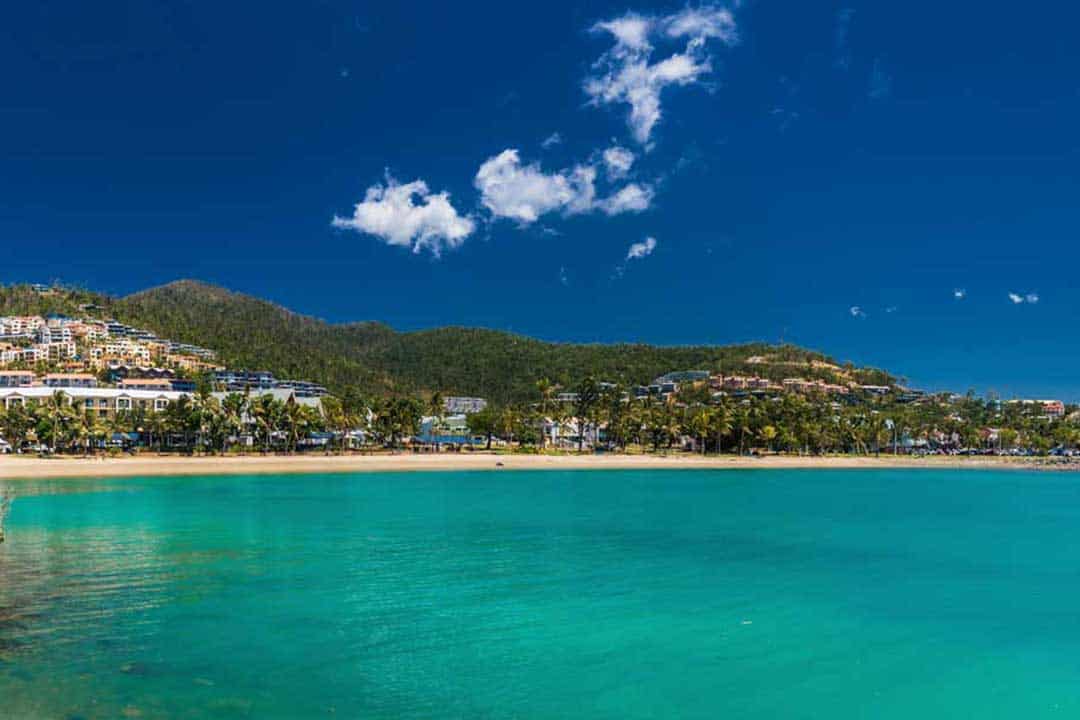 Pre-European Settlers Of Airlie Beach
Airlie Beach, located in Queensland, Australia, is a popular tourist destination known for its stunning beaches and tropical climate. But before the influx of tourists that now visit the area, Airlie Beach was inhabited by pre-European settlers. It's believed that these settlers first arrived in the region around 30,000 years ago.
These early inhabitants were part of a group called the Ngaro Aboriginal people who moved from Sydney to North Queensland over 10,000 years ago. The Ngaro people would have hunted for food and had their own culture and language. They also left evidence of their existence with artifacts such as shell middens found near Shute Harbour which are an important reminder of their heritage.
The arrival of Europeans in the 1800s had a great impact on the Ngaro people's way of life. In particular, the practice of hunting and fishing was reduced due to deforestation and loss of habitat caused by European settlement. This led to a decrease in available resources for the Ngaro people which would have had significant impacts on their culture and lifestyle. Although many aspects of their traditional way of life were lost, some traditions remain today such as storytelling and traditional dance performances.
Today, Airlie Beach is a thriving tourist destination with magnificent beaches, lush rainforest walks and plenty to do for visitors looking for adventure or relaxation. It's also important to remember its history; one that dates back thousands of years when it was inhabited by the Ngaro Aboriginal people who called Airlie Beach their home.
19th Century Exploration Of Airlie Beach
As exploration of Australia increased in the 19th century, so did interest in what lay beyond the boundaries of civilization. The Whitsunday Islands off the east coast of Queensland were no exception. In 1819, Lieutenant Phillip Parker King, son of Governor Philip Gidley King, sailed through the island chain, and recorded his journey
King's report noted a number of Aboriginal villages in the vicinity during his voyage up the Queensland coast. He also commented on how lush and well-populated the islands were, with a variety of wildlife including fish, birds and other creatures living around them.
These early pioneers wrote extensively about their travels throughout the region and provided valuable insight into its history and culture. Their writings provided evidence that indigenous people had been living in the Airlie Beach region for some time before Europeans arrived on the scene. T
These early observations provide us with an invaluable glimpse into life prior to European settlement in this part of Australia; they give us a window into a past world that has since been largely erased from memory but remains alive through these records. Through these stories, we can gain an appreciation for how people lived before modern society changed everything forever.
20th Century Development Of Airlie Beach
Airlie Beach began to experience a surge in development and popularity during the 20th century. The locals began to build homes which attracted more people from other parts of Queensland and Australia.
The local economy also started to take off with the introduction of sugar cane farming and fishing as major industries in the area. The sugar cane industry flourishes until this day. Tourism grew rapidly throughout the rest of the century with Airlie Beach becoming a popular destination for holidaymakers looking for sun, sand and tropical islands
It wasn't until 1987 that Airlie Beach became an official resort town after the Whitsunday Shire Council approved plans for its development. Since then, Airlie Beach has become one of Australia's most popular tourist destinations due to its stunning natural beauty, fantastic range of activities and numerous accommodation options. Today, Airlie Beach is known as a vibrant party destination with many backpackers flocking there each year to soak up its unique atmosphere.
With its mix of beach side fun and laid-back charm, Airlie Beach has become an iconic destination that draws visitors from all over the world looking for an unforgettable holiday experience.
History Of Airlie Beach As It Becomes A Tourism Hotspot
As the 20th century came to an end, Airlie Beach was rapidly transforming into a tourism hotspot. With its blissful golden beaches and crystal-clear waters, it quickly became an idyllic destination for holidaymakers. Consequently, the number of visitors increased dramatically, prompting a surge in development.
Accommodation options sprang up along with restaurants and bars to cater to the influx of people. Not only did this provide more jobs to locals but it also allowed them to benefit from the rising tourism industry. Furthermore, it made Airlie Beach a go-to destination for those seeking a relaxing getaway or an action-packed adventure.
The local council worked diligently to promote Airlie Beach as an attractive tourist destination by providing activities such as sailing, Whitehaven Beach Tours, snorkelling, fishing and excursions on the Whitsunday Islands. These efforts paid off as more and more tourists flocked there every year. In addition, local businesses have invested in new attractions such as hot air balloon rides, skydiving experiences and eco-tours that have helped maintain Airlie Beach's reputation as one of Australia's most popular holiday spots.
Airlie Beach is now home to world-class resorts, spas and dining experiences that attract visitors from around the globe each year – making it a true paradise on earth!
Early Infrastructure Developments Of Airlie Beach
At the beginning of the 20th century, Airlie Beach was a small coastal town, with only a few buildings and limited infrastructure. As its popularity as a tourist destination increased over time, however, it became necessary for local authorities to invest in developing key infrastructure in the area. This included improvements to roads and transport networks, as well as the construction of new recreational facilities.
The first major development in Airlie Beach was the launching of a ferry service from Shute Harbour to Hamilton Island in 1963. This allowed tourists to easily access the islands, and helped Airlie Beach become an attractive destination for holidaymakers from around Australia and beyond. In addition, there were also improvements made to roads and bridges along the bruce highway to help visitors reach their destinations more quickly.
In 1989, work began on constructing a marina at Abel Point (Now Coral Sea Marina). This provided locals and visitors alike with sheltered mooring spots for boats, as well as other marine services such as fuel refilling stations and repair shops. In addition, a range of leisure activities were made available at nearby Cannonvale beach which included playgrounds and picnic areas.
Today these developments have been instrumental in transforming Airlie Beach into one of Queensland's most popular tourist centres. With its stunning natural beauty and improved infrastructure providing easy access to activities such as fishing, sailing or exploring nearby islands, it is no wonder that thousands flock here each year to escape from their everyday lives.
Impact Of Cyclone Yasi On Airlie Beach
I have lived in Airlie Beach since 2001 and was here for Cyclone Yasi In 2010 and Debbie in 2017, Airlie beach experienced one of the most destructive cyclones in its history when Cyclone Yasi hit. The Category 5 storm made landfall on February 3rd and caused considerable damage to the region. The town was left without power and water, as well as severe flooding in some areas. Homes and businesses were destroyed, and a number of people had to be evacuated from their homes due to the risk of further destruction.
The impact of Cyclone Yasi on Airlie Beach was significant, both economically and socially. Businesses lost customers, employees had to take time off work to deal with the aftermath, and rebuilding would cost millions. From an environmental perspective, many trees were uprooted or damaged by strong winds, and this has led to increased soil erosion in some areas.
The resilience of Airlie Beach has been tested by Cyclone Yasi but it is a testament to the community spirit that it has recovered so well from such a devastating event. People have worked tirelessly to rebuild their homes and businesses and get back on their feet again, it is clear that Airlie Beach will remain standing no matter what mother nature throws at it.
Recent Expansion Of Airlie Beach
The small town of Airlie Beach, located in the Whitsunday Region of Queensland, Australia, has recently seen a dramatic expansion. This is due to the area's increasing popularity as a tourist destination. As people learn more about Airlie's beautiful beaches and the region's rich marine life, they are increasingly drawn to visit this serene slice of paradise.
Its booming cruise industry has been the most significant influence on Airlie Beach's recent growth. Since 2018, there has been an ever-increasing number of passenger ships visiting the region. This influx of tourists has created a great demand for accommodation in the area and has led to increased investment in hospitality services. In addition, there have been numerous developments throughout Airlie Beach, including expanding existing resorts and introducing new ones.
Recent years have also seen increased recreational activities for visitors to enjoy. New attractions such as water parks, day tours and mountain biking have opened up further opportunities for entertainment and fun within Airlie Beach. Plenty of restaurants also cater to all tastes and budgets, and many shops sell everything from souvenirs to designer fashion items. All these additions mean that people can now experience more than just sunbathing when they come to Airlie Beach – they can immerse themselves in all it has to offer!

Today, this coastal town's charm is amplified by its thriving music scene. One of the cornerstones of this lively scene is the annual Airlie Beach Music Festival, a celebration of music that mirrors the town's vibrant evolution and its commitment to promoting arts and culture.
Clearly, Airlie Beach is very much on the rise – and with good reason too! Thanks to its stunning natural beauty and diverse attractions, it is no surprise that this little town draws so many visitors each year. With further development plans in the pipeline, there is no doubt that Airlie Beach will continue to thrive for many years to come. 
Frequently Asked Questions (FAQ)
What Is The Cost Of Living In Airlie Beach?
Living in Airlie Beach can be a great experience, but the cost of living is something to consider. From housing and utilities to dining out, it's important to know what you're getting into before making the move. So what is the cost of living in Airlie Beach? Let's take a look.
Renting or buying property in Airlie Beach can vary significantly from place to place. Renting an apartment in town will generally cost more than renting something further away from town, but you may find that the convenience of being close to shops and restaurants makes up for it. House prices also vary greatly depending on size and location, with some homes reaching up to 1.2 million early in 2023. Utilities are also quite expensive, so budgeting for them should be taken into consideration when looking at housing costs.
I have been here 20 years and the cost of living in Airlie Beach has doubled over the last 2 years, there are no rentals available and it's hard to get staff due to the accommodation crisis.
How Is Airlie Beach Affected By Climate Change?
Climate change is a pressing issue that affects the entire world, and Airlie Beach is no exception. Its effects on the resort town are already becoming more pronounced and will continue to worsen over time. The rising sea levels increased temperatures, and changes in rainfall are all direct consequences of climate change that have a significant impact on this coastal town.
To begin with, rising sea levels threaten the existence of Airlie Beach as we know it today. The town is located at sea level and is exposed to flooding from storm surges and king tides. With ocean levels only set to rise in the future due to climate change, experts are predicting that much of the infrastructure along the waterfront will be put at risk of destruction. This would have dire implications for the economy as many businesses rely on tourism in Airlie Beach during peak season.
In addition to sea level rise, higher temperatures are also a concern for Airlie Beach residents. Warmer air temperatures can lead to more extreme weather events such as longer heat waves or heavy monsoonal rains which could cause damage to buildings or disrupt roads and other transport links. Furthermore, warmer water temperatures can lead to coral bleaching which would drastically alter the underwater ecosystem off Airlie's shores, impacting both marine life and local fishing industries.
Given these threats posed by climate change, it's clear that immediate action must be taken if we want to safeguard Airlie Beach from its destructive effects. To protect this beloved resort town from further degradation, we must take proactive steps such as reducing our reliance on fossil fuels or investing in renewable energy sources for electricity production. We must also work together with local government officials to create strategies for adapting our infrastructure so that it can withstand future weather events caused by climate change.
What Are The Best Restaurants In Airlie Beach?
Airlie Beach has long been a popular destination for tourists, with its idyllic white sand beach and vibrant nightlife. It's no surprise, then, that the area is home to some of the best restaurants in Queensland. See our Airlie Beach restaurant guide here 
What Is The Nightlife Like In Airlie Beach?
The bars around Airlie Beach offer something for everyone. From casual beach bars to upscale wine bars, there are plenty of options to choose from. Visitors can also find live music venues, dance clubs, and pubs that stay open late into the night. Our Airlie Beach Main Street Guide lists the local bars and nightclubs. The atmosphere of these places ranges from relaxed to wild depending on the time of day or night.
Overall, Airlie Beach is an exciting destination full of natural beauty and adventure waiting to be explored. Whether you're looking for dining options, nightlife activities or just want to relax on the beach – this is the place for you! So come and experience all that Airlie Beach has to offer – it won't disappoint!

Nath J
Hi, I'm Nath J, your go-to expert for everything Whitsundays Tourism. Since 2001, I've been immersed in this incredible destination, accumulating 22 years of industry experience. My journey has taken me from Operations Manager at Tallarook Sail and Dive to running my own businesses like Ripple Effect Online. I've given workshops on direct tourism bookings and even authored an ebook, Whitsunday Islands: A Journey through Paradise.
Why trust me? I hold certifications like "Whitsundays Tourism Hero" and "Respecting First Nations Cultural Protocols in Australia," both issued by the Queensland Tourism Industry Council. My work has garnered testimonials from tourism business around the region, praising my unique, genuine approach to tourism marketing.
Find me on Facebook and LinkedIn or drop me an email at info@nath-j.au.