Airlie beach music festival 2023
© Official Local Whitsundays Website
Hey everyone! Nath J here. I'm so excited that the Airlie Beach Festival of Music is back for 2023, and it will surely be better than ever.
This four-day event will be held from 9th – 12th November in beautiful Airlie Beach, in the Whitsundays.
From 5-star resorts to budget-friendly backpackers and camping at beautiful caravan parks, there's something for everyone regarding Airlie Beach accommodation during the festival – but you'd better book early as spots fill up quickly!
The free-flowing festival will have a main stage on the water's edge and more than 50 bands playing across 15 venues. They've got some amazing headliners, including music industry legends Ross Wilson, King Stingray, Dragon, Billy Field and Chocolate Starfish, joined by Ian Moss, Frenzal Romb and The Superjesus. Plus emerging talent like Pierce Brothers and Lucy Gallant, plus 2022 Passport to Airlie winners Perry Street Park.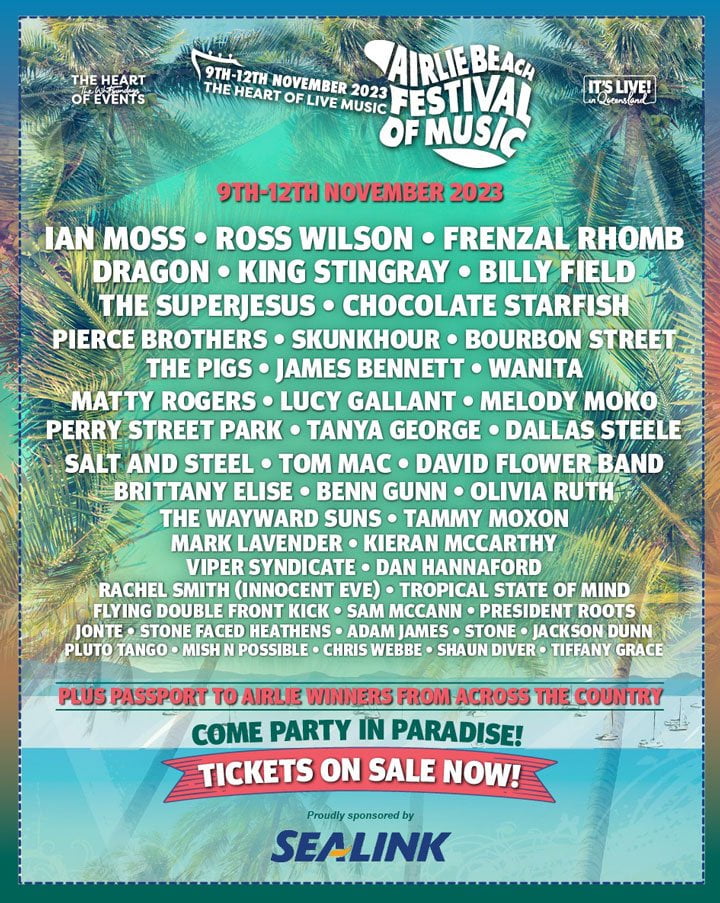 If you're into Aussie rock then you won't want to miss out on seeing Ross Wilson & The Peaceniks perform their classic hits celebrating 50 years of Eagle Rock, or hearing '90s anthems from Australian band Dragon who is known for hits like 'April Sun in Cuba', 'Are You Old Enough', 'Still In Love With You' and 'Rain'. And if punk is your thing then don't miss out on catching Frenzal Rhomb guitarist Lindsay McDougall who has always dreamt of coming to The Whitsundays! Skunkhour will also be fusing indie rock with soul funk hip hop vibes bringing fresh EP 'Parts of Sun' along with them.
Plus there'll be powerhouses Chocolate Starfish delivering captivating shows packed with intensity; contemporary artist King Stingray whose songs connect home and family; plus Billy Field who never lets a genre define him with his award winning catalogue full of hits like 'Bad Habits'.
For more information about the festival or tickets visit www.airliebeachfestivalofmusic.com.au or follow @airliebeachfestivalofmusic on Facebook and Instagram!
So what are you waiting for? Get ready to soak up some incredible music against one of Australia's most stunning backdrops this November in Airlie Beach at the 2023 Festival of Music!
2022 Full Highlight Reel
Take a look at last years event to feel the inspiration.

Nath J
Hi, I'm Nath J, your go-to expert for everything Whitsundays Tourism. Since 2001, I've been immersed in this incredible destination, accumulating 22 years of industry experience. My journey has taken me from Operations Manager at Tallarook Sail and Dive to running my own businesses like Ripple Effect Online. I've given workshops on direct tourism bookings and even authored an ebook, Whitsunday Islands: A Journey through Paradise.
Why trust me? I hold certifications like "Whitsundays Tourism Hero" and "Respecting First Nations Cultural Protocols in Australia," both issued by the Queensland Tourism Industry Council. My work has garnered testimonials from tourism business around the region, praising my unique, genuine approach to tourism marketing.
Find me on Facebook and LinkedIn or drop me an email at info@nath-j.au.