Revealing the Stunning Filming Locations of Love is in the Air
If you've watched the new Netflix Movie "Love is in the Air," the enchanting film that tugs at heartstrings and ignites wanderlust, you've likely been captivated by the gripping storyline and the breathtaking locations where it unfolds.
This cinematic masterpiece, starring Delta Goodrem, Joshua Sasse, Roy Billing, and Steph Tisdell, takes us on a journey through romance, resilience, and the stunning landscapes of the Whitsundays. This article will explore the real-world locations that served as the backdrop for this unforgettable love story.
Official Netflix Movie Trailer
Airlie Beach: The Real-Life Fullerton
The movie's fictional setting, Fullerton, bears an uncanny resemblance to the real-life paradise of Airlie Beach. The Whitsundays' Airlie Beach played a pivotal role as the base camp for the cast and crew during the filming of "Love is in the Air." With its year-round holiday vibes, Airlie Beach embodies everything you'd expect from a picturesque beachside town—laid-back charm, delectable cuisine, an array of activities, and poolside relaxation with awe-inspiring ocean views.
As you explore Airlie Beach, you'll find yourself immersed in a world where holiday vibes are permanent, and every corner is infused with a sense of adventure and relaxation.
Its natural beauty and breathtaking scenery make it a perfect alternative to Bali for capturing the essence of paradise on screen.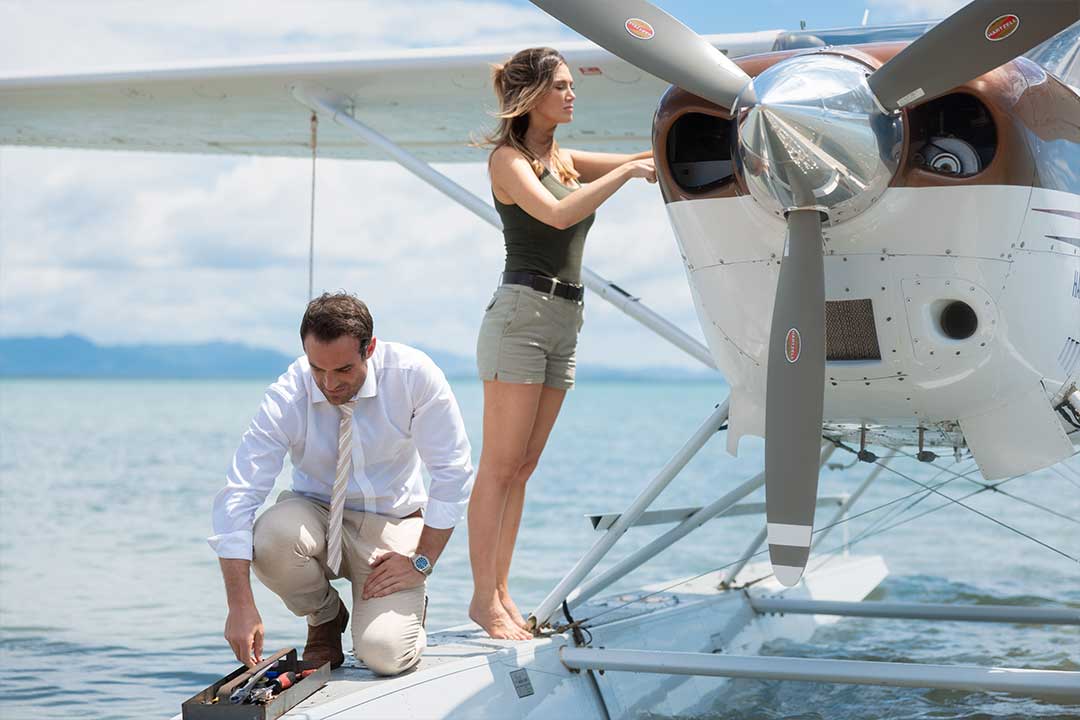 Scenic Flights Over The Whitsundays
One of the most enchanting aspects of "Love is in the Air" is the stunning aerial footage of the Whitsundays. Fullerton Airways, the fictional airline in the movie, regularly embarks on scenic flights over remote islands, delivering supplies against the backdrop of breathtaking islands and azure blue waters. But you don't need to be a movie character to experience this wonder; you can make it your reality.
The Whitsunday Airport, conveniently located just eight minutes from Airlie Beach, is home to Fly Australia Scenic flights and the exhilarating experience of skydiving with Skydive Australia. Imagine soaring above the Whitsundays, gazing down at pristine beaches, secluded coves, and lush islands—the same vistas that captured hearts in the film.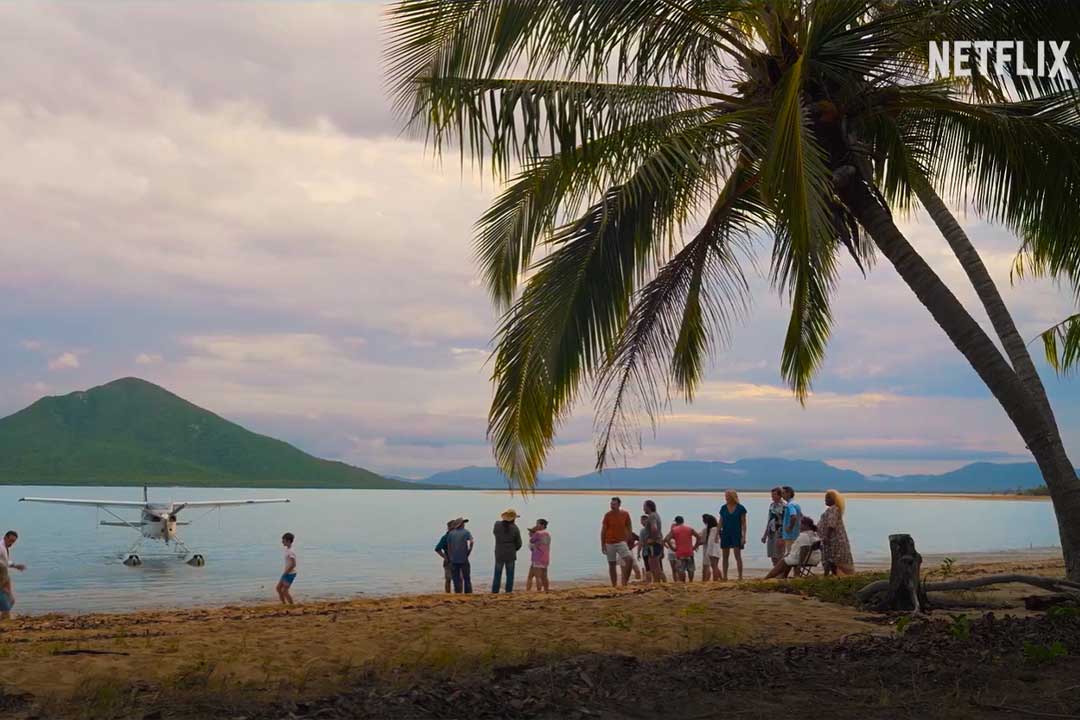 Secluded Getaways: Sinclair Bay and Resort
Scenes depicting the delivery of supplies to remote islands and an emergency landing for plane repairs were filmed at Sinclair Bay and Resort, a private retreat for a select few. Fortunately, the Whitsundays offers several options for those seeking secluded getaways.
Elysian Luxury Eco Island Retreat and Palm Bay Resort, both nestled in secluded bays of Long Island, offer the perfect escape. With on-site restaurants and bars, these resorts ensure you have everything you need to relax and recharge while surrounded by the pristine beauty of the Whitsundays.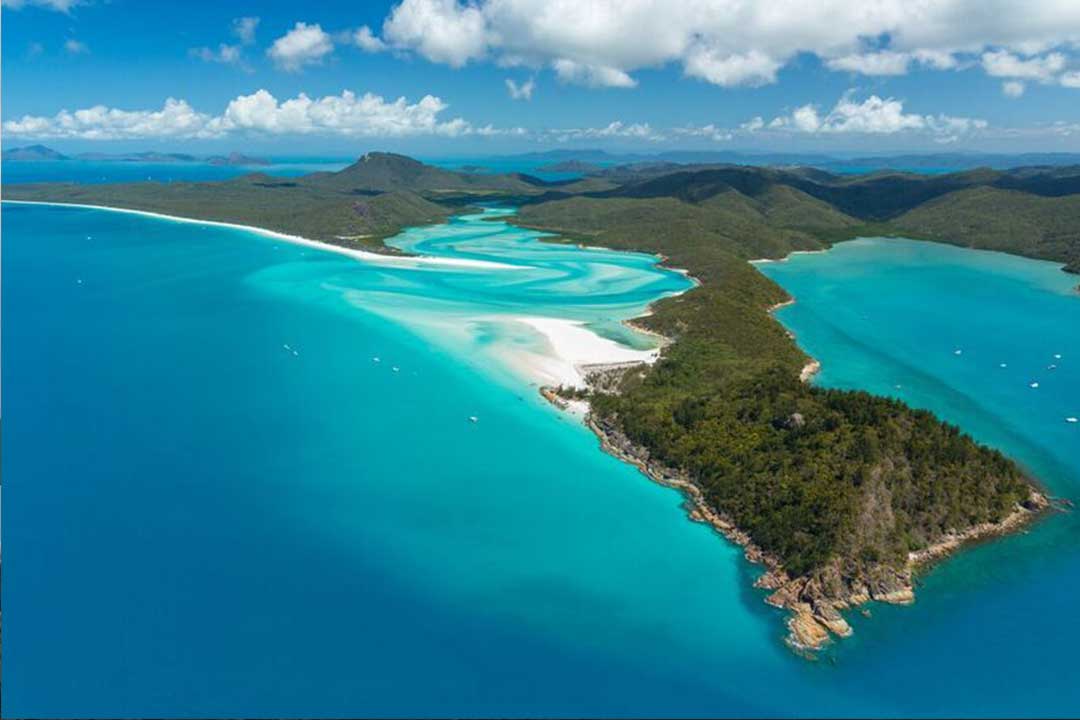 Whitehaven Beach: A Slice of Paradise
"Love is in the Air" showcases the mesmerizing beauty of Whitehaven Beach and Hill Inlet. Fullerton Airways, the movie's fictional airline, frequently lands on remote islands to deliver supplies, providing breathtaking scenes of the Whitsunday Islands' pristine beauty and azure waters.
You can turn this dream into reality by embarking on day trips to Whitehaven Beach and Hill Inlet. Choose from a variety of boats departing daily or experience the magic from above with a helicopter tour—a Love is in the Air experience that promises memories to last a lifetime.
Roundup
"Love is in the Air" not only delivers a heartwarming story of love and resilience but also introduces viewers to the captivating beauty of the Whitsundays. As you explore the real-world locations that brought this film to life, you'll discover a paradise where love takes flight, adventure beckons, and natural beauty enchants at every turn. Come and experience the magic of the Whitsundays, where reel meets real, and where love truly is in the air.
To watch the movie on Netflix, see the official page here.
Love Is In The Air (Netflix Movie 2023)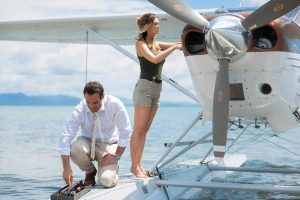 Director: Adrian Powers
Date Created: 2023-09-28 00:00

Nath J
Hi, I'm Nath J, your go-to expert for everything Whitsundays Tourism. Since 2001, I've been immersed in this incredible destination, accumulating 22 years of industry experience. My journey has taken me from Operations Manager at Tallarook Sail and Dive to running my own businesses like Ripple Effect Online. I've given workshops on direct tourism bookings and even authored an ebook, Whitsunday Islands: A Journey through Paradise.
Why trust me? I hold certifications like "Whitsundays Tourism Hero" and "Respecting First Nations Cultural Protocols in Australia," both issued by the Queensland Tourism Industry Council. My work has garnered testimonials from tourism business around the region, praising my unique, genuine approach to tourism marketing.
Find me on Facebook and LinkedIn or drop me an email at info@nath-j.au.