Condor Whitsundays 4 Day 3 Night Sailing Tour.
Tour Locations – Whitsunday Islands – Whitehaven Beach – Hill Inlet Lookout –  Outer Great Barrier Reef , Over 5 Snorkel Locations
Tour Experience – Condor Whitsundays 4 Day 3 Night Sailing Tour
Price – $899 per person
Ticket Price Includes –  4 Lunches, 3 dinners, 3 breakfasts, some snacks, water refills, snorkel equipment, wetsuit, dorm style accommodation.
Diet options – Standard, vegan, vegetarian, gluten-free and lactose-free.
Departure Location – 10 am at Coral Sea Marina, Airlie Beach QLD 4802
Return Location  – 3 pm at Coral Sea Marina, Airlie Beach QLD 4802
Type Of  Tour Boat – Monhull Maxi Sailing Vessel
Guest Capacity – 19
Take an adventure with Condor Whitsundays 4 Day 3 Night Sailing tour on a maxi yacht. Experience the beauty of the Great Barrier Reef Marine Park, while exploring multiple snorkelling sites and bushwalking to Hill Inlet Lookout. With an experienced and friendly crew, you will have access to delicious meals, hot showers and USB charging stations. Plus, if the weather permits, you can explore the Outer Reef for untouched reef and marine life.
Explore one of the world's most beautiful areas in style and comfort aboard Condor Whitsundays' 4 Day 3 Night Sailing Tour. With more time to relax and spend in each location, enjoy the thrill of sailing and discovering the wonders of the Whitsunday Islands and Great Barrier Reef.
Complete Guide to Condor Whitsundays 4 Day 3 Night Sailing Tour
Tour Highlights
Match race with other Prosail boats
Spend a whole day at Whitehaven Beach
Visit up to 6 snorkelling locations
Outer Reef visit & snorkel (weather permitting)
Enjoy multiple bushwalks and hikes
Extra comforts like rain & sun shades, hammocks, thick snorkel/swimming suits in cooler months
Sustainable and environmentally friendly way to explore the Whitsunday Islands
Is This Tour Suitable For You?
The tour is marketed at the youth backpacker and student market, ages 18 and up
Example Itinerary For This Tour
This Condor Whitsundays 4 Day 3 Night Sailing tour on a maxi yacht provides an exciting opportunity to explore the natural beauty of the Whitsunday Islands. The tour offers sailing and match-racing between the Prosail maxi yachts, up to 6 snorkel sites, visits to Whitehaven Beach and Hill Inlet Lookout, bush-walks ranging from 20 minutes to 3 hours and sunset beach hangs. You will have the opportunity to visit up to 6 snorkel sites including Blue Pearl Bay, Cockatoo Point, Black Island, Langford Reef, Caves Cove, Butterfly Bay, Luncheon Bay, Manta Ray Bay, Mackerel Bay, Peters Bay, Saba Bay & Cateran Bay. You can also explore the Outer Reef (weather permitting). During the tour you will visit two different lookouts – Hill Inlet Lookout & South Whitehaven Lookout.
You will also have the chance to experience different bush-walks in various locations such as The Cairn (Whitsunday Island), Whitsunday Peak (Whitsunday Island), Border Island, Chance Bay to South Whitehaven (Whitsunday Island), Chalkie's Lookout (Haslewood Island), Hill Inlet Lookout (Whitsunday Island), Nara Inlet Trail (Hook Island), Hayman Island Track, Passage Peak (Hamilton Island), South Molle Island. The tour also includes sunset beach hangs at Langford Island Sand Spit, Scrubhen Beach (Hook Island) and Chalkie's Beach (Haslewood Island).
In the evenings you can enjoy yourself with new friends and crew members onboard, admiring stars and letting the calm water gently rock you to sleep.
Location Details - Whitehaven Beach
Condor Whitsundays visits the world-renowned Whitehaven Beach for up to 7 hours, stretching an impressive 7 km, which is not only 97% pure silica white sand but also boasts crystal clear waters of the coral sea. It's no surprise that this beach is one of the most photographed beaches globally and has received numerous awards (Including the best beach in the world).
If you're planning to visit the Whitsunday Islands, don't miss the opportunity to experience the magic of Whitehaven Beach and Hill inlet lookout with this Whitsundays overnight boat tour.
Location Details - Hill Inlet Lookout
If you're seeking one of the most popular sights in the Whitsundays, Hill Inlet is definitely worth your time. This breathtaking sand inlet is situated at the northern end of Whitehaven Beach on Whitsunday Island and boasts a mesmerizing effect that is captured in hundreds of photos each day. When the tides shift and the white sands mix, it creates a swirling wonder that will take your breath away. If you want to learn more about Hill Inlet see our dedicated page here
Location Details - Snorkelling
As part of this overnight tour, you'll have the incredible opportunity to snorkel in up to 4 coral-filled bays that line the coast of the islands. The Whitsunday Islands are part of the Great Barrier Reef Marine Park and teaming with coral reefs and fish. You'll get to see all kinds of sea creatures, including turtles, Maori wrasse, batfish, parrot fish, and even the famous clown fish (Nemo).
Condor Whitsundays Departure Point Map
Hammers Sailing Tour Video
Check In Briefing
First and foremost, please ensure that you reconfirm your trip (via email or phone) and complete the waiver at least 48 hours prior to departure. Email: bookings@prosail.com.au Phone: 0455 973 366
On the day of departure, please meet at Coral Sea Marina, Airlie Beach (southern end). The meeting point is located under the white umbrellas next to Whitsunday Jet Ski Tours. Please be sure to arrive 30 minutes before your departure time of 10am. Here is the link to the meeting point on Google Maps:
Boat Accommodation Layout

Terms and Conditions Of Travel On This Tour
Cancellations made less than 7 days before departure will result in complete forfeiture of the full price.

 

Cancellations made outside of 7 days before departure will only incur a $35 per person admin & booking fee

.  Any date changes can be accepted without a fee up to 7 days prior to departure. Please note that the 7-day cancellation policy will always be calculated from the original departure date.

All passengers are required to reconfirm their trip (via email or phone) and complete the online waiver at least 48 hours prior to departure.

 

Email: bookings@prosail.com.au. 

Phone: 0455 973 366.

Check-in for the 3 day & 4 day tours is on the day of departure at 9:30am at the dedicated meeting point in your confirmation.
All prices are per person in AUD and include GST, National Park and Great Barrier Reef Marine Park entry fees, professional skipper and deckhands, live-aboard accommodation, all meals, fresh linen, use of snorkelling equipment and snorkel suits. Prices do not include airfares or transfers to and from the marina, accommodation pre or post-tour or extras.

Prosail tours are perfect for adventurous singles, couples and groups normally aged between 18-45. We have no age limit, however you must be 'young at heart' and understand the adventurous and social nature of our tours. Some under 18's may be accepted on board by request.

All guests must be fit and able to move freely about a boat unassisted.

No large bags or suitcases will be accepted on-board. Luggage can be stored at most accommodation locations or at the Red Cat Adventures shop in Airlie Beach for a small fee.

BYO alcohol and drinks (no glass or red wine please).
We cater for most diet requirements – vegetarian, vegan, lactose-free and gluten-free. Please call our office if diet requirements differ from these. Please note that there is limited diet alternatives to our desserts (which include gluten and dairy).
We reserve the right to substitute vessels without notice at any time for any reason.
All charters are subject to weather and the vessel operator's discretion.
We recommend you take out travel insurance covering illness, injury, loss of personal goods and the inability to travel due to weather or any other unforeseen circumstances. This is an adventure product and clients should note that adventure travel involves risk. Whilst we make every effort to safeguard guests, we cannot be responsible for any damage, personal injury or loss due to the actions of passengers that are beyond our control.
If travelling to Airlie Beach by road, please allow extra time to travel during the wet season (Dec-May) as we occasionally have road closures due to flooding.
At certain times of the year, rare but 'dangerous' jellyfish inhabit these waters and passengers should take care for their own safety. Passengers entering the water do so at their own risk and the owner of the vessel will not be liable for any personal injury, illness, death or any other consequences whatsoever of passengers being stung by jellyfish. To minimise this risk, you will be provided with a full-length protective 'Snorkel Suit' to wear whilst swimming and snorkelling during the tour.
Prosail shall not be liable for any loss or damage whatsoever which is suffered (including but not limited to indirect or consequential loss) or for any injury to person or property which is suffered or sustained by any passenger as a result of participating in any of its sailing adventures, except for any liability which cannot be excluded by law.
If you choose to leave a Prosail tour at any stage of your own choice, Prosail will no longer be held accountable for your persons or belongings.
WHAT DO I PACK FOR THIS TOUR?
* Swimmers
* Towel(s)
* Sunscreen
* Lip balm
* Sunglasses
* Hat
* Spray jacket
* Sweater (in cooler months)
* Sandals/joggers/thongs for island walk
* Toiletries
* Any prescribed medicines
* Reminders:
* Soft small bag (no suitcases or bags with wheels please).
* No shops around the islands, so pick up important items before arriving at marina.
ARE THERE DRINKS ON THE TOUR?
Broomstick Whitsundays is a BYO vessel, meaning guests can bring their own alcohol onboard (no glass or red wine please). Moreover, filtered drinking water is included throughout the tour, so don't forget to bring a bottle to refill as much as needed (and save on bottled water waste)! We also have soft drinks and bottled water available for purchase on board and a tab will be kept for payment at the end of the tour.
WHERE CAN I PARK MY CAR?
There is plenty of car parking at Coral Sea Marina for both cars and motorhomes, the cost is around $10 to $12 per day, Pay and display or use the Easy Park App
IS THERE A BATHROOM ONBOARD?
Yes! they have a toilets on the boat for your convenience
I CANT SWIM! CAN I SNORKEL?
 Broomstick Whitsundays provide additional floatation if required. A risk assessment will be done on every guest prior to entering the water. The tender will remain relatively close while in the water and staff members are always on look-out duty. Plus, the reefs we visit are off the beaches, so making way back to the beach should not be too hard.
WHAT BAGS CAN I TAKE?
Unfortunately, large bags and suitcases cannot be taken onboard. Storage services are available at most accommodations. Small day packs are perfect to take on this tour.
WHERE IS CHECK IN LOCATION FOR CONDOR WHITSUNDAYS?
The meeting point for departure is Coral Sea Marina, Airlie Beach (southern end). Guests should meet at 9:30am (30 minutes before departure time of 10am) @ Coral Sea Marina, Southern End, MEETING POINT C, under the white umbrellas next to Whitsunday JetSki Tours. you can find a map further up this page
Condor Whitsundays 4 Day 3 Night Sailing Tour (2023)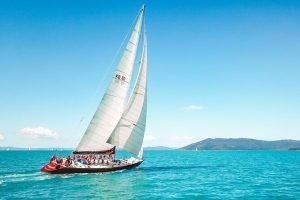 Take an adventure with Condor Whitsundays 4 Day 3 Night Sailing tour on a maxi yacht. Experience the beauty of the Great Barrier Reef Marine Park. Book Now
Product Brand: Prosail
Product Currency: AUD
Product Price: 899
Price Valid Until: 2023-11-01
Product In-Stock: InStock
 See More Overnight Sailing Tours

Nath J
Hi, I'm Nath J, your go-to expert for everything Whitsundays Tourism. Since 2001, I've been immersed in this incredible destination, accumulating 22 years of industry experience. My journey has taken me from Operations Manager at Tallarook Sail and Dive to running my own businesses like Ripple Effect Online. I've given workshops on direct tourism bookings and even authored an ebook, Whitsunday Islands: A Journey through Paradise.
Why trust me? I hold certifications like "Whitsundays Tourism Hero" and "Respecting First Nations Cultural Protocols in Australia," both issued by the Queensland Tourism Industry Council. My work has garnered testimonials from tourism business around the region, praising my unique, genuine approach to tourism marketing.
Find me on Facebook and LinkedIn or drop me an email at info@nath-j.au.