Avatar Whitsundays 2 Day 2 Night Sailing Tour.
Tour Locations – Whitsunday Islands – Whitehaven Beach – Hill Inlet Lookout –  Two to Three Snorkel Locations
Tour Experience – Avatar Whitsundays 2 Day 2 Night Sailing Tour
Price – SALE From $529 GET 10% OFF WITH DISCOUNT CODE " TOURSWHIT10 " AT CHECKOUT
Ticket Price Includes –  2 Lunches, 2 dinners, 2 breakfasts, some snacks, water refills, snorkel equipment, wetsuit, dorm style accommodation.
Diet options – Standard, vegan, vegetarian, gluten-free and lactose-free.
Departure Location – 11.30 am at Coral Sea Marina, Airlie Beach QLD 4802
Return Location  – 9 am at Coral Sea Marina, Airlie Beach QLD 4802
Type Of  Tour Boat – Trimaran Sailing Vessel
Guest Capacity – 26
Discover a world of adventure and tranquillity with the Avatar Whitsundays 2 Day 2 Night Sailing tour. The experienced crew will take you on an unforgettable journey to some of the most incredible snorkelling spots in the Great Barrier Reef Marine Park, while our onboard hosts whip up delicious home cooked meals. And when it's time to take a break from all the activity, enjoy a leisurely stroll along the iconic Whitehaven Beach or simply relax in the sun!
Avatar fully-inclusive sailing tour is designed for those looking for freedom and relaxation. Explore the turquoise waters of the Whitsunday islands in style, without any restrictions or limitations. Enjoy the captivating views of sunsets as you sail away, sleep under the stars if you choose and dive into a range of activities that await you around every corner.
Experience the ultimate escape with Avatar Whitsundays – explore the beauty of nature, marvel at its wonders and create memories that will last a lifetime. Let the only commercial trimaran in the region show you just how special the Whitsundays can be!
Complete Guide to Avatar Whitsundays 2 Day 2 Night Sailing Tour
Tour Highlights
Over 2 hours on Whitehaven Beach
Hill Inlet Lookout 
Whitsundays only commercial trimaran
2-3 snorkel locations
All meals included
Snorkel equipment, wetsuit, and snacks are all included
Single and double beds accommodation
Fun crew 
Is This Tour Suitable For You?
The tour is marketed at the youth backpacker and student market, ages 18 and up
Location Details - Whitehaven Beach
Avatar Whitsundays visits the world-renowned Whitehaven Beach, stretching an impressive 7 km, which is not only 97% pure silica white sand but also boasts crystal clear waters of the coral sea. It's no surprise that this beach is one of the most photographed beaches globally and has received numerous awards (Including the best beach in the world).
If you're planning to visit the Whitsunday Islands, don't miss the opportunity to experience the magic of Whitehaven Beach and Hill inlet lookout with this Whitsundays overnight boat tour.
Location Details - Hill Inlet Lookout
If you're seeking one of the most popular sights in the Whitsundays, Hill Inlet is definitely worth your time. This breathtaking sand inlet is situated at the northern end of Whitehaven Beach on Whitsunday Island and boasts a mesmerizing effect that is captured in hundreds of photos each day. When the tides shift and the white sands mix, it creates a swirling wonder that will take your breath away. If you want to learn more about Hill Inlet see our dedicated page here
Location Details - Snorkelling
As part of this overnight tour, you'll have the incredible opportunity to snorkel in the coral-filled bays that line the coast of the islands. The Whitsunday Islands are part of the Great Barrier Reef Marine Park and teaming with coral reefs and fish. You'll get to see all kinds of sea creatures, including turtles, Maori wrasse, batfish, parrot fish, and even the famous clown fish (Nemo).
Avatar Whitsundays Meeting Point Map
Avatar Whitsundays Tour Video
Email Confirmation Details
Whether you're looking forward to snorkelling the Great Barrier Reef or simply soaking up the sun on the sands of Whitehaven or Airlie Beach, OzSail can make it happen. Once your holiday plans are made, you'll want to be sure your departure information is accurate and up-to-date. We can help.
All of our vessels leave from Coral Sea Marina (Meeting Point C) under the umbrellas on the right-hand-side of the two buildings. View direction
Our departure times for Mandrake and Avatar are typically the same:
*Avatar – Tues, Thurs, Sat @ 11:00A
*Mandrake – Tues, Thurs, Sat @ 2:30P
Our Spank Me tour typically departs Sun, Wed, Fri. However, the departure time varies due to the tides. You will be sent a text message within 72hrs of departure advising you of any changes.
We advise all of our guests to call (0499 697 245) and reconfirm their booking 48hrs before departure so we can ensure we have all the necessary dietary requirements/food allergies and ensure you meet at the correct time.
IMPORTANT!
No large backpacks or suitcases are allowed on-board our vessels. Please only bring bags the same size as an airline carry-on.
Most hostel/hotels in Airlie beach have bag storage facilities for bigger bags.
There is NO bag storage at the marina and you face missing your departure if you bring bags that are not allowed.
WHAT TO BRING:
In a small soft bag (enviro safe), we suggest that you bring the following:
Travel voucher from your booking agent.
Light clothing/warm clothing in cooler months (May – September)
Swimsuit
Hat
Sunscreen (30+ highly recommended)
Bath towel and beach towel
Sunglasses
Insect repellent
Favourite music
Alcohol (no glass please): NO MORE THAN 24 cans of beer OR 4 ltrs cask wine OR 1 ltr spirits.
WHAT NOT TO BRING
Glass bottles or red wine.
Sleeping bags or pillows.
Passport or important travel documents
Shampoo and conditioner (for environmental purposes)
Plastic bags (they kill our wildlife and smother our coral)
OzSail is not responsible for any property you take on board the vessel. In particular, we strongly encourage you to take waterproof cameras rather than expensive digital cameras. Your electrical equipment will be ruined if it comes in contact with saltwater.
MEALS
If you haven't already confirmed with us about food allergies and/or dietary requirements, please call us ASAP to modify your booking.
All main meals are included. However, if you think the fresh air might make you extra hungry, you may want to bring some extra snacks as well as any other flavoured drink such as orange juice or soft drinks.
WEATHER
Welcome to the tropics! Although our winters may be cooler, our summer months (November -March) can be extremely hot and humid, especially downstairs on a boat. Unless you are accustomed to living in this climate, you may find it slightly uncomfortable, especially at night when you are sleeping. Please be prepared for this.
ALCOHOL, SOFT DRINKS AND BOTTLED WATER
An alcohol policy is in place on Mandrake. Each guest can take a maximum of 24 cans of beer OR 4 ltrs cask wine (goon) OR 1 ltr of spirits, any more than this will NOT be allowed on board. All alcohol, soft drinks, and bottled water must be purchased prior to boarding your vessel. (Please note, we do not allow glass bottles on board).
WATER, TEA, AND COFFEE
We provide tap water on all our vessels, however, it isn't cold and some people don't like the taste of it. During our summer months, we strongly encourage you to bring bottled water. We recommend at least 2 litres per day. Tea and coffee breaks are generally in the morning and afternoon.
TRAVEL SICKNESS
If you are not sure whether or not you may suffer from travel sickness, we suggest taking travel sickness tablets. Our trained crew will assist as much as possible in making you comfortable but they are not allowed to provide you with any medication.
SNORKELLING GEAR
Masks and snorkels are all included in the price of your trip and will be distributed at the meeting point.
LYCRA SUITS & WETSUITS
Wearing a Lycra stinger suit will prevent UV exposure and significantly reduce your risk to marine stingers. OzSail requires that all passengers wear a full-length stinger suit or wetsuit if you wish to swim and or snorkel from our vessels.
You will be fitted at the meeting point and these are all-inclusive in your ticket price.
TRAVEL INSURANCE
We strongly encourage all guests travel with travel insurance with coverage for the following situations: Damaged property (You will be on a boat surrounded by seawater).
Medical emergencies including ambulance cover
Travel cancellation & interruption
Please ensure that you read all of the above carefully.
On the date of departure, please ensure you are at the meeting point at Abell Point Marina (South Village) before the scheduled departure time. It is critical that the vessel leaves on time.
It will take you 20 mins to walk to Abell Point Marina from the main street of Airlie Beach. If the ocean is on your right-hand side you are walking in the right direction.
TRAVEL DATES
At the end of your sailing adventure, OzSail has booked you a VIP table at Beaches Backpackers at 6:30 p.m. for dinner and drinks followed by free entry and more VIP treatment at Paddy's Shenanigans, Airlie's iconic party spot.
We recommend that you get to Airlie Beach one day before departure and leave Airlie Beach the day after you return to land, to enjoy the after-party.
Terms and Conditions Of Travel On This Tour
WHAT ACCOMMODATION IS ON AVATAR WHITSUNDAYS?
Dorm style share singles, share doubles and private doubles
WHATS INCLUDED IN THE TICKET PRICE
all meals
fresh linen
snorkel gear
stinger suits
local fees
legendary fun crew
WHERE CAN I PARK MY CAR?
There is plenty of car parking at Coral Sea Marina for both cars and motorhomes, the cost is around $10 to $12 per day, Pay and display or use the Easy Park App
IS THERE A BATHROOM ONBOARD?
Yes! they have a toilet on the boat for your convenience
I CANT SWIM! CAN I SNORKEL?
The short answer is maybe, it depends on your confidence! We have flotation aids called pool noodles that will help you float.
DO YOU SELL ALCOHOL?
No, we do not sell alcohol on the boat, you may bring your own just no glass
Avatar Whitsundays Tour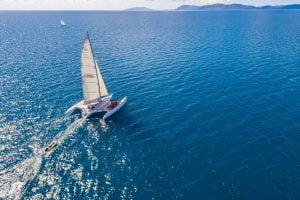 Discover a world of adventure and tranquillity with the Avatar Whitsundays 2 Day 2 Night Sailing tour including Whitehaven Beach! Live availability and bookings
Product Brand: Ozsail
Product Currency: AUD
Product Price: 489
Price Valid Until: 2023-11-01
Product In-Stock: InStock
 See More Overnight Sailing Tours

Nath J
Hi, I'm Nath J, your go-to expert for everything Whitsundays Tourism. Since 2001, I've been immersed in this incredible destination, accumulating 22 years of industry experience. My journey has taken me from Operations Manager at Tallarook Sail and Dive to running my own businesses like Ripple Effect Online. I've given workshops on direct tourism bookings and even authored an ebook, Whitsunday Islands: A Journey through Paradise.
Why trust me? I hold certifications like "Whitsundays Tourism Hero" and "Respecting First Nations Cultural Protocols in Australia," both issued by the Queensland Tourism Industry Council. My work has garnered testimonials from tourism business around the region, praising my unique, genuine approach to tourism marketing.
Find me on Facebook and LinkedIn or drop me an email at info@nath-j.au.