Top 10 Things To Do At Whitehaven Beach
© Official Local Whitsundays Website
As a local travel guide, I have put together my top 10 things to do at Whitehaven Beach in the hope it helps you with your holiday. I've had the pleasure of visiting many beautiful destinations around the Whitsunday Islands and Airlie Beach, but Whitehaven Beach has to be one of my all time favourites. Located on the eastern side of Whitsunday Island, this 7km stretch of 98% pure silica white sand and crystal clear water is simply breathtaking. So let's dive in (excuse the pun) and explore this tourism icon.
My Top 10 Things To Do At Whitehaven Beach
1. Take a Whitehaven Beach Tour on a boat
There are many boat tours available that depart from Airlie Beach and Hamilton Island to Whitehaven Beach, most boat tours allow you to experience the beauty of Whitehaven Beach for around 2 hours. These tours range from sailing trips to fast power boats and adventurous options such as sea kayaking (multiple days). See here for more information on Whitehaven Beach Tours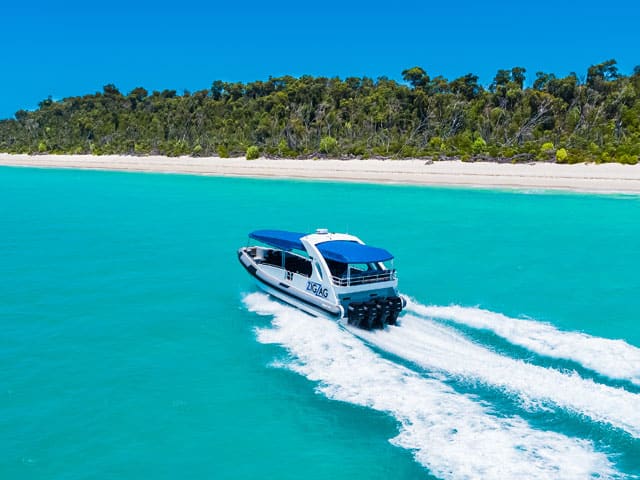 2. Helicopter flights
These flights depart from Airlie Beach, Hamilton Island, Daydream Island, and Long Island. The best bit about a helicopter tour is you get a scenic flight plus you can also land on a deserted piece of the beach (if you book this option) giving you the most fantastic experience. See our tours page for taking a Helicopter to Whitehaven Beach.
3. Take a scenic flight in a plane.
If you want to experience Whitehaven Beach from a different perspective, consider taking a scenic flight. These flights offer breathtaking views of the island and the surrounding waters, most scenic flights also include flying over the Great Barrier Reef and Heart Reef. See our tours page for scenic flight tour options.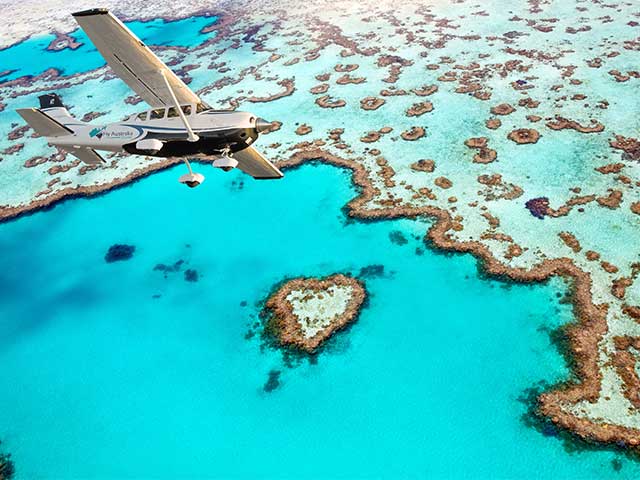 4. Visit Hill Inlet.
Hill Inlet lookout is number 4 on my things to do at Whitehaven Beach. This is a stunning spot, located at the northern end of Whitehaven Beach. From here, you can take a walk up to the lookout and enjoy panoramic views of the beach and swirling sands that weave their way into Whitsunday Island.
5. Go to the South Lookout
This lookout was opened in 2019 by Queensland National Parks. Access to the lookout is at the southern end of the beach and is an easy 900 metre walk. The viewing platform will give you views of the entire 7km stretch of beach as well as unparalleled views of the chance bay, Pentecost island, and Lindeman island group in the distance. this is my favourite lookout on Whitehaven beach as unlike the north lookout this is good in all tides.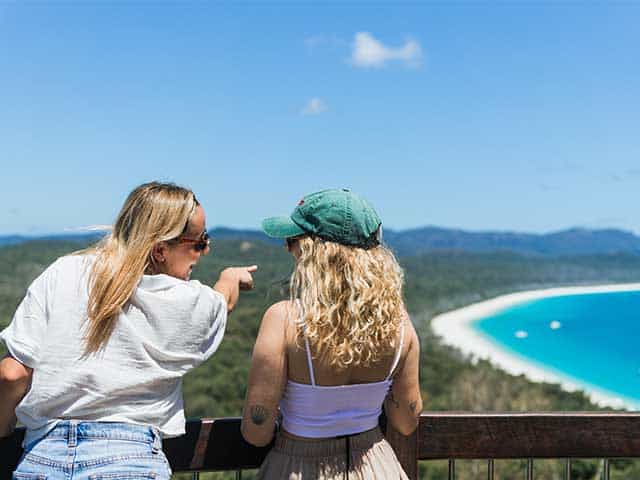 6. Camping
Possibly the best camping spot in the Whitsundays is at the south end of Whitehaven Beach, with dedicated campsites and the joys of camping on a tropical island, Whitehaven Beach Camping is the only accommodation option available and deserves its place on this list. We have a full camping guide for Whitehaven Beach so if this sounds like your thing, make sure you have a read as there are a few things to know before you go.
7. Take a walk along the beach
The beach at Whitehaven stretches for 7km, making it a great place for a leisurely stroll. As you walk, you'll be able to take in the stunning surroundings, including the turquoise waters and the white sand dunes, and marine life playing in the calm waters, the northern end of the beach is home to some small rays that can be seen all year round.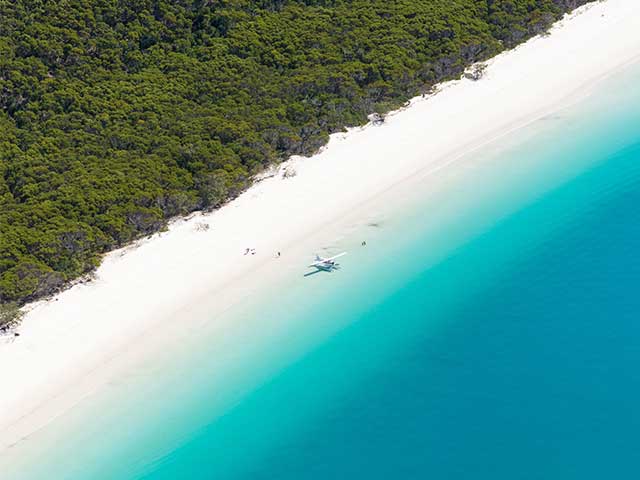 8. Visit the National Park
Whitehaven Beach is located within the Whitsunday Islands National Park, which is home to a range of flora, fauna, and wildlife. There is a great walking trail over to Chance Bay that takes around 90 minutes each way, making it a great place to explore Whitsunday Island and the coral bays when you get there.
9. Relax on the beach
Whitehaven Beach is the perfect place to kick back and relax. With its soft, white sand and crystal clear water, it's the ultimate spot for soaking up the sun or taking a leisurely swim. (top tip, the middle of the beach is normally quiet and away from tour guests). Remember to take sunscreen, a hat and some form of shade.
10. Get married or engaged
Whitehaven Beach is a truly stunning destination, with its beautiful beaches, crystal clear waters, and abundance of activities and attractions. Whether you're looking for relaxation or adventure, you'll find something just for you in this beautiful part of the world.
If you have any questions about my top 10 things to do at Whitehaven beach or the Whitsundays and Airlie Beach, feel free to contact me on the below form ( please note it may take me 24 hours to respond as I may be taking guests to the islands)

Nath J
Hi, my name is Nath J.
I have lived and worked in Airlie Beach and Whitsundays since 2001. Over these 21 years, I spent 20 of them in the local tourism industry, Including owning a travel store, working on overnight and day boats, plus sales and marketing for local businesses. The content on this page is taken from my knowledge of the tourism industry and hopefully provides you with the facts about Airlie Beach and the Whitsundays you were looking for.