Interview With A Whitehaven Beach Tour Guide
© Official Local Whitsundays Website
In November this year (2022) I had a chance to sit down with Josh who is a tour guide for ZigZag Whitsundays, a locally owned business here in Airlie Beach and runs a popular Whitsundays Whitehaven Beach Tour. You can read the interview below and get an insight into why this company is so popular by word of mouth.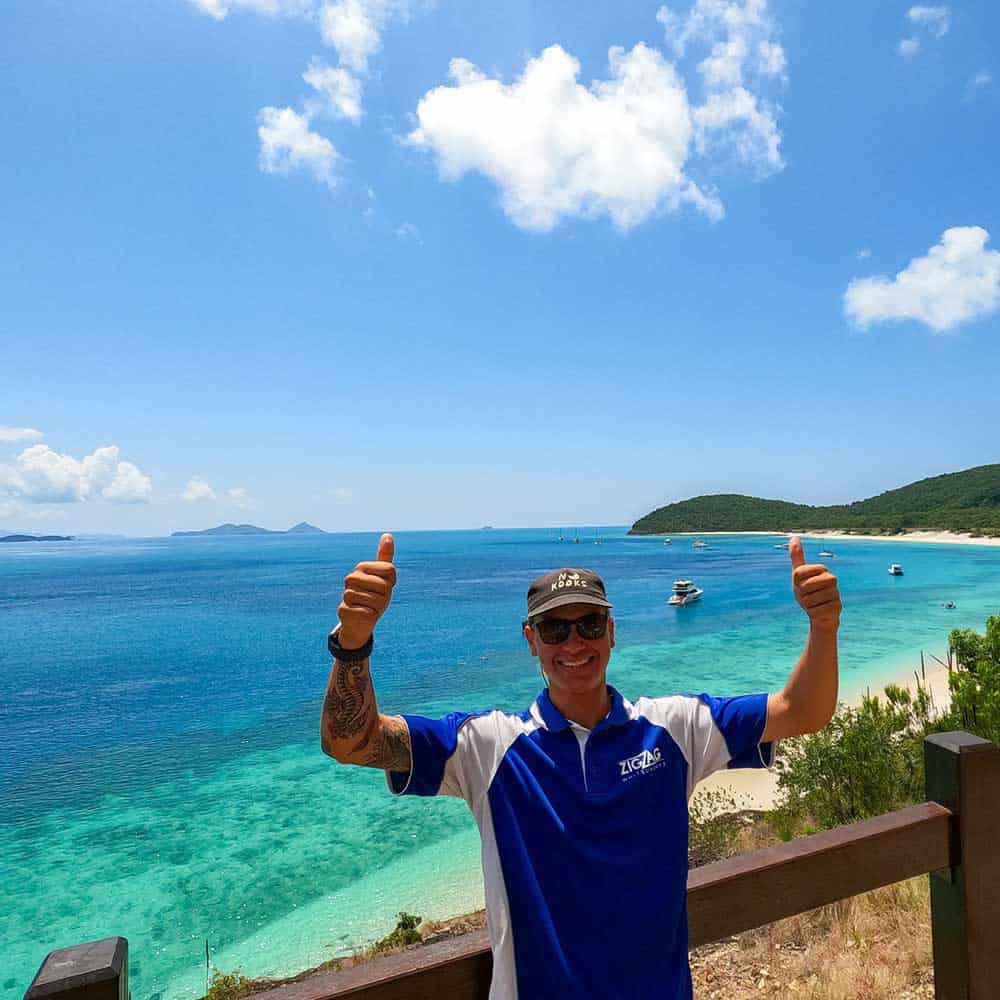 Nath J (Interviewer) – Hi Josh, thanks for taking the chance to chat with me today! Can you tell us a little bit about yourself and what you do?
Josh (Tour Guide) – My name is Josh, I grew up in the Whitsundays and I'm a tour guide and deckhand on a boat called ZigZag Whitsundays. Our tour runs every day and visits Whitehaven Beach including the Southern Lookout Platform. It's such a beautiful place, and I love being able to show it off to our guests.
Nath J (Interviewer) – That sounds like a great Job! Can you tell us a little bit more about Whitehaven Beach and why you think it's such a famous destination for travellers?
Josh (Tour Guide) – Whitehaven Beach is one of the most stunning beaches in the world, and it's clearly a must do for anybody visiting the Whitsundays. As it's 35km from the mainland and 7km long on a deserted island, it's never crowded. The crystal clear waters and white sandy beaches (made up of 97% silica), make it special. It's a very unique and impressive place.
Nath J (Interviewer) – That sounds amazing. But every job has its challenges. Can you tell us about some of the lows of working as a tour guide on Whitehaven Beach?
Josh (Tour Guide) – One of the challenges is dealing with the weather, ocean swell and tides. The tours can be affected by storms and rough seas, which can be disappointing for our visitors as everyone wants the perfect day. It can also be physically demanding, as we're on our feet and moving around a lot during the tours. But overall, the highs far outweigh the lows, and I love my job.
Nath J (Interviewer) – What makes ZigZag Whitsundays tour stand out from other tour companies in the area?
Josh (Tour Guide) – Well, we pride ourselves on providing a personalized and high quality experience for our guests. Our boat, ZigZag only takes 30 guests maximum, which means we can offer a better personalized tour than some of the larger boats and companies in the area. Plus, our experienced crew members are all passionate about the area and love sharing their knowledge with our clients. We also have the added benefit of being owned by a marine biologist which helps our knowledge of the ocean and Great Barrier Reef.
Nath J (Interviewer) – That sounds like a great experience. What can guests expect when they take a tour with ZigZag Whitsundays?
Josh (Tour Guide) – Our visitors can expect a fun, relaxed and informative tour of Whitehaven Beach and the surrounding Whitsunday Islands. We'll take them on a fast stable boat ride to the beach, where they can experience swimming, sunbathing, and walking trails to the lookout. We'll also include 1 snorkelling location on the coral reefs around the islands (with all equipment included) so they can see the incredible marine life in the area. Then on the way home, we stop at Daydream Island for a swim and cocktail if you want one. And of course, we'll make sure they have plenty of opportunities to take some amazing photos!
Nath J (Interviewer) – That sounds like a fascinating day out on the water! Thank you so much for taking the time to chat with us, John. Is there anything else you'd like to add?
Josh (Tour Guide) – Just that I'd encourage anyone who is visiting the Whitsundays and Airlie Beach to definitely check out Whitehaven Beach and take a tour with ZigZag Whitsundays. It's an adventure you will never forget!
A big thanks to Josh for taking the time to talk with me and I hope our Interview With A Whitehaven Beach Tour Guide named Josh,  gives you an insight into working as a tour guide around the Whitsunday Islands.

Nath J
Hi, I'm Nath J, your go-to expert for everything Whitsundays Tourism. Since 2001, I've been immersed in this incredible destination, accumulating 22 years of industry experience. My journey has taken me from Operations Manager at Tallarook Sail and Dive to running my own businesses like Ripple Effect Online. I've given workshops on direct tourism bookings and even authored an ebook, Whitsunday Islands: A Journey through Paradise.
Why trust me? I hold certifications like "Whitsundays Tourism Hero" and "Respecting First Nations Cultural Protocols in Australia," both issued by the Queensland Tourism Industry Council. My work has garnered testimonials from tourism business around the region, praising my unique, genuine approach to tourism marketing.
Find me on Facebook and LinkedIn or drop me an email at info@nath-j.au.