Indigenous Culture  of the Great Barrier Reef
© Official Local Whitsundays Website
Quick Scroll to Content
hide
The Great Barrier Reef Marine Park Authority (GBRMPA) works in partnership with the Traditional Owners to protect, conserve and promote the values of the marine park and its World Heritage listed area, including Indigenous culture and heritage. This includes engaging with Aboriginal and Torres Strait Islander traditional owners, respecting their knowledge and providing opportunities for them to participate in decision-making. Working together to protect against threats to the Great Barrier Reef Marine Park.
The Great Barrier Reef Marine Park has been connected to the lives of Aboriginal and Torres Strait Islander peoples since time immemorial. The land, sea, flora and fauna are intertwined with the cultural beliefs, practices and customs of the people who inhabit it. Despite the impacts of European settlement, many Traditional Owners remain connected to their Sea Country and strong in their culture. In order to ensure the preservation of this unique environment, it is essential that we acknowledge and respect the relationship between Indigenous culture and history and the Great Barrier Reef Marine Park. Only by doing so will we be able to continue to sustainably manage and protect this important natural wonder.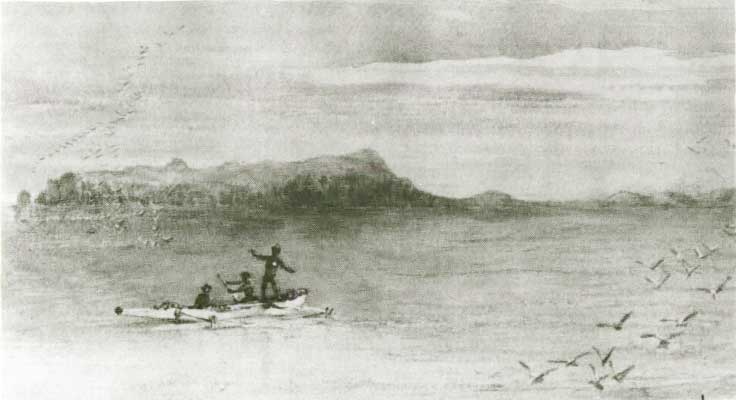 Recognition of native title
The Great Barrier Reef Marine Park Zoning Plan 2003 recognises that under section 211 of the Native Title Act 1993, a native title holder may hunt, fish or gather any species in the exercise or enjoyment of his/her native title rights and interests for the purpose of personal, domestic or non-commercial communal use without either having a permit or being included within a
TUMRA. This and other native title rights have been reiterated in the Zoning Plan (Part 1.7): (3) Nothing in this Zoning Plan is intended to extinguish any native title rights and interests (4) Nothing in this Zoning Plan is intended to affect the operation of section 211 of the Native Title Act 1993 in relation to any provision of this Zoning Plan.
for all the information on the native title act see the full PDF document here
Requirements for the traditional use of marine resources under the Great
Barrier Reef Marine Park Zoning Plan 2003 (see the table below)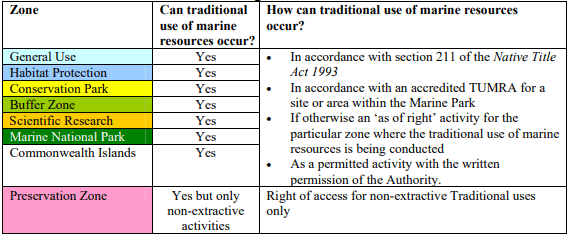 The Aboriginal and Torres Straight Islanders – the original inhabitants of the continent – have been familiar with and exploring the Great Barrier Reef for tens of thousands of years.
The cultural importance of the reef to these communities has been documented through paintings, songs, and stories that have been passed down for generations. These waters were used by the Aborigines and Torres Straight people to collect fish and other natural resources needed for their sustenance.
It is known that the Torres Straight Islanders had a seafaring culture; illustrations exist of them using canoes with wind sails to trade with mainland aborigines through the reef waters. Each tribe has its own version of how the reefs were created, which was mainly expressed through song and dance.
Furthermore, they are the traditional owners of the Great Barrier Reef, having experienced its magnificence centuries before it was recorded.
While we will never fully understand the significance the Australian first nations culture had over the Great Barrier Reef over the last 5000 years, we do know they were here first and the Great Barrier Reef is their home, we are just guests.
My Name is Nath J and I have a proud Maori heritage, to my aboriginal brothers I say,
Māori Version
Kia ora, nau mai ki taku paetukutuku.
Ka mihi ahau, ka mihi hoki ki nga Kai-tiaki Tuku iho o nga whenua me nga wai kanorau puta noa i Ahitereiria. E mohio ana ahau, e whakanui ana ahau i nga hononga hohonu o te taha wairua me te ahurea o nga tangata whenua o Ahitereiria me o ratou whenua tupuna, moana me o ratou hapori. E mihi nui ana ahau ki te mohio me te kaha o nga Kaumatua Taketake me Torres Strait Islander, o mua me o naianei, me te tuku mihi nui mo to ratou tiaki me te tiaki i tenei whenua utu nui. Hei manuhiri i runga i tenei whenua, ka whakapau kaha ahau ki te whakarongo me te ako mai i nga iwi o nga Iwi Tuatahi me te mahi ki te hohou i te rongo me te whakaora i roto i to tatou huarahi whakamua.
English Version
Hello and welcome to my website.
I humbly acknowledge and pay my respects to the Traditional Custodians of the diverse lands and waters throughout Australia. I recognize and honour the deep spiritual and cultural connections that Indigenous Australians have with their ancestral lands, seas, and communities. I respectfully acknowledge the wisdom and resilience of Aboriginal and Torres Strait Islander Elders, both past and present, and extend my sincere gratitude for their ongoing custodianship and stewardship of this precious land. As a guest on this land, I commit to listening and learning from First Nations peoples and to working towards healing this land in our shared journey forward.

Nath J
Hi, I'm Nath J, your go-to expert for everything Whitsundays Tourism. Since 2001, I've been immersed in this incredible destination, accumulating 22 years of industry experience. My journey has taken me from Operations Manager at Tallarook Sail and Dive to running my own businesses like Ripple Effect Online. I've given workshops on direct tourism bookings and even authored an ebook, Whitsunday Islands: A Journey through Paradise.
Why trust me? I hold certifications like "Whitsundays Tourism Hero" and "Respecting First Nations Cultural Protocols in Australia," both issued by the Queensland Tourism Industry Council. My work has garnered testimonials from tourism business around the region, praising my unique, genuine approach to tourism marketing.
Find me on Facebook and LinkedIn or drop me an email at info@nath-j.au.