A Beginner's Guide to Snorkeling in the Whitsundays
© Official Local Whitsundays Website
The Whitsundays are a chain of islands located off the coast of Queensland Australia, located in the Great Barrier Reef Marine Park and home to an incredible amount of marine life and clear tropical waters. Whether you're an experienced snorkeler or just a beginner, the Whitsundays and their coral reefs offer something for all skill types. Most Whitehaven Beach Tours offer a snorkel experience during the day. Let's dive into our Guide to Snorkelling in the Whitsundays.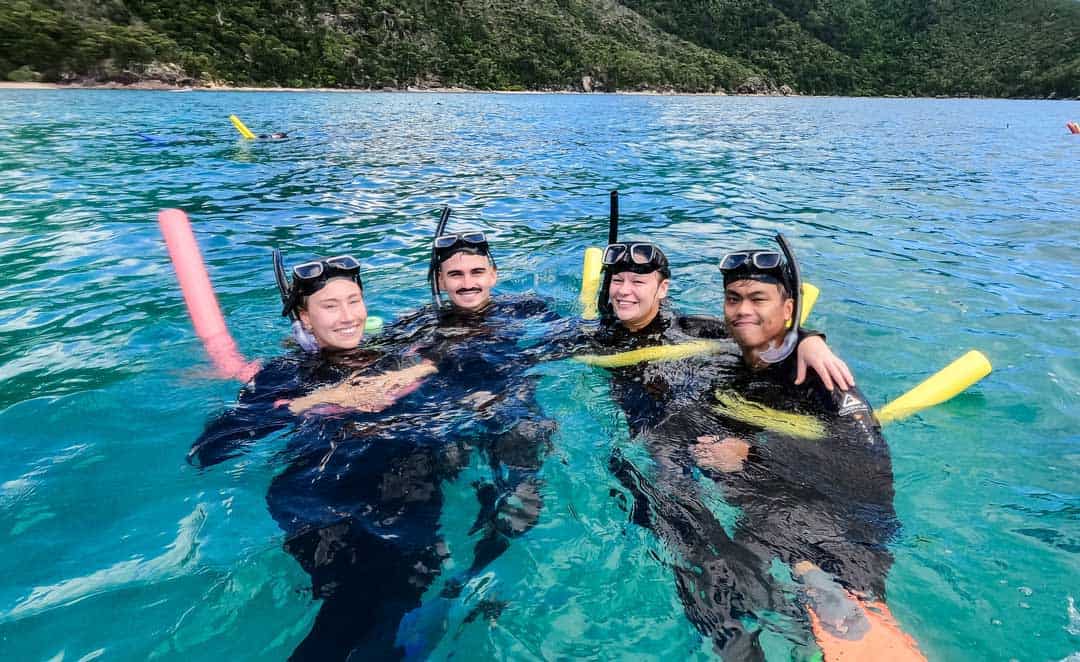 Ready to dive into the world of snorkelling? Start here
Snorkelling is a popular activity on most tours in this region, the equipment used allows you to explore underwater from the surface, using a mask, snorkel, and fins. Apart from Scuba diving, it's a great way to get up close and personal with marine life and coral reefs in the Whitsundays. To snorkel, you'll need a few pieces of equipment (these are provided for you on all Whitsundays snorkelling tours)
Mask: A mask is worn over your eyes and nose, allowing you to see clearly underwater.
Snorkel: A snorkel is a tube that you use to breathe through while your face is in the water.
Fins: Fins help you swim more efficiently and easily through the water.
Before you start snorkelling, it's very important to properly adjust your equipment to ensure a comfortable and safe experience. Make sure your mask fits snugly around your face so no water can leak in. Your snorkel should be positioned comfortably in your mouth. Your fins should be a nice tight fit around the back of your foot to avoid them slipping off. It's also important to remember to stay close to the surface of the water and not inhale if your snorkel top is under the water.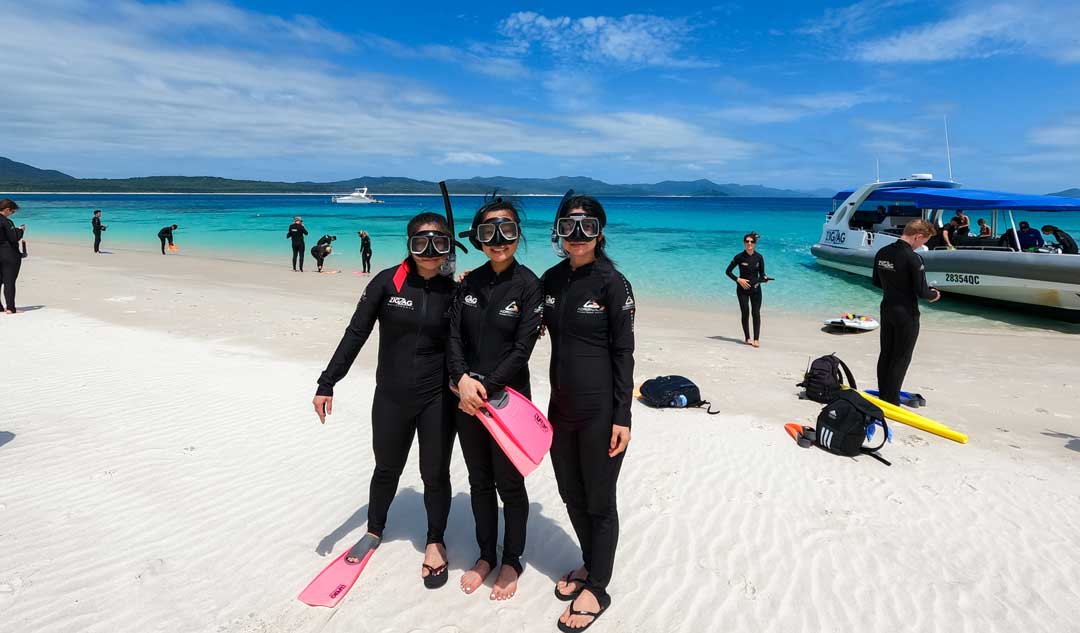 Guide to Snorkelling in the Whitsundays: top 3 locations not to be missed
Being there are 74 islands the Whitsundays is home to some of the world's most beautiful and diverse snorkelling spots. Here are a few of the top places to check out:
Chalkies Beach (Haslewood Island): Chalkies Beach is great for snorkelling except in northerly winds, and is known for its crystal clear waters and pristine white sands (just like Whitehaven Beach). The shallow waters and beach access are perfect for beginner to intermediate snorkelers, and you'll have the chance to see an array of colourful fish, coral reefs and hopefully a turtle!
Saba Bay (Hook Island): Located on the southeast side of Hook Island this is a special snorkelling spot but is only available for snorkelling in winds below 10 Knotts or when blowing from the north. This snorkelling location is suited for beginners to advanced and has stunning coral reefs for an array of marine life, including tropical fish, coral, and sea turtles.
Armit Island: located north of Airlie Beach you won't find this location on any tours (because is a green protected zone). But if you have your own boat this island has some stunning coral reefs, my favourite is the northern side where the reefs are small but they are abundant with fish and marine life. you will need a calm day below 15 knots of wind to snorkel here.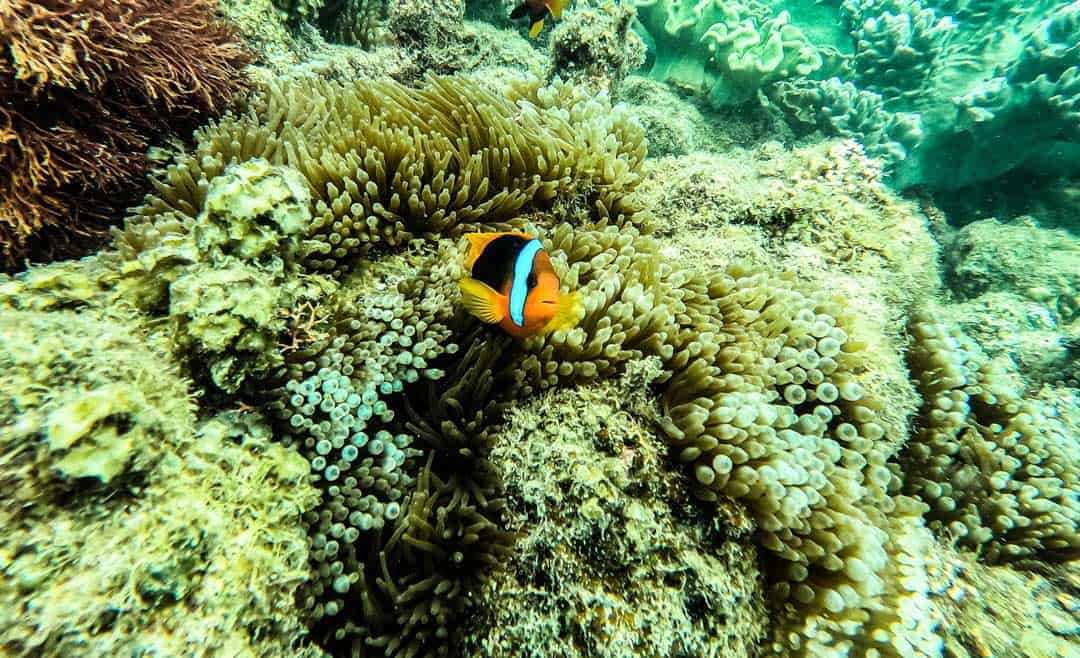 Master the basics of snorkelling with these helpful tips
If you're new to snorkelling, it's natural to feel a little nervous or intimidated. Here are a few tips to help you feel more comfortable and confident in the water:
How to clear a snorkel: If you accidentally get water in your snorkel, it can be frustrating and make it hard to breathe. To clear your snorkel, simply exhale through your mouth with a quick burst of air while keeping your head above water. This will push the water out of the snorkel and allow you to breathe normally again.
How to stay calm in the water: To help stay calm, use a flotation device like a pool noodle the first time ( supplied on most tours) this will help you float and get used to breathing while your mouth is underwater. It can also be helpful to have a buddy with you who can offer support and encouragement.
How to spot marine life: One of the best parts of snorkelling is seeing all the incredible marine life up close. To increase your chances of spotting marine life, try to stay still and quiet in the water, and keep an eye out for movement. You can also ask your tour guide for tips on where to find the most interesting marine life.
I hope you found our Guide to Snorkelling in the Whitsundays helpful and I hope to see you in the Whitsundays soon!

Nath J
Hi, I'm Nath J, your go-to expert for everything Whitsundays Tourism. Since 2001, I've been immersed in this incredible destination, accumulating 22 years of industry experience. My journey has taken me from Operations Manager at Tallarook Sail and Dive to running my own businesses like Ripple Effect Online. I've given workshops on direct tourism bookings and even authored an ebook, Whitsunday Islands: A Journey through Paradise.
Why trust me? I hold certifications like "Whitsundays Tourism Hero" and "Respecting First Nations Cultural Protocols in Australia," both issued by the Queensland Tourism Industry Council. My work has garnered testimonials from tourism business around the region, praising my unique, genuine approach to tourism marketing.
Find me on Facebook and LinkedIn or drop me an email at info@nath-j.au.