© Official Local Whitsundays Website
Get ready to discover the breathtaking beauty of Boathaven Beach in Airlie Beach. This renowned destination is a must-visit for those searching for a safe and picturesque escape. With its pristine white sand and ample space, families can relax and soak up the sun while immersing themselves in the crystal-clear waters.
Minimizing the risk of marine stingers, a large net ensures that these creatures stay away from the swimming area. In addition, Airlie Beach offers many activities and tours, providing endless opportunities for exploration.
Location and Access
Boathaven Beach is conveniently accessible, just a short 2-minute drive or a 10-minute stroll from the heart of Airlie Beach. Situated on a man-made peninsula known as The Beacons, this beach provides awe-inspiring views of the surrounding turquoise waters. Those seeking accommodation close will be pleased to know that Airlie Beach offers many hotels, resorts, and holiday rentals to suit every budget and preference.
In terms of recreational activities, the options are limitless. You can swim or paddleboarding in the pristine, transparent waters. Alternatively, if you prefer a more laid-back experience, you can unwind on the soft, velvety sand and bask in the sun's warmth. Close by, there are also various shops, restaurants, and cafes where you can replenish and relax after a day of beachside enjoyment.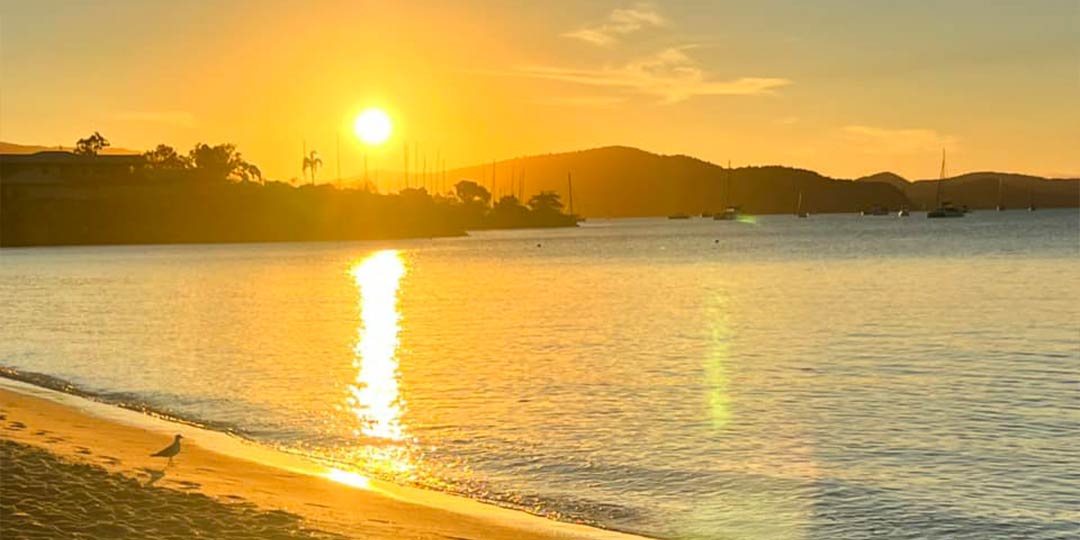 Facilities
Experience the convenience of public restrooms and the proximity of shops and eateries at this artificial beach with soft white sand. Boathaven Beach offers a variety of advantages and activities for those in search of freedom and relaxation.
With its 60,000 cubic meters of sand, it stands as one of the safest and most picturesque beaches in Airlie Beach. Families can spend a delightful day basking in the sun, constructing sandcastles, and frolicking in the crystal-clear waters.
While the beach itself lacks additional amenities, you can easily find all your necessities just a short stroll away. After a revitalizing swim, take the time to peruse the local shops and indulge in delectable meals at nearby restaurants.
Boathaven Beach undeniably provides the ideal setting for a carefree day of amusement and pleasure.
Safety Measures
For your safety while swimming at this popular destination, it is highly recommended to wear a stinger suit during the Stinger Season from November to May.
Boathaven Beach in Airlie Beach is a breathtaking man-made beach that attracts families and sun-seekers alike. With its soft white sand and secure swimming area protected by a large net, it is the ideal spot to bask in the sun and enjoy the crystal-clear waters.
However, during Stinger Season, precautions must be taken to avoid jellyfish stings. Wearing a stinger suit provides additional protection against these potentially harmful creatures.
Fishing
Not into sunbaking or swimming while at the beach? Either end of Boathaven Beach are rock walls, which you can cast a line and try your luck on some of these eating fish anywhere in the world, from Barramundi (in season) to mangrove jack and everything in between, Live bait works well on the walls.
Are Dogs Allowed on the Beach?
Dogs are permitted to accompany their owners on Boathaven Beach in Airlie Beach, provided that they are kept on leashes. 
Is There a Fee to Access Boathaven Beach?
There is no charge to access Boathaven Beach
Can You Fish at Boathaven Beach?
Yes, fishing activities are allowed on the rock walls at both ends of the beach.
Are There Lifeguards on Duty at Boathaven Beach?
No, there are no lifeguards

Nath J
Hi, I'm Nath J, your go-to expert for everything Whitsundays Tourism. Since 2001, I've been immersed in this incredible destination, accumulating 22 years of industry experience. My journey has taken me from Operations Manager at Tallarook Sail and Dive to running my own businesses like Ripple Effect Online. I've given workshops on direct tourism bookings and even authored an ebook, Whitsunday Islands: A Journey through Paradise.
Why trust me? I hold certifications like "Whitsundays Tourism Hero" and "Respecting First Nations Cultural Protocols in Australia," both issued by the Queensland Tourism Industry Council. My work has garnered testimonials from tourism business around the region, praising my unique, genuine approach to tourism marketing.
Find me on Facebook and LinkedIn or drop me an email at info@nath-j.au.